The Truth About Sarah Paulson's Relationship With Cherry Jones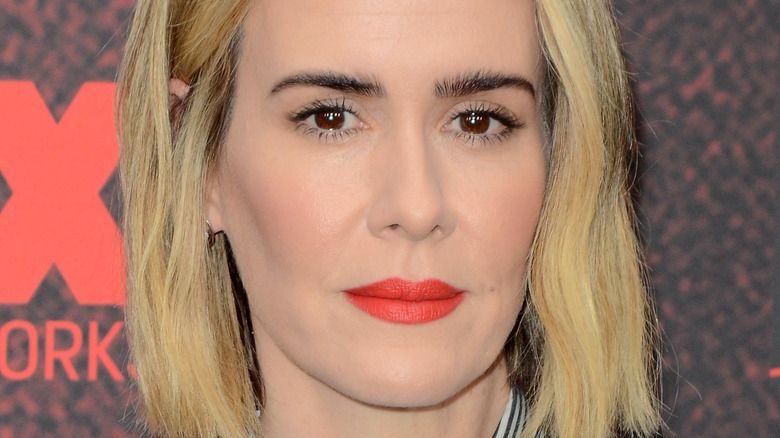 Kathy Hutchins/Shutterstock
Not only is Sarah Paulson one of "American Horror Story's" brightest stars, but she is also a beacon of hope when it comes to romance. Subverting societal expectations and breaking the mold, Paulson has made headlines time and time again for her unorthodox choices in lovers — but that's not coming from us. She'll gladly tell you that herself. "My choices in romantic partners have not been conventional, and therefore the idea that it is 'other' makes it compelling," the actor told the New York Times in 2016.
Throughout her romantic journey, Paulson has been involved with both men and women alike. In the 1990s, the "Ratched" star was engaged to fellow actor and playwright Tracy Letts, who is nine years her senior. Speaking to C Magazine in 2019, Paulson opened up about him and stated, "I was young — 24. We loved each other, it just didn't work out." Paulson and Letts, however, have maintained a positive relationship in the years that followed.
Since 2015, Paulson has been in a relationship with Holland Taylor, an actor 32 years her senior. In her New York Times interview, Paulson noted, "There's a poignancy to being with someone older." And prior to her relationship with Taylor, Paulson was involved in a long-term relationship with actor Cherry Jones, another star who surpasses the "American Horror Story" star in age. So what exactly was the deal behind Sarah Paulson and Cherry Jones' relationship? Read on to find out!
The kiss seen around the world that 'outed' Sarah Paulson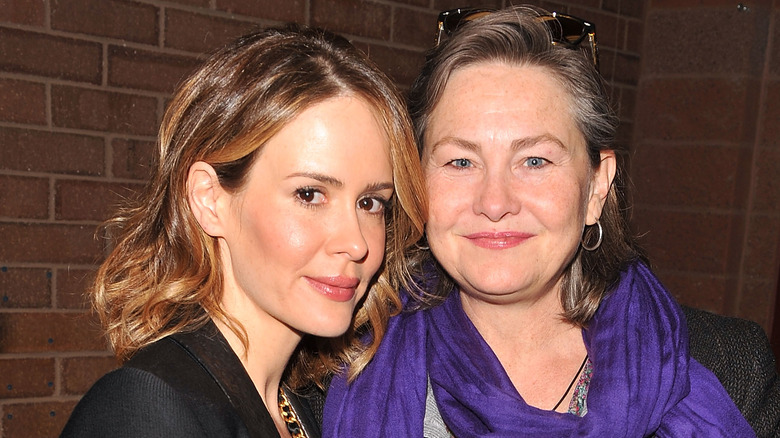 George Pimentel/Getty Images
In the mid-2000s, actors Sarah Paulson and Cherry Jones were madly in love. In fact, the two caused quite the stir at the 2005 Tony Awards when, upon winning the award for best actress in a play, Jones was seen kissing Paulson on-screen. We think it was an absolutely adorable kiss, but remember that this occurred in 2005 when the LGBTQ+ community was still rather invisible, marginalized, and misunderstood. The kiss ultimately outed Paulson by accident.
In an interview with NOTOFU, Paulson reflected on the situation, stating, "She won a Tony Award, I kissed her, and all of a sudden I was outed." She continued, "I didn't really think about it in that way at the time — I was just doing what one would do when a person they love has just won a big fat acting prize." Paulson had a hilarious justification for the debacle, opining, "What am I gonna do, pat her on the back and say 'good job, dude?' It didn't occur to me to do anything but what I did."
Paulson, who was set to star in Aaron Sorkin's "Studio 60 on the Sunset Strip," was worried the kiss would ultimately cost her the role. Discussing the fallout, Paulson recalled Sorkin's beautiful reaction, in which he stated, "I didn't know you were with Cherry Jones, that's so wonderful ... I just want you to know that you're safe here. You never have anything to worry about."
Sarah Paulson and Cherry Jones amicably split in 2009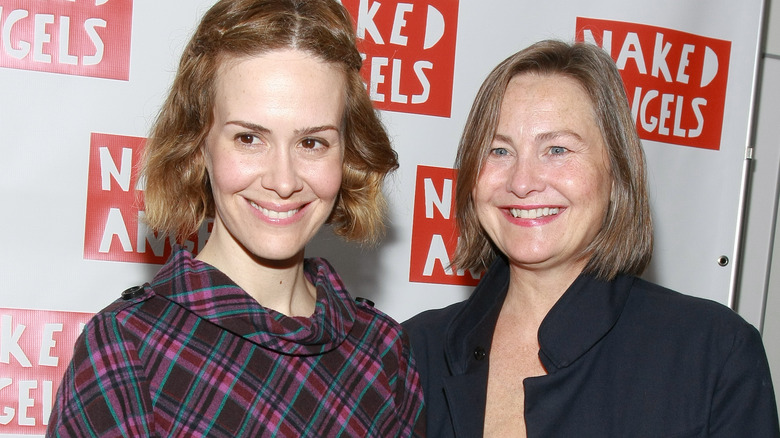 Mike Coppola/Getty Images
There must be something about Sarah Paulson — because the end of her relationships with both ex-fiancé Tracy Letts and Cherry Jones ended so amicably that everyone was left smiling in the end. As seen in the Chicago Sun-Times, Paulson and Letts reunite from time to time and the two former lovers all rejoice in harmony alongside Letts' current wife, Carrie Coon. We don't know how, but it speaks volumes to Paulson's character to maintain such relationships in the years that follow.
Such was the case with Paulson's split with Jones. In 2009, the couple announced their split in what was called "the happiest break-up," per Us Weekly. Jones revealed to the outlet that despite breaking up, they remained the "dearest of friends." She further stated that "[w]e grew so much together and now we can send each other off with a kiss and great love." Jones also revealed the split was due to family reasons and any mention of Paulson would have the press questioning her for "the rest of the night."
Their breakup marked the first time Jones was single in 29 years. "I love being on my own for the first time in my adult life. I highly recommend it," the actor stated. "I may never be in another relationship as long as I live. I love deepening my friendships, and I like being on my own," she further added.