The True Meaning Behind 'No Friends In The Industry' By Drake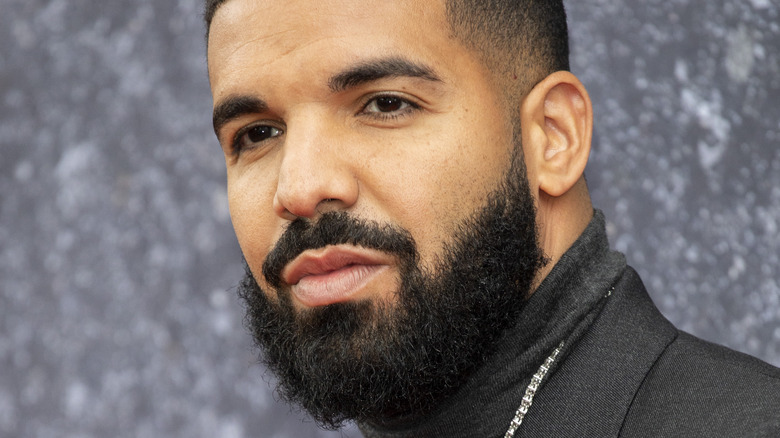 John Phillips/Getty Images
"Certified Lover Boy" was one of hip-hop's biggest statements in recent memory, but no statement is louder on the album than "No Friends in the Industry." With this record, Drake has made it abundantly clear that he has ascended the hip-hop throne and no one is even close to chasing his crown (or so he believes). And nothing makes a statement louder than the declaration of having no friends in the music industry, which Drake has dominated for the past decade.
With notable feuds with Kanye West and Pusha T, Drake has no problem feeling the heat of an industry that is bent on tearing him down. Whether it's Kanye testing Drake with the well-timed release of "Donda" or Pusha T outing the fact that Drake had a secret kid, the Canadian-born rapper is no stranger to being put on blast. But you know what they say: "Diamonds are forged under pressure." And whether Drake is a quality artist or not is always a subject up for debate — but his influence on the cultural zeitgeist is irrevocable and undeniable.
From a guy who played "Wheelchair" Jimmy Brooks on "Degrassi: The Next Generation," Drake has successfully shed his prior skin as an actor to become one of the (if not, the) world's biggest rappers of the modern era. With that being said, let's take a look at Drake's momentous statement that is "No Friends in the Industry."
Lambasting the entire music industry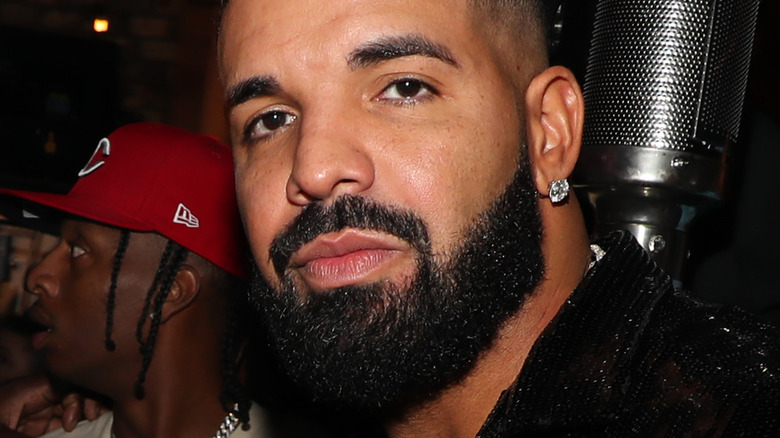 Jerritt Clark/Getty Images
On "No Friends in the Industry," Drake makes it clear that he has no more time for games. With densely packed flows throughout the track, there are no words or momentum wasted by Drake here. Characterized by overlapping bars and a vicious delivery, Drake raps in the chorus, "No friends in the industry / I had to draw the line between my brothers and my enemies, a fact / N****s love to start the beef, don't wanna keep it rap / Yeah, he hit us up and now we owe you something back" (via Genius).
Through the chorus, Drake reveals he has learned how to draw the battle lines and differentiate between friend and foe — a feat only accomplished through experience. By dealing with snakes and those who disguise themselves as friendly over his decade-plus career, Drake now knows better than to affiliate with those who only want what he has: the money, the fame, and the power that comes with being the greatest.
The final two bars of the chorus is perhaps a reference to Pusha T, who infamously outed Drake as a father on the 2018 track, "The Story of Adidon." On the track, the former Clipse member rapped, "You are hiding a child, let that boy come home / Deadbeat m********a playin' border patrol" (via Genius). However, on "No Friends in the Industry," Drake firmly establishes that he is not done with Pusha T just yet.
Drake is simply fed up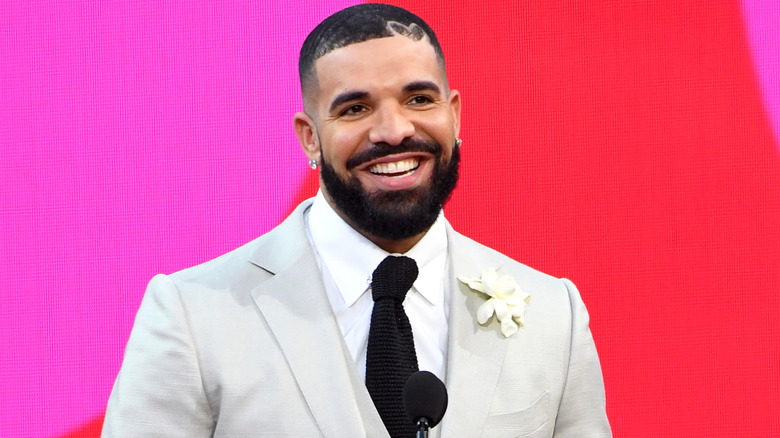 Kevin Mazur/Getty Images
Over the past decade, hip-hop has seen many pretenders come and go — but for every Silentó and Cali Swag District, there is a Kendrick Lamar and Kanye West lurking right around the corner. Regardless of such, Drake simply has no time for the BS anymore. "F**k debatin' who the GOAT / Bet not make the s**t up 'bout the numbers all I know / Bet not make the s**t up 'bout the summer all I know / Better find ya someone else to hit with all that smoke, n***a, yeah," Drake raps in the second verse in his attempts to assert dominance over the industry (via Genius).
The first line of the aforementioned measure sees Drake laying down the gauntlet for any rapper, while ultimately declaring himself the GOAT (Greatest of All Time). The second and third lines are a direct shot to Kanye, who feuded with Drake throughout the summer over album sales. Kanye was certain he'd outsell "Certified Lover Boy" with "Donda," but Drake ultimately doubled "Donda's" first week sales.
The final line, as Genius saliently notes, is potentially a reference to Kendrick Lamar's part on "Family Ties" with Baby Keem, where he states he's "smokin' on your top five tonight, tonight" (via Genius). What Lamar implies here is that he's ready to outdo your top-five favorite rappers at any moment now that he's back, but clearly Drake is ready to squash any momentum Lamar may have on his come-up once more.