What's Really Going On With Wendy Williams' Health Issues?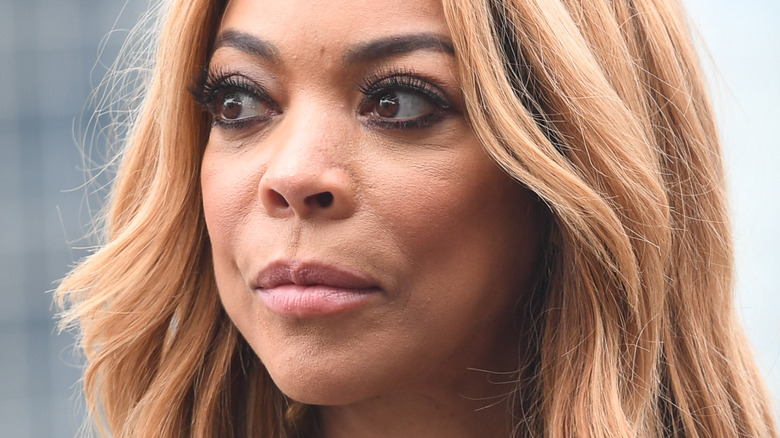 Paras Griffin/Getty Images
The following article includes mentions of alcohol abuse.
Wendy Williams' health issues are still a problem, to the point where the she may need to find a temporary host for her gossip show. Just recently, her team announced that Williams will have to skip promotional appearances for the upcoming season of "The Wendy Williams Show." In the statement published on the show's Instagram page on September 9, they revealed that Williams is "dealing with some ongoing health issues and is undergoing further evaluations." 
They continued, "She will not be able to complete her promotional activities next week, but can't wait to be back in her purple chair on Monday, September 20th for the 13th season premiere." However, producers had to postpone the premiere date due to Williams testing positive for COVID-19. "While continuing her health evaluations, Wendy has tested positive for a breakthrough case of COVID-19," her team wrote on September 15. 
The same announcement explained that, in order to give Williams time to quarantine and recover, the show's new premiere is set for October 4. "Wendy is on the mend, and doing well," a source close to the show told Page Six on September 23. There was a meeting this week, and [execs] assured staff the show will return on Oct. 4., and Wendy is ready to get back to work." Based on the latest developments, however, it looks like Williams will not be returning as planned. Scroll on to find out more about the show's new announcement.
Wendy Williams' talk show has been postponed (again)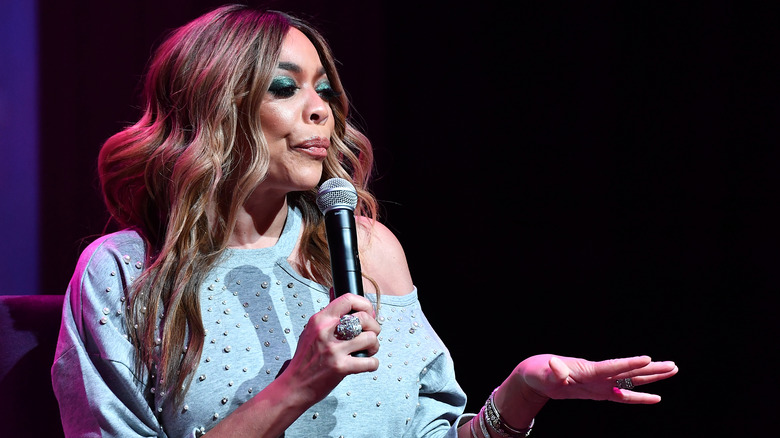 Paras Griffin/Getty Images
The new season of "The Wendy Williams Show" is now scheduled to premiere on October 18 ... but it looks like the host won't be there to greet the audience. "Wendy will not be returning with new shows on Oct. 4," Wendy Williams' team wrote on the show's Instagram on September 30. "She has been and continues to be under a doctor's care and is still not ready to return to work."
And so, a new date has been set for two weeks later than originally planned. "We plan to return with new shows on Oct. 18," the statement noted, though it did not specify if Williams will be hosting on that day. It did, however, clarify that Williams' latest health concerns do not have to do with her previous COVID-19 diagnosis. "Her breakthrough covid case is no longer an issue and she has tested negative," the statement added. "But she is still dealing with some ongoing medical issues."
Page Six reached out to a rep for the show who confirmed that Williams "will host" on October 18. "Wishing you peace of body and mind!" Perez Hilton wrote under the talk show's statement. "Take your time and feel better Wendy, your health is your wealth sis," one fan commented. Her physical health isn't the only thing Williams has had to struggle with lately. Find out more below.
Sources say it is a 'difficult time' for Wendy Williams
Paras Griffin/Getty Images
As news broke about her positive COVID-19 results on September 15, Wendy Williams was reportedly hospitalized for a mental health check. As reported by The Sun, NYPD responded to a 911 call for a woman in need of "psychiatric services," who fit Williams' description. "There was a call for a 57-year-old non-violent female who needed psychiatric services at that address on Wednesday morning," a NYPD spokesperson told The Sun. "They were transported to the hospital."
Admittedly, this has not been an easy time for Williams, given her drama-filled divorce from ex-husband Kevin Hunter, who fathered a child with his alleged mistress and now-girlfriend Sharina Hudson. A source told the Daily Mail that Williams has recently resorted back to drinking. "Wendy drinks every day and the only time she was sober was when she was at the sober house," they said. "Her staffers are worried but no one is ever going to speak up because they don't want to lose their jobs."
"It has been a very difficult time for Wendy," another source told Page Six. "She's a single woman with very few friends. She lost her marriage, her mom, and is living alone," they continued. "There is a lot on her plate." We wish Wendy Williams the best as she continues to recover.
If you or anyone you know is struggling with addiction issues, help is available. Visit the Substance Abuse and Mental Health Services Administration website or contact SAMHSA's National Helpline at 1-800-662-HELP (4357).