This Is What 50 Cent Wants To Do With Nicki Minaj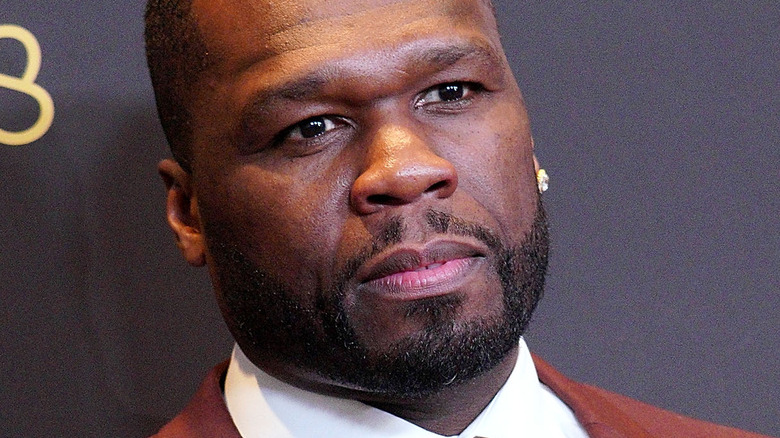 Jc Olivera/Getty Images
50 Cent has now revealed what his dream collaboration with Nicki Minaj would be. In the past, 50 admitted that he's a big fan of hers. "She has a lane that's been closed that she just busted open on her own, and she's an amazing talent," he told MTV in 2010. "A lot of artists, I personally am not excited by, but her, particularly, she impressed me on that 'Bottoms Up' remix."
After Minaj became a mother, 50 even gushed over her son's adorable features. "Look at them cheeks, we got another winner I would say south side but this baby rich," the rapper wrote on Instagram, reposting a picture of Minaj's baby. The child, whose name hasn't been announced, is affectionally called "Papa Bear" by Minaj and her fans. 50, however, came up with a new nickname. "y'all can call him papa bear," he continued in the comments (via The Shade Room). "[B]ut i'm calling him Richie Rich." 
More recently, the "21 Questions" rapper touched on Minaj's COVID-19 comments, where she claimed that the vaccine caused her cousin's friend to become swollen in a certain area. "Listen, you didn't look at the details of that situation," 50 told Jimmy Kimmel in September. "The details said he was about to get married ... it could be from the bachelor party." He continued, "Now, if you had a really good bachelor party and then stuff starts swelling, it was Pfizer!"
Find out 50 Cent's plans for Nicki Minaj below.
50 Cent wants to do a rom-com with Nicki Minaj
On a recent episode of the "Renaissance Man" podcast, aired on September 30, 50 Cent spoke about what he would love to do with Nicki Minaj, among other topics. At some point during the interview, host Jalen Rose asked 50 who he would want to do a love scene with. "Nicki Minaj would be fun to be in a romantic comedy with," he responded.
Then, 50 went on to explain how she may be misunderstood, seemingly referencing her controversial COVID-19 arguments on social media. "I kind of understand her a little bit more than the other people," he said. "I mean, she does s***." He continued, "She's tougher, but she's being an a*****e because she's telling you you're not going to take advantage of her."
This isn't the first time that 50 has suggested working with Minaj onscreen. During a 2020 episode of "Queen Radio," the "Seeing Green" rapper asked 50 if he could give her a role on one of his shows. "We can make that happen whenever I can get availability outta you," he replied (via Urban Islandz). "You heard it here first, Barbz," Minaj said. "He's going to let me come on one of his shows, okay? I should've been on 'Power', chile."