Ryan And Charmaine Reveal What Fans Can Look Forward To In Black Ink Crew Chicago's 7th Season - Exclusive Interview
The following interview includes discussions of mental health struggles.
The cast of VH1's "Black Ink Crew Chicago" have never shied away from sharing their personal lives with viewers, but Season 7 takes that to a whole new level. From managing their businesses during the COVID-19 pandemic to repairing tense friendships, and from protesting against R. Kelly to expanding their families, "Black Ink Crew Chicago" stars Ryan Henry and Charmaine Bey aren't holding back in new episodes — which is bound to thrill fans of the hit reality TV show. But onscreen drama aside, Ryan and Charmaine's genuine friendship was more evident than ever when the co-stars sat down with Nicki Swift ahead of the Season 7 premiere. 
As is often the case now, social media can give us some clues as to what the new season of "Black Ink Crew Chicago" will cover. For instance, Charmaine recently took to Instagram to reveal that she is pregnant with her second child with husband Neek Bey. The happy couple welcomed their first baby, daughter Nola, in March 2020, right at the start of the pandemic. Meanwhile, Ryan has found himself in the spotlight regarding his fallout with former pal Anthony Lindsey, which is likely to feature in new episodes. 
Nicki Swift caught up with Ryan Henry and Charmaine Bey to find out all about the seventh season of "Black Ink Crew Chicago," which premieres on VH1 on October 4, 2021.
Ryan and Charmaine talk returning to filming
What can viewers expect from "Black Ink Crew Chicago" Season 7?
Ryan Henry: I feel like from this first episode and from this season, being our seventh season, viewers can expect to see us in a newer light coming out of the pandemic, coming out of the changes and the hardships that we endured during the pandemic and afterward, and the growth that we've had from that and over the entire time.
You've both been through so much during the pandemic. It must've been difficult to return to filming?
Charmaine Bey: So difficult. I had so much anxiety returning to filming, just because of the pandemic. We were at home for so long. We started filming again in May [2021]. We were at home for over a year, not having to be subjected to share our life with cameras.
And, of course, with that comes editing, and with that comes it being put out there for people to either agree with you or not agree with you, or talk about you or whatever, pick you apart if they want. I just had a lot of anxiety, because during that year, I got to completely remove myself from just even the thought of having to film. It was definitely not easy. It was a struggle getting back into that mindset.
And how about you, Ryan? Was it difficult getting back to filming?
Ryan: I wouldn't say it was difficult getting back to film, but it was just the sense of knowing that we're coming back into it with, like I said, those hardships that we did endure. And then now, the world went through a lot of different things. But fortunately, everybody doesn't have to show how hard or how bad it got for them, and we do. So being able to come back and then having to show everybody, "Hey, this is everything that went wrong with me during the pandemic. I know a lot of things went wrong with the entire world, but guess what? Here's our problems. Y'all don't have to tell nobody." So that was the difficulty in it.
How these Black Ink Crew Chicago stars deal with their critics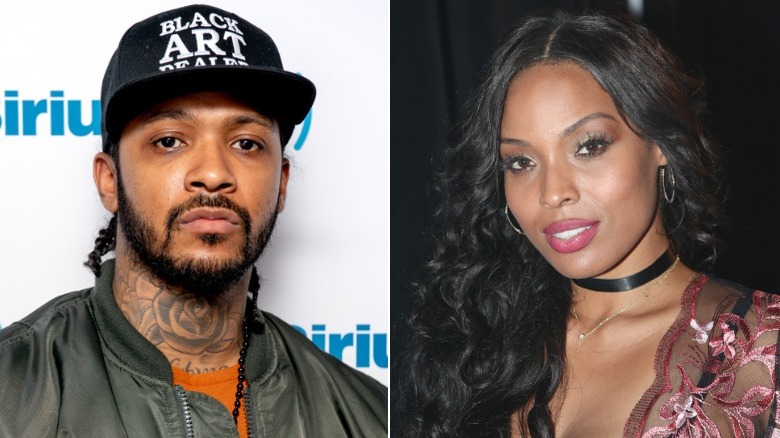 Roy Rochlin, Maury Phillips/Getty Images
You must have been feeling a lot of anxiety, thinking you've got to be vulnerable for everyone again. That's definitely not easy.
Ryan Henry: Yeah. We came into a realm of social media and television mixing, being one, when people actually had the time to sit down and be more involved and indebted into this. And in doing that, people have — if you look at how social media has gone — they've developed a more judgmental or more in-depth sense of any and everybody's business.
And now, not having to be around people and being able to judge everyone's every move 10 more hours of a day, because they're on social media, they look at our hardships a little bit harder. You know what I mean? They judge them a little bit harder, a little bit tougher. And the anxiety behind that is the fact that, "Hey, man, it was hard for us, too." But now you want to talk about it a lot more harsh, because you're getting used to judging people. It's like, that's not how we should live, but that's just what we're subjected to.
Really, we should be pleased, because we need TV shows and we need entertainment, because it feels like everything stopped for so long during the pandemic.
Charmaine Bey: Yeah, definitely.
Ryan Henry on recovering from COVID-19
Ryan, you caught COVID-19 quite early in the pandemic. How was your recovery and did it change your approach to how you've been dealing with life since then?
Ryan Henry: For me, catching COVID, it was actually one of my major downfalls of last year. Being sick and not being able to go to the gym and work out for the next month, which was my stronghold, allowed for me to start tapping into other ways of not dealing with things that I had going on. And it commenced a spiral down that ended up being a blow-up for me, because of how I wasn't able to move around at that point. I was using exercise and the gym to be my therapy at the time where we couldn't do many things.
And then from there, it was like, if I didn't have that, I guess I just let it all go. And mentally, you can let things fall by not having an outlet. ... But we came out of it.
Charmaine Bey discusses juggling parenthood in the pandemic
Charmaine, you welcomed a daughter right at the beginning of the pandemic. How have you handled juggling being a parent in the pandemic, alongside returning to work on "Black Ink Crew Chicago"?
Charmaine Bey: Being a parent in the pandemic, it was definitely my biggest joy, for sure. But it was definitely really hard, too. Postpartum is just, it hits every woman different. Some women don't deal with it, but unfortunately, I definitely did. I do think that the pandemic factored into that. I couldn't even go outside to take my baby for a walk, because of coronavirus, and just — we really didn't know what exactly it was at that point.
And then my mom passing away while I was pregnant, it's like when I had my baby, I just grieved all over again. It was really, really, really tough. So there were just a lot of times during the pandemic that I remember ... just struggling with postpartum and crying for no reason. I couldn't tell you why I was crying, but I was crying as I'm holding my beautiful baby, or just feeling like my mind was completely out of control, like I had no control over my mind. It was just a really intense feeling sometimes, and that was tough.
Going into filming right when we got the call for filming, I found out my dad had cancer and it was stage four. It's been tough, the whole thing's been tough, but I just try my best to stay positive and keep it moving. You know what I mean?
Sometimes filming can be a good outlet, believe it or not. Because a lot of times, I'll just not talk about how I feel, because I have so much going on and I'm just trying to get through my day. But then I might have a scene with Ryan, where Ryan's like, "How do you feel?" I'm like, "I'm going through it." And he's like, "Okay, but what does that mean?"
And it really allows me to face the things that maybe I'm not ready to face, or don't know how to face. It allows me to face it and it allows our friendship, I believe, to grow even more in other directions, other than just being friends on a TV show. It's like, okay, but we're friends in real life, because the conversations that we have, when I walk away from those conversations, I might feel like a weight was taken off my shoulders, just because I was able to express myself to my friend. So, it's tough filming while we have all these things going on, but sometimes it can be an outlet.
I'm glad you've got that support there, but I just want to say I'm so sorry, because there's nothing worse than losing a parent. I really feel you there. And it sounds like you've both been through so much. So thank you for putting that back out there. I think it will help a lot of people who have gone through similar things.
Charmaine: Definitely. That's why we put it out there.
If you or someone you know is struggling with mental health, please contact the Crisis Text Line by texting HOME to 741741, call the National Alliance on Mental Illness helpline at 1-800-950-NAMI (6264), or visit the National Institute of Mental Health website.
Will broken friendships be mended on Black Ink Crew Chicago's seventh season?
Ryan, you fell out with your friend, Anthony Lindsey, last year. Are you going to be friends again? Are we going to see that during Season 7 of "Black Ink Crew Chicago"?
Ryan Henry: I think what they hinted at in the preview was we were able to get to a point of talking to resolve some confusion of the situation at hand. I could just contest to the fact that it's not about reconciling a friendship, but more about addressing the accountability. If I was accountable or responsible for the fallout, then as a man, me being able to address it and me being able to give another man clarity on where it would be unclear for, as harsh as the situation was taken, then that in a nutshell can be the limit to it. Just being able to address the accountability, you know what I mean? It doesn't always have to end and resolve a reconciliation of friendship. You'll see, there was a lot more to that friendship that was to be seen.
So, it's more about making it right?
Ryan: Yeah, sometimes it's not always about what would be right. It's just about given that sometimes you're never going to forget, people will never forget, but being able to forgive and being able to move on, because of unanswered questions, apologies do [and] — in the right way — can be the level of closure. And then you can move on in your own separate ways.
For me, this happened a year ago today, actually. And the people only got it at the level of what social media would have taken it as. You know what I mean? There was a lot more to be seen, a lot more to be told, because at that time, I was working on me, and I didn't owe it to social media to explain at the level that he felt he had to display it at.
But what was going to happen was the fact that the show was going to return. I wouldn't be a man if I tried to bury it and just move on, moving forward. I have people who support me and people who deserve certain explanations for them to continue to support me for the character that they supported. You know what I mean? They would have to see the ups and downs of all of that. I owed it to myself and to the people who support us and who have supported us the entire time to see what the real was and then move forward.
Charmaine Bey opens up about protesting against R. Kelly
Charmaine, you protested publicly against R. Kelly. Were you pleased to finally see him convicted? And why was it important for you to stand up publicly and help make that happen?
Charmaine Bey: I was extremely pleased to see him convicted. It's a hard battle here in Chicago, because R. Kelly is from Chicago and Chicagoans love R. Kelly. And he was great at what he did — songwriter, singer. He was a big part of my growing up and a big part of a lot of artists in the industry. He's a big part of their accolades. For instance, Drake just released an album and unfortunately he's sampled one of R. Kelly songs, and R. Kelly is able to benefit from that.
But for me, it was just more important, just being a woman. No matter what city I'm representing, it's about being a woman and really bringing light to what R. Kelly was doing. And it wasn't right. And I am very, very, very pleased, and I just hope that his victims are pleased. I hope that everyone that was affected, that they can find some peace.
Because I'm sure this coming back up and people having to testify in court and all of these things are very traumatic for people. Women are saying that they were being held against their will, or even if they were staying with R. Kelly, they were brainwashed. My heart even goes out to Aaliyah, for instance. She died so young, and we'll never know her story with R. Kelly. But I am just pleased that he was convicted, and I'm hoping that the people that were affected can find some peace within that. For sure.
Sometimes, you just have to stand up for the things that you believe in.
Charmaine: Definitely. And obviously, we were filming "Black Ink Crew Chicago," and I'm also on the radio. I wanted to bring my platforms in on it to really make it a national thing. And a lot of people were really upset, especially from Chicago. They were just so upset. Like, "We love R. Kelly," and all of this. But at the end of the day, I don't regret it. I do not regret it. R. Kelly, he wasn't doing ... I tell you what, if I'm doing something that people don't agree with, they're going to protest against me and they're going to put it out there. 
I just wanted to stand up for women's voices in general. I hate that it had to be another Black man put behind bars for these crimes. But no matter your color, no matter where you're from, none of that matters. For me, it's about being a woman and bringing light to what women have to go through.
If you or anyone you know has been a victim of sexual assault, help is available. Visit the Rape, Abuse & Incest National Network website or contact RAINN's National Helpline at 1-800-656-HOPE (4673).
Ryan and Charmaine on their real friendship
I also wanted to ask what you're both doing outside of the show, because I'm sure you've got other projects going on that you want people to know about.
Charmaine Bey: Definitely. So five months before the pandemic, my husband and I started a health line, it's called Bey Moss, but our main ingredient is sea moss. It's an amazing mineral. It's actually 92 minerals out of the 102 minerals that your body is made up of.
So when you eat sea moss, you are really doing your body good. So we have a ton of sea moss products. We started off with just sea moss gel, and now we have so many different ways that you can consume sea moss. One of my favorite ways is just taking the capsules or using the raw sea moss powder, but we also expanded to soaps and haircare and all kind of things. My husband really has taken that brand and really just shot it to the moon.
Some of our most famous influencers include Ryan, include Lizzo. Ryan was a big help in the beginning, for sure, because Ryan was putting it on his Instagram all the time and he really helped us promote the business. We really needed that. But with Ryan's help it led us to reach people like Lizzo and Winnie Harlow, Dame Dash, Bia, and so many other celebrities. And aside from Bey Moss, there are other companies that I'm working on. I actually would rather you guys tune in to "Black Ink Crew Chicago" Season 7 to see how a new company that I have came to birth — so just tune in.
That sounds exciting. Mysterious, but exciting.
Charmaine: Mysterious, very mysterious. I'm not trying to give too much away. I'm definitely just proud of myself for taking this step to create this company. So just tune in.
How about you, Ryan? What have you been working on?
Ryan Henry: I've definitely got some things in the works, not too much that I want to share until they happen, but definitely got some things in the work[s], especially on expansion. It's just I want it to be all right for the people and then when it's time, I definitely will reveal it, and [I] appreciate the people supporting up until.
Charmaine: Just tune in to "Black Ink Crew Chicago" Season 7 on VH1.
Ryan: It's going to get real.
Charmaine: Yes. It's probably one of our most real seasons. We are putting it all out there. I just want to also thank Ryan, because we've gone through so much in the past, and I would not be on this show or in this position without him. Or my life wouldn't be what it is without the opportunity that I've had. I don't think I get the chance to ever say that to him. So, thanks Ryan. I love you.
Ryan: You always say it. I appreciate you.
Charmaine: I appreciate you so much, but I mean it, you know what I'm saying? I definitely realize that more as an adult than where we started. You know what I mean?
Ryan: You know I'm with you always.
Charmaine: Always.
Ryan: Just know your value.
Charmaine: Period.
A "Black Ink Crew Chicago" Season 6 marathon will air from 1pm-8pm on Monday, October 4, with hosted interstitials featuring Ryan and Charmaine ahead of the Season 7 premiere.