The Truth Behind Porsha Williams And Kenya Moore's Feud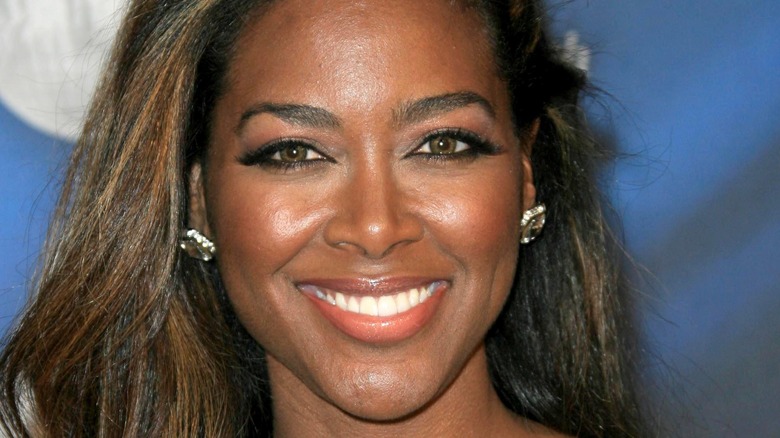 s_bukley/Shutterstock
Obviously, no cast of "Real Housewives" would be any fun to watch if everyone just got along all the time. But few 'Wives have kept a feud going for this long, and with this kind of energy, as Porsha Williams and Kenya Moore, who both joined the cast of "The Real Housewives of Atlanta" in Season 5. The pair got off to a rocky start when Porsha mistakenly referred to Kenya as "Miss America," when Kenya was actually "Miss USA." And it got way, way worse from there.
After years of fighting on screen, on social media, and in interviews with Andy Cohen, Porsha and Kenya ended Season 13 on perhaps worse terms than ever before. So how did they get here? Why was the Miss America/Miss USA thing such a big deal? And will they ever find a way to mend fences and just become friends for real? Well... let's just say we're skeptical.
Kenya and Porsha's biggest blow up was Season 6
Porsha Williams and Kenya Moore's first major — as in, Real Housewives history major — dust-up happened at the Season 6 reunion show, when Kenya provoked Porsha with a prop scepter and bullhorn, and Porsha got so fired up she got physical. The brawl started with some arguing over whether or not Kenya was actually dating an "African Prince." Porsha said Kenya was playing the victim, Kenya accused Porsha of cheating on her ex-husband, and Porsha called Kenya "a slut from the '90s." That's when Kenya shouted into her blowhorn, "You are a dumb hoe" at Porsha and Porsha grabbed Kenya by the hair and dragged her off the couch.
Far be it from us to condone any kind of violence, but we will note that the other Atlanta 'Wives seemed to think that Porsha was kind of driven to the edge by Kenya's provocation. "I felt like Kenya violated [Porsha] over and over again," Nene Leakes told Andy Cohen on "Watch What Happens Live" (via The Wrap). "Now, I am not condoning violence. I'm just simply saying you can't violate and not expect something, you understand?"
This was the first big fall-out, and things didn't seem to patch up until a tentative truce after both ladies became pregnant at the same time in Season 12. It didn't last long, however, and by Season 13 they were back to slut-shaming.
Porsha Williams and Kenya Moore are at odds still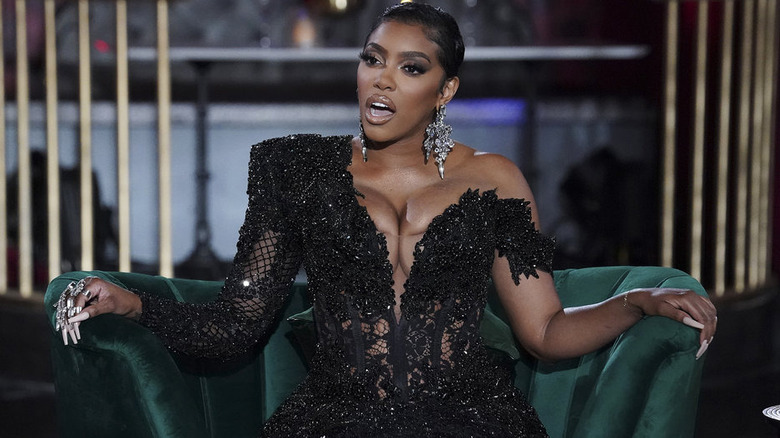 Heidi Gutman/Bravo
Specifically, some viewers thought Kenya Moore took things too far when she tried to "investigate" whether or not Porsha Williams had sex with Bolo the Entertainer, an exotic dancer hired for Cynthia Bailey's bachelorette party. On the third part of the Season 13 reunion episode, Kenya told host Andy Cohen (via People), "I think anytime that you have sex with someone or explore, as you say, is within their right. However, it's my right to exploit what they do in a cast house for a reality TV show." Morally, this seems a bit suspect. But we're not saying Kenya wouldn't make a deviously effective reality tv producer herself.
In an After Show segment, Porsha explained that she was disappointed because she'd gone into Season 13 with positive feelings toward "everybody." She explained, "I'm always looking forward to a different side of Kenya. And I'm always optimistic that there will be a different side, but then I always meet the same person." Kenya also seemed fed up in the After Show, saying, "All those years where we were enemies, friends, frenemies, and I finally let my guard down when I was pregnant and I became your real friend and supported you every way that I possibly could have. And what came of that is pure hate in return."
Some friendships just weren't meant to be.