Inside Margaret Qualley's Relationship With Her Mom, Andie MacDowell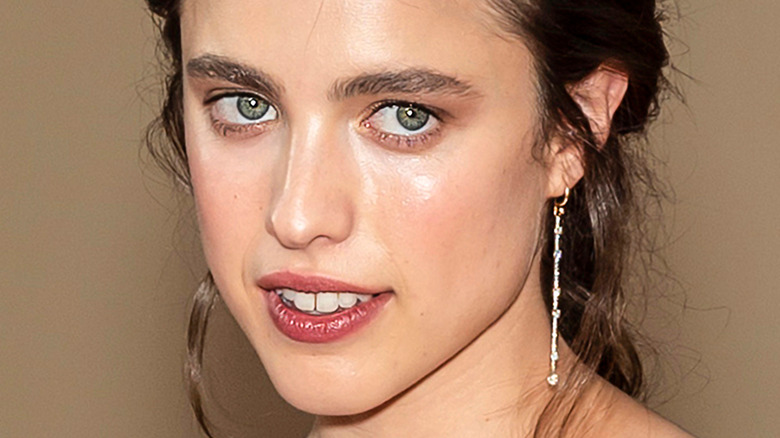 Ovidiu Hrubaru/Shutterstock
Margaret Qualley showed she had what it takes to make it in Hollywood in 2014 when she played the moody grief-stricken Jill Garvey in HBO's "The Leftovers." As the daughter of Andie MacDowell, Qualley grew up with a strong inspiration at home. Now, mother and daughter are sharing the screen on Netflix limited series "Maid," which premiered on October 1.
Qualley's portrayal of a young single mother trying to make ends meet channels all the talent she showed in her previous smaller parts, delivering a performance IndieWire deemed "award-worthy." "It's obvious why Qualley is considered one of the most exciting new actresses out there because she makes you see Alex's lived experience, whether you've been her or fear becoming her," IndieWire's Kristen Lopez wrote. The chemistry between Qualley and MacDowell, who plays her on-screen mother Paula, is also palpable. The relationship between Alex and Paula is complex and often difficult. "Paula is lovable because she's broken ... her cruelty comes from that place, but she's not malicious — not that it's an excuse, because she does have the responsibility of being a mother and she does fail in that area," MacDowell told The Washington Post.
While her life experience is different, MacDowell told the newspaper that she brought to the role aspects of her own relationship with her mother, who struggled with alcohol addiction. But does the relationship between Alex and Paula mirror in any way the relationship between Qualley and MacDowell?
How Margaret Qualley feels working with her mom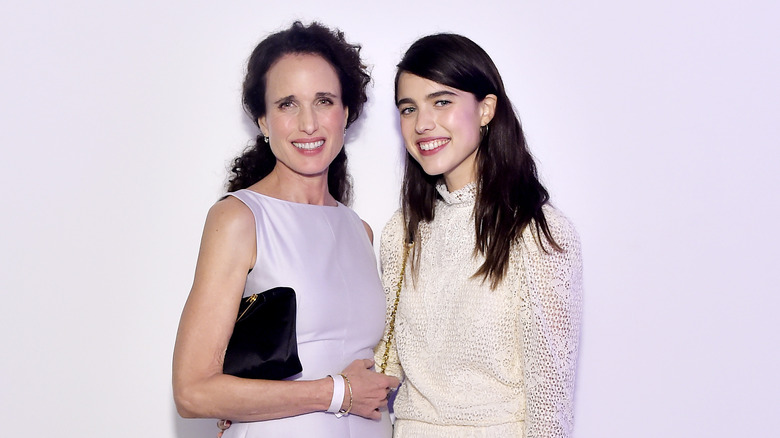 Stefanie Keenan/Getty Images
Alex and Paula's relationship in "Maid" is nothing like Margaret Qualley and Andie MacDowell's. "The nature of our relationship on-screen is entirely different from our real life," MacDowell told The Washington Post, adding, "We are very close. We're both truly emotional beings, and we spend a lot of time together, the two of us, so the dynamic of knowing how those emotions are alike, that was really easy for us to be able to fill those spaces."
Having her mother next to her as she took this huge step forward in her career was crucial. "It was a real dream getting to work with her. It was one of the more surreal experiences of my life. Across the board, there's the comfort of having your mom in the same place when you're in the middle of a pandemic and you're away from home for nine months," Qualley told Collider. MacDowell also enjoyed getting to pamper her "independent" daughter again. "I cooked her soup on the weekends," she told The Washington Post.
There were scenes in which Qualley almost felt like MacDowell was talking to her directly. "Towards the end of the season there's this scene when ... my mom tells me that she's proud of me ... it was Paula telling Alex, but really, for me, it was like my mom telling me at the end of this whole show that she was proud of me," she told The Washington Post.
Margaret Qualley suggested Andie MacDowell join Maid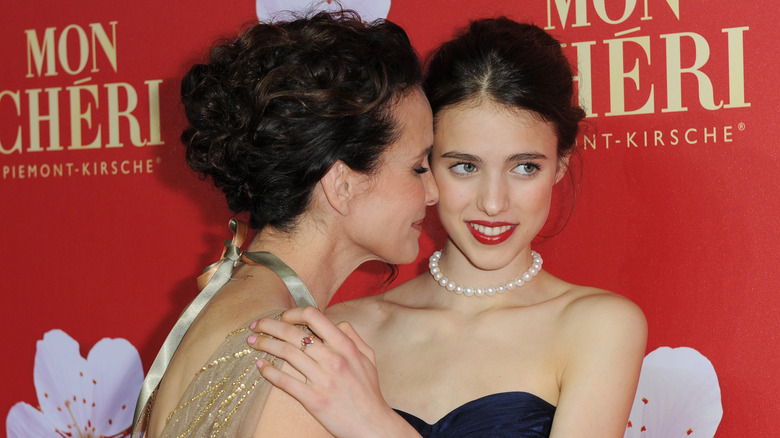 Hannes Magerstaedt/Getty Images
Working alongside her mother wasn't just a happy coincidence — Margaret Qualley actually wanted it. Speaking with Collider, Qualley explained she asked executive producer Margot Robbie what she thought about having Andie MacDowell step in as Paula. "I was up in Canada quarantining and the role of my mom was still open, and it dawned on me that I've always wanted to work with my mom. And then, I was like, 'Whoa, this is it. My mom's gotta do this.' And I called Margot Robbie and she loved the idea," Qualley said.
In fact, the producers had considered the possibility but were afraid the situation may be uncomfortable for the young actor. "It had to come from her. When we cast Margaret, all the producers thought her mom would be an amazing Paula. But we were afraid to bring it up because, well, it's her mom. Then Margaret called us all and said, 'I think we should go after my mom for this.' And we were like, 'Yes!'" showrunner Molly Smith Metzler told  The Washington Post.
Qualley was unsure whether her mother would be up for it and had to cross her fingers before asking her. "I couldn't look up to her more, and then there's this thing where you walk into the room and your mom is playing your mom and that definitely shifts the situation. It's the biggest cheat I've ever managed to pull off," Qualley told Collider.