Andie MacDowell Shows Off Her New Gorgeous Look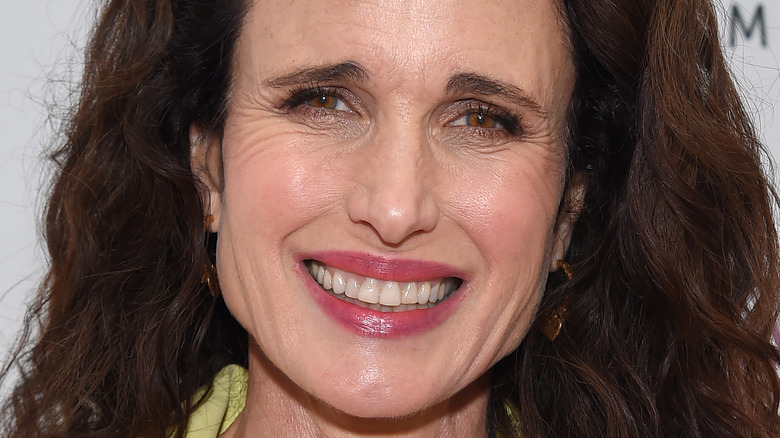 Shutterstock
Actor Andie MacDowell showed off a gorgeous new look on the red carpet at the Cannes Film Festival. The "Groundhog Day" star debuted her natural gray hair and her voluminous curls at the premiere of the musical film "Annette," which stars Marion Cotillard and Adam Driver. The look was complemented by MacDowell's aquatic blue Prada gown with intricate black beadwork tasseled at the waist and stunning metallic light green eyeshadow.
MacDowell was joined on the red carpet by actor Helen Mirren, who seems to also embrace her age by not coloring her naturally white hair. Yet it was MacDowell's famous daughters, Rainey and Margaret Qualley, who she says inspired her to rock her silver locks instead of dyeing them. "I wasn't coloring my hair and you could see my roots, and my daughters kept telling me that I looked badass," The "Green Card" actor told Drew Barrymore (via W Magazine). "So I went for it, and I'm loving it...It's not that I'm letting myself go, I don't think of it that way."
It's clear that MacDowell was feeling her new look, as she posted a photo from the red carpet on her Instagram with the caption, "Thank you for making me chic." Other celebrities clearly took notice of MacDowell's transformation. Actor Kate Bosworth commented "Stunner" on the photo, and "Real Housewives of Beverly Hills" star Lisa Rina, wrote, "QUEEN!!!!" Model Helena Christensen also commented, "You're such a stunning beauty." This isn't the first time that MacDowell has taken a stand against youth-centric beauty standards, though.
Andie MacDowell doesn't associate beauty with youth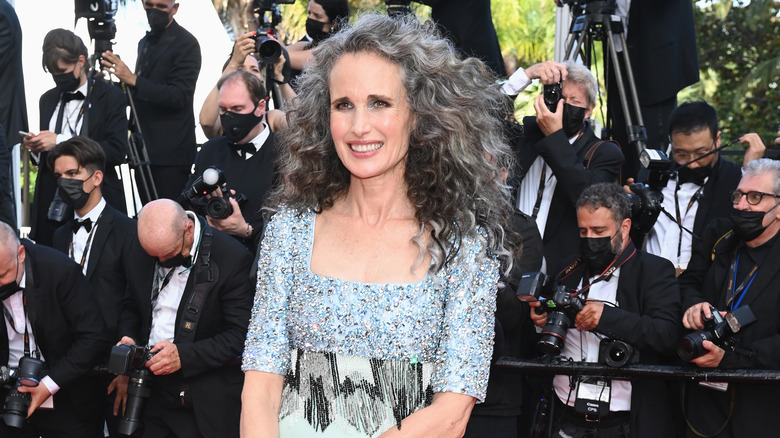 Pascal Le Segretain/Getty Images
Andie MacDowell is embracing her natural silver curly hair and made it clear that she's just as beautiful as ever when she stunned on a Cannes Film Festival red carpet. She appears to be practicing what she preaches in that she once said that beauty should not be associated with youth. In 2017, MacDowell told W Magazine, "The beauty myth that I'd like to debunk is that you must be young to be beautiful, age isn't a detriment and we don't need to chase youth, we should all embrace every moment of our life."
MacDowell also discussed how it's essential to find beauty in aging. "Finding beauty as mature women in a culture that glorifies youth can be challenging but we don't have any other choice if we want to be happy," she explained. "Time is precious and cannot be wasted and there are so many aspects of maturity that are outrageously gorgeous. Don't look back unless it is to see how far you've come." 
It appears other women in Hollywood feel similar. As Julianne Moore recently told W, "There's so much judgement inherent in the term 'aging gracefully.' Is there an ungraceful way to age?" She added that Helen Mirren once explained, "Aging is a requirement of life: You either grow old or die young." It's clear MacDowell is among other timeless beauties who are positive influences on all women, no matter the age.