The Real Reason Harry Hamlin Almost Divorced Lisa Rinna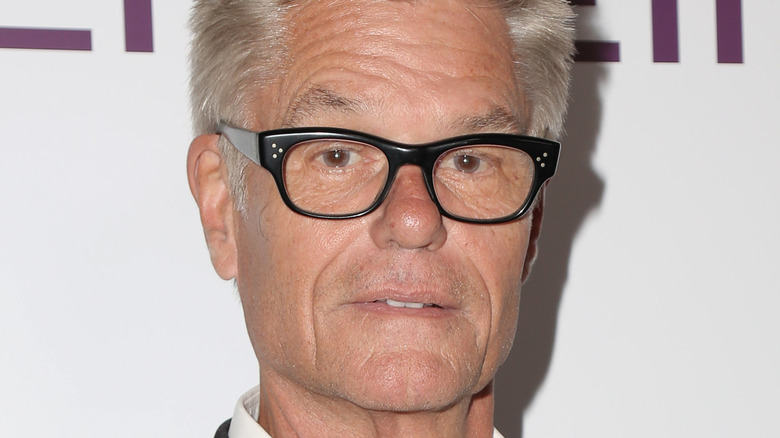 Kathy Hutchins/Shutterstock
Before settling down with Lisa Rinna, Harry Hamlin had long-term relationships with three other women in Hollywood which included two marriages. He met Ursula Andress on the set of "Clash of the Titans," and after a night of passion during production on the film the two had a son, Dimitri, in 1980, per Yahoo! The couple, who were engaged but never married, stayed together until 1983. "I was always very possessive ... and for Harry, his career is the main thing," she told People after their split. Afterwards, Harry was married to Laura Johnson from 1985 to 1989, and to Nicolette Sheridan from 1991 until 1992.
Harry first met Lisa the same year his marriage to Nicolette ended. This was before Lisa's breakout role on "Days of Our Lives," when she was still a struggling actor working at an eyeglass store, per Screen Rant. Their relationship blossomed and they tied the knot in 1997. Although the couple has managed to stay together there has been notable drama over time.
During a heated exchange on an episode of "The Real Housewives of Beverly Hills" in 2015, Kim Richards threatened to expose a vague secret about Harry to Lisa on-air. Ultimately, Kim failed to deliver on that threat, but it had viewers buzzing about the possible behind-the-scenes drama between Lisa and Harry. Keep reading to see what caused the couple to nearly call it quits.
Harry Hamlin almost called his divorce lawyer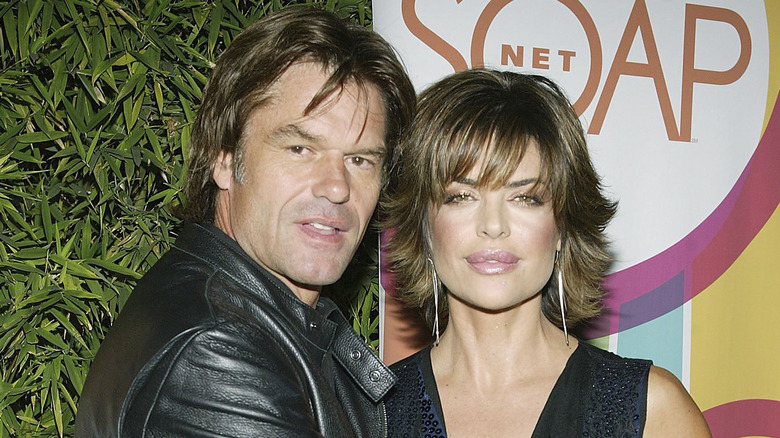 Frederick M. Brown/Getty Images
Leading up to Season 5 of "The Real Housewives of Beverly Hills," Lisa Rinna had spoken to producers about potentially joining the cast. This caused drama to unfold in her house before the cameras were even rolling. Lisa was nervous about Harry's reaction to her joining the series — and with good reason. "I went to him and I said, 'Okay, they're interested in me doing this show," she recalled on a 2015 episode of "Oprah's Where Are They Now?" per ETonline. Harry was less than thrilled about the idea. "'Nope. I'll divorce you. If you do it, I'll divorce you,'" Lisa recalled him replying. The "Mad Men" actor confirmed that was his initial response. "I have my divorce lawyer on speed dial, and I do," he recalled telling his wife during a 2019 interview with the Daily Beast. "I said to Lisa, 'You can't do this. Everybody who does that show gets divorced. It's a horrible, horrible thing, to do that show.'"
Fortunately, cooler heads prevailed and Harry took his finger off the "speed dial," and quickly had a change of heart. "'I've changed my mind. It might be a good thing for you,'" Lisa recalled her husband telling her two days later. The change came after Harry spoke to Bethenny Frankel about the potential "branding" opportunities "RHOBH" could offer. They avoided divorce, but still found drama. Keep reading to see how Lisa responded to cheating rumors about her husband.
Lisa Rinna blasts fan online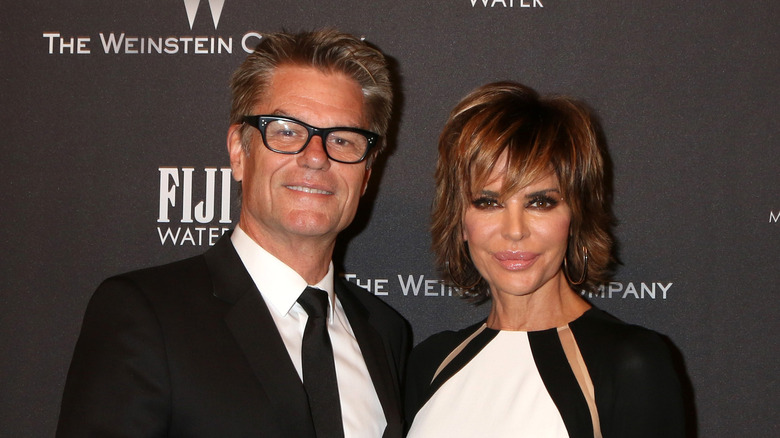 Kathy Hutchins/Shutterstock
Lisa Rinna took time out of her busy schedule to respond to a fan who made a salacious claim on Twitter that Harry Hamlin had slept with her friend. "My girlfriend f***ed Harry Hamlin in Muskoka for an entire summer in 2018 – you wanna talk about that @lisarinna???" they wrote, per Screen Rant. The "Real Housewives of Beverly Hills" star was unfazed and fired back. "Yeah and I watched it was hot as hell," Rinna wrote. Apparently, the reality star had enough of the trolling about her relationship so she followed up that Twitter exchange with a cheeky Instagram post. Lisa uploaded a photo of Harry on the cover of People as their "Sexiest Man Alive" in 1987. "Appreciation post to my very busy Husband who apparently doesn't live with us, is having a lot of affairs, and is gay," she wrote while including hands-raised, heart, and lips emoji.
Communication has been vital to the couple maintaining a healthy marriage through the years. "We listen to each other. Really listen to each other," Harry told the Daily Beast in 2015. "The thing about listening is that it's not something that comes innately to human beings ... That's what Lisa and I do — we listen," he added. In addition to communicating, the duo has continued to keep the relationship spicy. While vacationing together in August, their daughter Amelia Gray Hamlin caught Lisa and Harry taking a nude dip together in a hot tub.