The Real Meaning Behind 'Sir Baudelaire' By Tyler, The Creator Ft. DJ Drama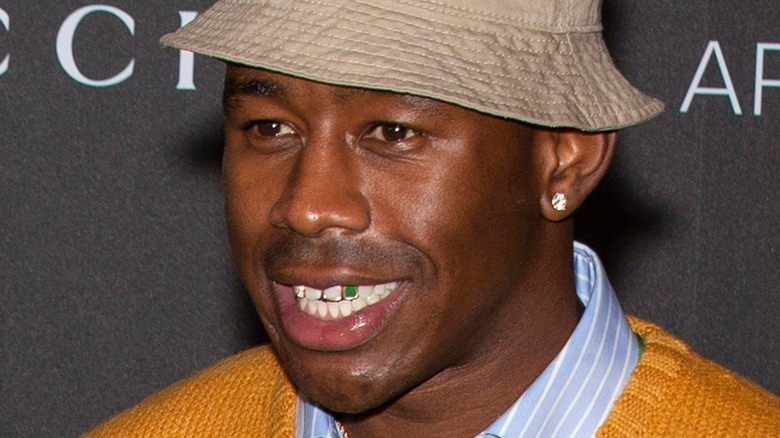 Ovidiu Hrubaru/Shutterstock
If there is one artist that is truly uncompromising in his ways, it's Tyler, the Creator. A once-in-a-lifetime talent, Tyler (real name Tyler Okonma) burst onto the scene in 2009 with the head-turning mixtape, "Bastard." A dastardly mix of hip-hop and horrorcore (think Insane Clown Posse, minus the Juggalo vagrancy), the then-18-year-old rapper from Ladera Heights, California (per Los Angeles Magazine) came crashing through the gates with a chip on his shoulder (and soon after, a literal cockroach).
Rife with politically incorrect material that surely would not fly in this era (it barely flew by back then) a blend of cloudy and dissonant beats, and a plethora of Odd Future features, "Bastard" was a self-produced effort that certainly put a lot of eyes on the then-burgeoning rapper. Tyler would then go on to drop "Goblin" in 2011, which featured the breakthrough buggy single "Yonkers." The song was ultimately praised by Kanye West and garnered mainstream publicity for Tyler in the process.
Eventually, Tyler abandoned the horrorcore ethos — a sign of maturation and artistic progression — in favor of what he called "weird hippie music for people to get high to" (per Hypebeast). Over the decade, Tyler's popularity skyrocketed — selling out Madison Square Garden and earning not one, but two Billboard No. 1 records with 2019's "IGOR" and "Call Me If You Get Lost" — the latter of which arrived in June. Opening up his latest record with a bang, let's take a look at Tyler, the Creator's "Sir Baudelaire"!
Tyler, the Creator has reached the mountaintop on 'Sir Baudelaire'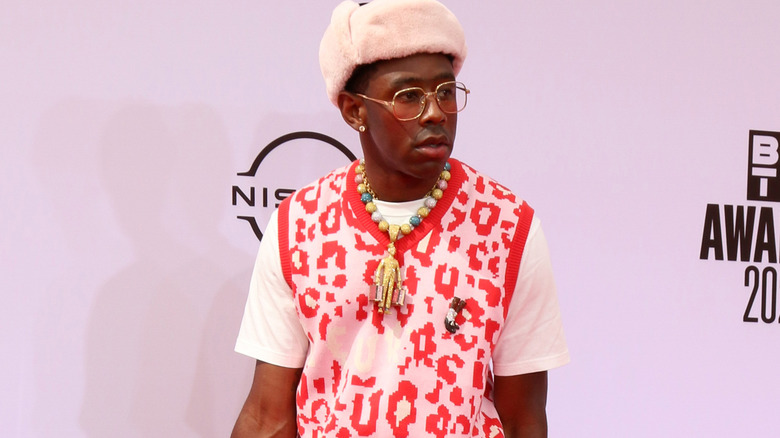 Kathy Hutchins/Shutterstock
Throughout his career, Tyler, the Creator has assumed many alter egos. From Ace, the Creator to Wolf Haley, the California-born rapper has been known to not limit himself to just one identity. With the June release of "Call Me If You Get Lost," Tyler debuted a new gimmick — Sir/Tyler Baudelaire. A direct reference to sophisticated French poet Charles Baudelaire, Tyler Baudelaire is one of a world traveler — noted by his Twitter location ("somewhere in geneva, tiny boat") and the album's cover, which features Baudelaire's passport.
"Sir Baudelaire" furthers the lore behind Tyler's world travels. After some back-and-forth banter between Tyler and legendary producer DJ Drama, the rapper states, "Cookie crumbs in the Rolls, jet-fuel-scented vest / Swim trunks in the trunk, Geneva water the best / The passport lookin' thick, the afro need a pick" (via Genius). Here, we see the fortune amassed by the rapper over his career — riding in a Rolls Royce, visiting Switzerland, and fattening up his passport travels. It's certainly a far cry from his Odd Future days, but make no qualms about it, Tyler is not coming off as braggadocious or pretentious. He's just telling it as it is.
Well, okay, maybe he's a little braggadocious. "The lake water, dry off at the French Open / I rub it in these n****s' faces likе thick lotion," Tyler later raps. We appreciate the honesty, Sir Baudelaire.
DJ Drama also offers his two cents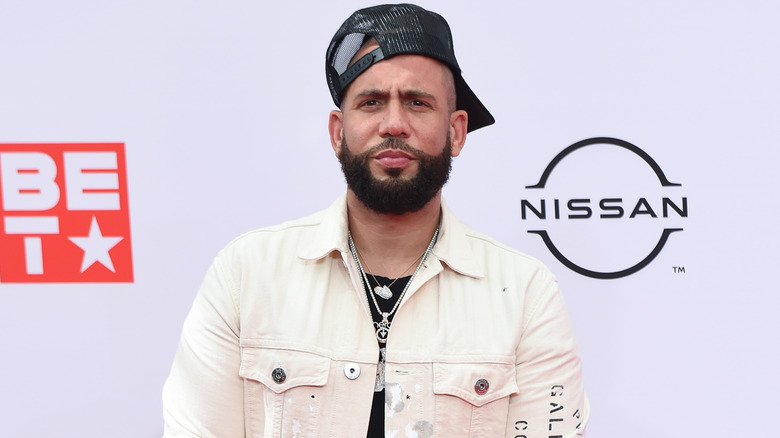 Aaron J. Thornton/Getty Images
As "Sir Baudelaire" comes to a close, Tyler, the Creator tags in veteran producer DJ Drama. If you listened to hip-hop in the 2000s, you're definitely aware of DJ Drama's iconically obnoxious voice, characterized by his incessant yelling. But that's no slight on the legendary DJ, for hip-hop would not be where it is without him and his "Gangsta Grillz" and "Dedication" mixtape series — the latter of which put Lil Wayne on the map in 2005.
DJ Drama worship aside, the outro sees him and Tyler offering two separate soliloquies, which contrast in delivery. "I hope you n****s been spendin' your time wisely ... As you can tell, we have / This s*** for the sunseekers," DJ Drama boastfully yells in the back, as Tyler paints a picture of his newfound lifestyle ("Got the bikes on the tarmac ... Hittin' wheelies and s***") (via Genius). It quickly becomes apparent that DJ Drama isn't rambling, as he has lived this life throughout his illustrious career and can back it up.
As Tyler repeats the album title through the end, DJ Drama continues with the braggadocio: "See, while y'all was in the house / We was takin' Rolls Royces to go see alligators / Travelin' the world / Passport stamped up," the producer says, calling out those who refuse to go out and see the world. Tyler then concludes, stating, "It's Tyler Baudelaire, n***a" — a resounding declaration from the former Odd Future cohort.