The True Story Of How Cameron Diaz Broke Her Nose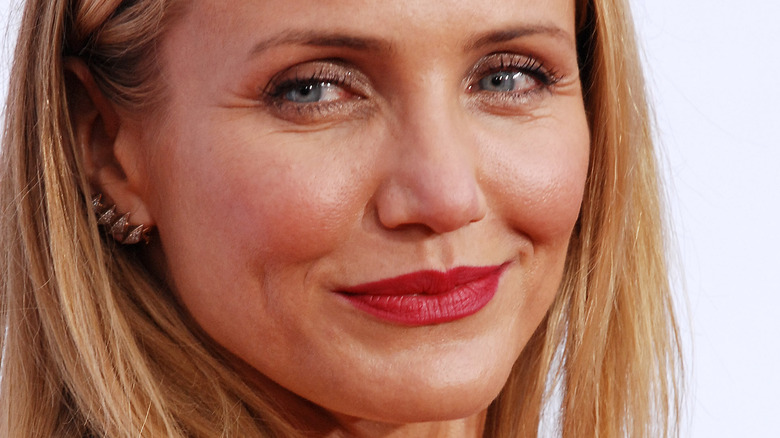 Ga Fullner/Shutterstock
You may not see Cameron Diaz on the big screen as much these days due to the fact that she retired from acting a few years ago. However, before she stepped back from the spotlight, she was known as one of the most beautiful women in Hollywood. You might think that would be reason enough for the star to have taken some serious care of herself while she was still seeking major movie roles. But that's just not the kind of person that this famous figure happens to be.
Indeed, there are simply some stars who are willing to go all out when it comes to putting themselves — and their bodies — on the line so that they can truly fulfill a role. While Diaz didn't permanently damage her body while the cameras were rolling, she did break her nose because of something that she learned to do for one of her most notable roles.
But it turns out, even that painful incident hasn't stopped her from continuing to do the thing that got her so injured in the first place.
Cameron Diaz had a surfing accident on her birthday
If you've ever watched Cameron Diaz as Natalie Cook in "Charlie's Angels: Full Throttle," then you'll know that the knows-no-boundaries detective takes her work to the water. In order to do so, the actor herself had to hop on a surfboard and ended up liking the experience, according to Insider. While that has surely led to a heck of a lot of fun for the star, it also, unfortunately, led to her getting injured.
Back in 2003, the same year the film came out, Entertainment Weekly reported that Diaz decided to celebrate her 31st birthday at Waikiki Beach with her family. Of course, she also wanted to do some surfing. It was while riding the waves that she wiped out and was hit in the face by the board of another person who was surfing nearby. Ouch! While that surely hurt, her sister, Chimene, who was with the star, noted that if the board hadn't been foam, the outcome could have been much more serious.
"I'm fine," Diaz told the Associated Press (via EW) while wearing a bandage on her busted schnoz. Although she was recovering from the swelling that had accompanied her broken nose, she did admit, "I'm just totally bummed out because I can't go surfing anymore."
Diaz kept surfing and has been spotted spending time with one of the most famous surfers around, which, of course, sparked rumors of a romance.
Cameron Diaz sparked romance rumors with surfer Kelly Slater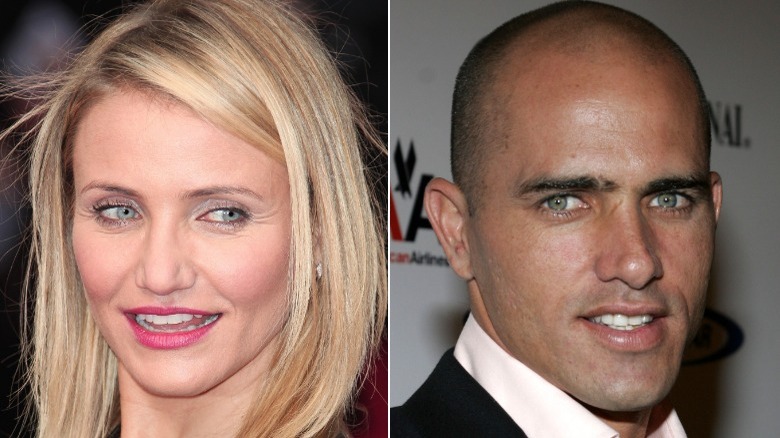 Shutterstock, Shutterstock
It would have been totally understandable if Cameron Diaz decided to give up surfing after being hit in the face with a board and breaking her nose. But the (now-former) actor stuck with it and even made friends with Kelly Slater, a champion surfer and star of the sport who had taught her a thing or two about what he does best, according to Men's Health.
In January 2007, People reported about the fact that Diaz had been spotted getting into the water with Slater while taking some time off. Enjoying some time in Hawaii, a source told the outlet that Slater had made Diaz his priority when it came to his schedule, which is why they were able to get together in Oahu before hitting up the North Shore. On top of that, the two were seen out playing golf and having dinner as well as doing a little grocery shopping together. One person who spotted them told People that "they were just cruising around."
At the time, People pondered if the two friends were involved in a romantic situation. Diaz and Slater never confirmed or denied that, but they certainly share a love of surfing.