What's Really Going On With Chris Evans And Selena Gomez?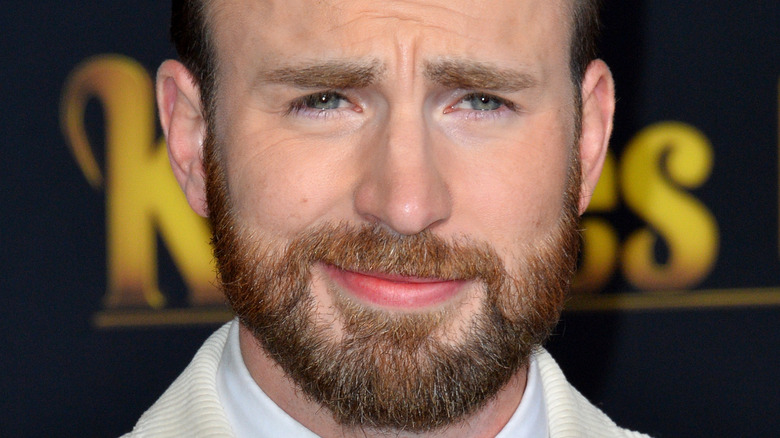 Featureflash Photo Agency/Shutterstock
There's nothing we love more than a hot new Hollywood couple — especially when it involves two fan-favorites. The latest celebrity duo to spark romance rumors is Chris Evans and Selena Gomez. Not only is there some compelling proof to suggest there's definitely something going on between them, fans were quick to point out that the singer once confessed she was attracted to the "Captain America" star. "I kind of have a crush on Chris Evans. Isn't he cute? ... He's very cute," Gomez revealed during a 2015 appearance on "Watch What Happens Live with Andy Cohen." Then, when she was asked if she'd ever previously spoke about her crush on him, she said it was the very first time. "Oh man," Gomez said. "He's either going to hate me or love me."
Evans never publicly reacted to the news, but years later, it seems like her candidness may have paid off. After the rumors started circulating, many shared their thoughts on Twitter. "LISTEN IF THE RUMORS ABOUT SELENA GOMEZ DATING WITH CHRIS EVANS IS A REAL THING, THEY'LL BE THE MOST ATTRACTIVE COUPLE EVER. I KNOW THAT THEY'LL BE GOOD FOR EACH OTHER. I CAN FEEL IT," one excited person wrote. Another added, "Such a levelllll uppppp I really hope it's true." A third eager fan tweeted, "Honestly if someone was going to date our girl selena gomez then im glad its Chris Evans."
So, are Evans and Gomez dating? The evidence is piling up.
Chris Evans and Selena Gomez were spotted leaving the same place ... twice
Emma Mcintyre, Jon Kopaloff/Getty Images
Chris Evans and Selena Gomez have sent the internet into a frenzy as many are trying to figure out what's really going on between them. Based on Twitter's findings, the two have seemingly been spending some time together. According to one tweet, the pair was seen leaving the same studio in Los Angeles on October 1 — and rumors has it they're working on a new movie together. However, their upcoming projects posted on IMDb don't match. Then, a few days later, Evans and Gomez were spotted leaving the same restaurant. Coincidence? It's usually not the case when it comes to celebrities. On top of all that, the actor recently started the singer following the singer on Instagram.
As of right now, the status of their relationship remains very unclear, but the timing of this potential new romance would be ideal for both stars, as Gomez has been single for quite some time following her split from The Weeknd and Evans hasn't been romantically linked to anyone since Jenny Slate.
Only time will tell if they'll be added to the list of the hottest new couples to come out this year, or are just strictly colleagues.