The Shocking New Claims Dog The Bounty Hunter Just Made About Brian Laundrie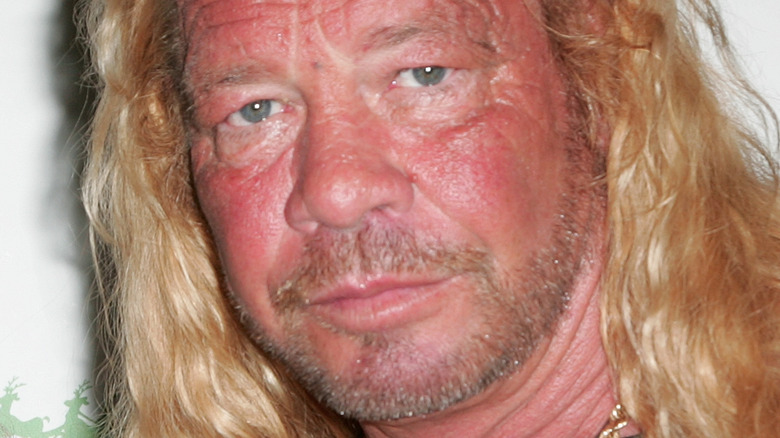 David Livingston/Getty Images
Duane Chapman a.k.a. Dog the Bounty Hunter has joined the search for Brian Laundrie, who has been named a "person of interest" in the Gabby Petito case, according to NBC News. Laundrie is believed to be living somewhere off grid after police tried questioning him about the disappearance of his fiancee, Petito. The two had been in the midst of a cross country road trip when Laundrie showed up at his home in Florida solo. Days later, his parents reported him as missing. In mid-September, Police located the body of Petito in Wyoming and ruled her death a homicide, according to NBC News. While Laundrie may have information about what might have happened to Petito, an arrest warrant was actually issued for fraud after he used an "unauthorized" debit card, according to Insider.
Dog the Bounty Hunter has been following several leads in hopes of locating Laundrie. "Is he still alive? Oh yeah. Yeah, he's alive," Dog told The Sun. "In the beginning, I thought [Gabby's death] was not intentional – second degree involuntary [manslaughter], he said, adding, "Now, the way he's running, I think it's more than that." While Dog seems confident that he's on the right track to locating Laundrie, he's also made a shocking claim about the fugitive. Keep reading to find out what Dog has suggested.
Dog the Bounty Hunter suggests Brian Laundrie is a serial killer
Dog the Bounty Hunter and his wife, Francie Fran, have done a pretty deep dive on Brian Laundrie, really digging into his social media, and trying to learn as much as they can about him. "What [my wife] Francie and I found on that Facebook is absolutely, I can say, terrifying. There are pictures of demonic angels standing there with the sword, and the throat bleeding. There is blood squirting from their eyes," Dog told The Sun. Moreover, Dog shared that Laundrie was really into serial killer books. "The books he read are unbelievable. This kid Brian has taken those books, obviously, to heart," he said.
Other outlets, including the New York Post, have quoted Dog as telling The Sun that he believes Laundrie could be a "serial killer," but that statement appears to have been removed from The Sun's report. Nevertheless, the insinuation is still there. "This is what happens when your kid is looking at those kinds of things, it catches on, and it's demons and it's blood and it's this and it's that, look what that led to...A killer is made, and he is built, to be a killer. He built himself to be that by looking at the dark side stuff," Dog said.