How Nancy Pelosi First Got Involved With Politics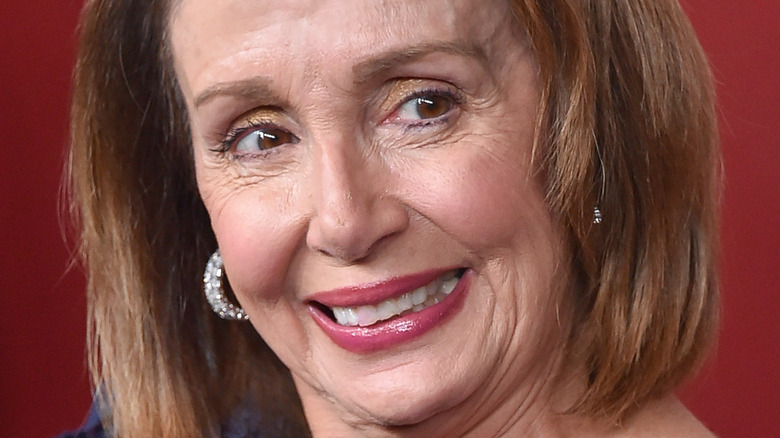 DFree/Shutterstock
Nancy Pelosi has been a mainstay in the political sphere for decades, and there's a good reason for it. She has served twice as the Speaker of the United States House of Representatives and as a U.S. representative from California since 1987. Pelosi also gave birth to five children in six years and is now a grandmother to nine grandchildren, so if there's anyone who knows how to run a "house" efficiently, it would definitely be her. Pelosi says that it was her children who gave her the idea to start a career in politics in her late 40s in the first place. 
Pelosi told NBC News, "My motivation sprang from being a mom. I always say to people: 'Know your why. Know why you're following the career you are, or the pursuit that you have in the community, whether it's education, saving the planet, social and economic justice, whatever it happens to be—know your why, know your what, and know about it so that people ask your opinion and respect your judgment.'"
But exactly when did Pelosi begin her career in Washington, D.C.? Earlier than many people would assume, actually. Here's how she got her start.
Nancy Pelosi began her career at her father's office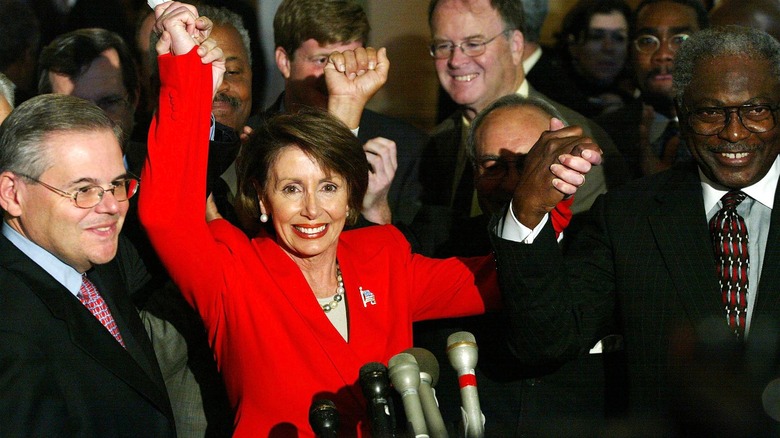 Alex Wong/Getty Images
Even though Nancy Pelosi was born into a family of politicians, it wasn't until later in life that she decided that she wanted to make a difference for her local government, and later, the country, too. According to Insider, Pelosi was the daughter of Baltimore's Democratic mayor, Thomas D'Alessandro Jr. She developed her feistiness at an early age when she kept an eye on the people who owed her father political favors. Some would say that was Pelosi's first real job in the political foray. After that, she started a Democratic Party club from the convenience of her own home, helped run past presidential campaigns, and ran for Congress after her youngest child left home for college — and she hasn't stopped since. 
"I must have good genes from my parents because I feel no slowdown of energy, enthusiasm or even memory," she told The New York Times about her stamina for politics in 2010. With that said, a lot of people cannot help but wonder if Pelosi is still keeping an eye out for some of the more questionable people in D.C. to this day. The answer, of course, will surprise you.
Nancy Pelosi's incredible stamina propelled her to the top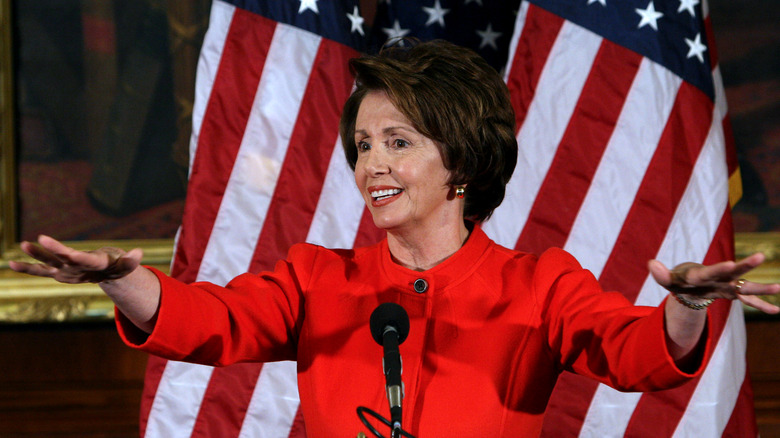 Bloomberg/Getty Images
In an interview with Forbes, Nancy Pelosi made it pretty clear that she doesn't plan on going anywhere anytime soon. In fact, when Mika Brezenski asked the Speaker of the House if she might consider retiring, Pelosi answered with a brisk, "What's that?" and offered some sound advice on the matter. "People make their own decisions about their timing, and they don't have to comply with somebody else's view of how that should be."
In fact, there's even speculation that Pelosi might run for another term as speaker. "Everyone assumes this is her last term, but no one knows for sure," one source told CNN. "If she left early, she would be blamed for losing the House. She doesn't want to look like a loser." Her family even knows she has no intention of stopping, either. Her daughter, Alexandra, even told the Los Angeles Times, "I remember her throughout my childhood with a telephone glued to her ear. In the name of the Democratic Party, she's been on the phone for 32 years."
Watch this space, as we have a feeling that Pelosi and her stamina will outrun just about everyone left in Washington, D.C. That's not bad for a girl who used to work as her father's righthand woman.