Machine Gun Kelly And Megan Fox's Relationship Isn't As Perfect As They'd Like You To Think
Ever since Megan Fox and Machine Gun Kelly got together, the world has been collectively fascinated by their love story. The pair were like magnets in March 2020 on the set of "Midnight in the Switchgrass," and were instantly drawn to one another. Now, in a new interview with British GQ Style, the stars opened up about their relationship like never before, including their unusual first kiss and romantic first date.
The rapper — who's real name is Colson Baker — described his first intimate moment with the "Transformers" actor, telling the magazine, "Even our first kiss, she wouldn't kiss me. We just put our lips right in front of each other and breathed each other's breath and then she just left."
Fox explained she was simply trying to protect her heart even though she knew the second she laid eyes on him that he was going to be someone important in her life. "The first time I looked into his eyes, I was like, 'I know you. I have known you so many times, in so many different forms, in so many different lives,'" she added. From there, the two went on a picnic date that ended with them on "the roof [of the Roxy Theatre] and played pop punk and made out," MGK recalled.
Clearly, MGK and Fox's connection is undeniable, but they also made it clear that not everything is as perfect as it seems.
Machine Gun Kelly described his relationship with Megan Fox as 'ecstasy and agony'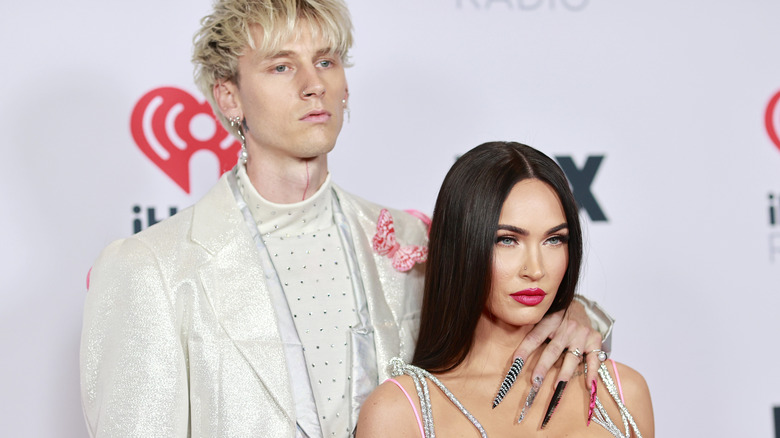 Emma Mcintyre/Getty Images
Megan Fox and Machine Gun Kelly also opened up about their relationship struggles, revealing that while they may have found their soulmates in one another, there's nothing "perfect" about them. The rapper explained to British GQ Style, "It should be light, but also we go to hell with each other. It's ecstasy and agony for sure... I don't want people to think anything's perfect with us." He went on to note he "didn't say it was the darkest fairytale for no reason."
"This is a very intense relationship," Fox added. "Our souls chose this to absolutely have to face our shadow selves; to face things about ourselves we didn't want to have to know, that we tried to push away." The "Jennifer's Body" star previously made similar comments about their "once in a lifetime" connection, telling Nylon in November 2020 that loving MGK is like "being in love with a tsunami or a forest fire." She added, "The intensity of merging with him is just overwhelming, and the threat it poses is so powerful but so beautiful that you have no choice to surrender with reverence and with gratitude."
Despite the ups and downs, MGK has MGK has credited Fox for making him a "better" person and for helping him experience "the "biggest rise of [his] f***ing life."