Why Michael McCary Isn't A Member Of Boyz II Men Anymore
Allen Berezovsky/Getty Images
When it comes to R&B male groups, Boyz II Men are at the top of the list. In the '90s, the Philadelphia quartet sold over 34 million copies globally (per BMI) and won four Grammy Awards and three Billboard Music Awards. Some of their most notable hits include "Motownphilly," "It's So Hard to Say Goodbye to Yesterday," "End of the Road," "I'll Make Love to You," and "One Sweet Day" with Mariah Carey.
As it stands today, the group is made of Shawn Stockman, Nathan Morris, and Wanya Morris (who dated both Brandy and Adina Howard back in the day). But as Boyz II Men fans will know, the original formation included bass singer Michael McCary, who also went by the nickname "Mike Bass." In 2003, the singer left the group for health issues which, at the time, were just described as back problems or scoliosis. McCary's departure didn't stop the show, though, as Boyz II Men continued to tour around the globe and went on to release albums such as "Throwback, Vol. 1," "The Remedy," and "Love."
For more than a decade, Mike Bass never discussed what kind of medical condition caused him to leave the popular R&B group. However, in a 2016 episode of OWN's "Iyanla: Fix My Life," Michael McCary revealed the real reason he had to abandon Boyz II Men.
Michael McCary said he was at risk of becoming paralyzed
In October 2016, Michael McCary appeared on the OWN show "Iyanla: Fix My Life," where he discussed some of his personal traumas, including leaving Boyz II Men. In particular, the former singer discussed the real medical condition behind his departure from the iconic R&B group. In the early '00s, McCary discovered that his back problems were actually due to having multiple sclerosis (or MS). 
At first, he started suffering from sporadic back spasms. "Once I was about 22, it started going full scale," he recalled. Following his MS diagnosis, doctors warned him that he could have become paralyzed if he continued dancing and performing on stage. "They were saying that I have a nerve around the sciatica that was locked in place, that could sever if I stepped wrong," McCary continued. "It's a possibility that you could be paralyzed." This was the first time the former singer discussed his true medical condition, and he never even told his former group-mates.
As he explained in the same episode, Boyz II Men cut all ties with him once he left. "If I had to sum up what I got from my brothers in Boyz II Men, I would have to say betrayal, a broken bond," McCary said. "I mean, at this point, we don't even talk." Following McCary's shocking reveal, however, some of the current group members didn't really share very compassionate words regarding his departure.
Boyz II Men think Michael McCary wasn't as 'ambitious'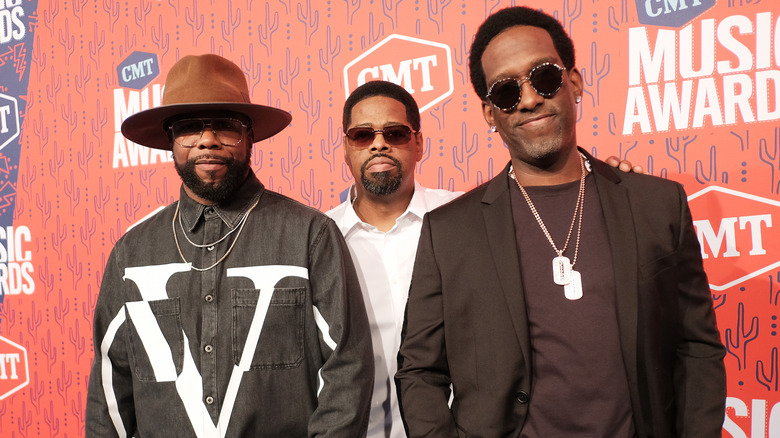 Jason Kempin/Getty Images
Before Michael McCary's shocking revelation, Boyz II Men blamed the departure on his many no-shows. "It seems like he kind of gave up when things didn't go well," Nathan Morris told Marc Lamont Hill in 2014 (per HuffPost). In their opinion, McCary didn't like going to rehearsals and wouldn't like the journey as much as they did.
However, once the former bass singer revealed that he couldn't keep up due to multiple sclerosis, his former group-mates didn't change their tune. In April 2020, Shawn Stockman reiterated that McCary lacked the same drive as them. "Mike never really was as ambitious about music as we were, so it was one of those things where, when his back started to spazz out, we'd seen him less," he told Fox Soul, also mentioning that he wouldn't make it to shows, TV appearances, and other commitments.
"So it was only necessary for us to cut those ties," Stockman continued. "Because he wasn't willing to do even those things to continue with the group's responsibilities." As far as McCary's "Iyanla" episode is concerned, Stockman refused to watch. "I think I saw a little 15-seconds snippet and then I cut it off." According to him, a lot of what McCary said was "for television." Still, he stressed the fact there's no beef with McClary, and they will always be family. "He'll always be my brother no matter what," Stockman said. "But brothers fight, and brothers have disagreements."