How Tall Is Melania Trump?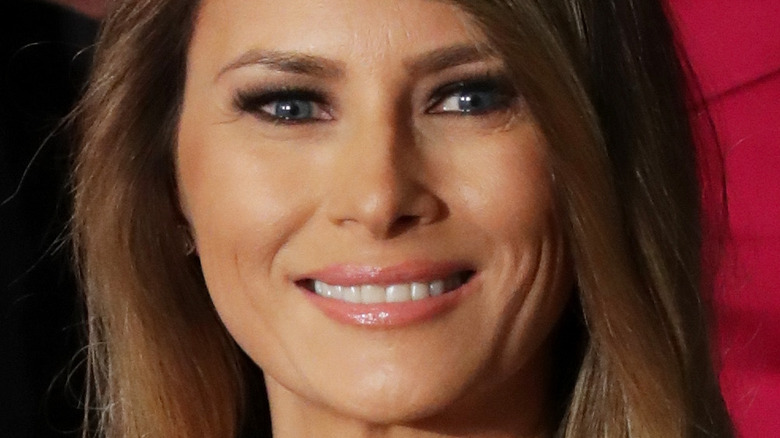 Chip Somodevilla/Getty Images
Melania Trump is someone who knows how to turn heads. As a model, the Slovenian-born former first lady commanded attention each time she entered a room; so much so that she was often judged by her looks and what she wore rather than what she said. 
According to Trump's former chief of staff, Stephanie Grisham, in her new book, "I'll Take Your Questions Now: What I Saw at the Trump White House," this worked both to the former first lady's advantage and disadvantage. In one chapter of the book, Grisham explained how Trump grew irritated by how everyone was more focused on how she looked than what she was doing during her first solo international trip to Africa. "At the pyramids, I told Mrs. Trump that she really needed to gaggle with the press. She said she wished people would talk about what she did rather than what she wore, although right after that she stood in front of the Great Sphinx and started posing like a model," she recalled. "Old habits die hard."
But then again, stature is everything when it comes to the Trump family, which is probably why Melania just can't shake off her model-like ways. And when it comes to stature, a lot of people can't help but notice just how tall the Trumps are in person, including Melania, her husband, Donald, and their son, Barron. Melania's height, though, shouldn't really surprise anyone. Keep reading to find out why.
Melania Trump is still standing tall to this day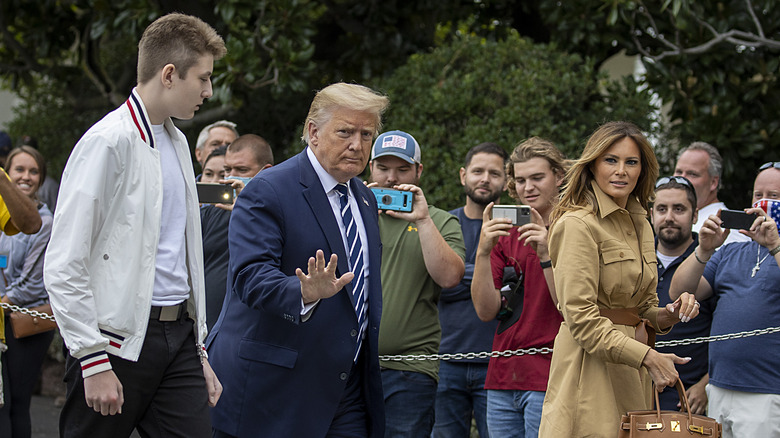 Tasos Katopodis/Getty Images
Melania Trump is 5 foot 11 inches, which makes her height ideal for the modeling world, and the same height as her step-daughter, Ivanka Trump, per The Cut. It's no wonder there are so many models in the Trump family. But for Melania, modeling and style always came hand in hand for her. "I always loved fashion. My mother was a fashion designer so it was always in my blood," Melania told People back in 2016. Her first runway job was in a fashion show in her native Slovenia in 1977, per Time. As a teen, she left her home country to model in Europe and the United States.
And while Melania's modeling days are certainly behind her, she still remains as one of the most fashion-forward people both in and outside of the White House, as detailed in Us Weekly. It's no wonder that she couldn't help but pose in front of the Great Sphinx, as Stephanie Grisham recalled during their trip to Africa. Even after four years of Donald Trump's presidency and a reported deep desire to leave the White House, no one can say that Melania is not still standing tall.
The Trumps have height in their genes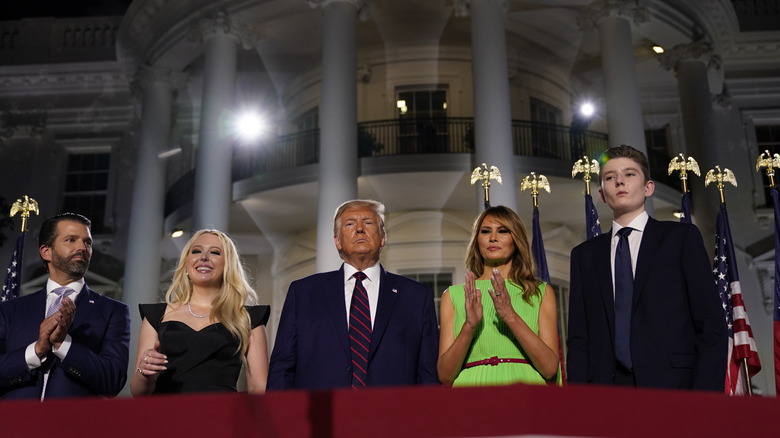 Bloomberg/Getty Images
The Trump family, believe it or not, towers over just about everyone they come in close contact with. And that's not just because of their larger-than-life personalities, but because they really are a family of tall people. In fact, the New York Post reported this summer that Donald Trump and Melania Trump's teenage son, Barron Trump, now stands at 6 feet and 7 inches. He's four inches taller than his father, who is reportedly 6 foot 3 inches. 
With Barron's height along with his mother's sharp European cheekbones, it wouldn't be a surprise if he began a modeling career in the future, too. After all, Barron's half-sister Ivanka Trump, who at 5 feet 11 inches, modeled during her teenage years, per The Cut. Even the shortest Trump sibling, Tiffany Trump, who leads a much less public life than the rest of her family, is quite tall, standing at 5 feet 8 inches. If politics don't work out for the Trump children, at least they have their lanky looks to fall back on.