Will Britney Spears' Conservatorship Ending Means She Gets To See Her Kids More?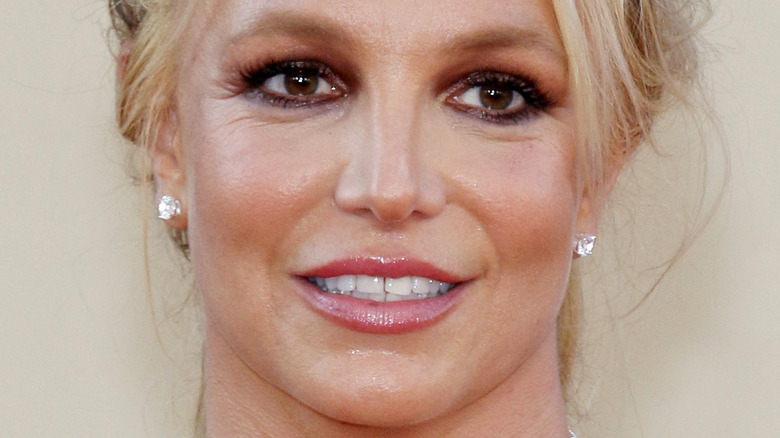 Tinseltown/Shutterstock
The more details that come out about Britney Spears' conservatorship, the more concerning the situation gets. In September, The New York Times reported on the pop star's daily surveillance that helped her dad, Jamie Spears, control every moment of her life. Whistleblower and former Black Box employee, Alex Vlasov, came forward for the Hulu documentary "Controlling Britney Spears." He likened Britney's life to that of someone in prison and had emails, texts, and recordings to support his claims. "Security was put in a position to be the prison guards essentially," he said. Per the NYT, some of the mechanisms of control detailed in "Controlling Britney Spears" included secretly taping audio in her bedroom.
Luckily for Britney and the #FreeBritney movement, Us Weekly reported on September 29 that a judge approved to have Jamie suspended as conservator. John Zabel will serve as a temporary conservator until December 31. Since Britney's conservatorship appears to be ending, what does it mean for the pop star's custody agreement with ex Kevin Federline?
The end of Britney Spears' conservatorship won't affect custody
The potential end of Britney Spears' conservatorship won't affect the custody agreement she has with ex Kevin Federline in regard to her teenage sons, Sean Preston and Jayden James Federline, per Page Six. "You've got two teenage boys and between them, and the parents, whatever arrangement is going to be made ... it's got to be something that works with them, too," lawyer Mark Vincent Kaplan told the outlet. Apparently, this has to do with the fact that Sean and Jayden are of the age that gives them a right to voice their opinion in custody agreements and visitations. 
Kaplan also pointed out that being in a conservatorship didn't actually alter Spears' visitation rights. "Just as the fact that she had a conservator didn't decrease the amount of time she had [with her sons], it's not going to increase the time if she doesn't have a conservator," he stated.
Britney has been in conservatorship for 13 years, starting when her kids were just toddlers. The pop star seems to know her time with her sons is changing fast. In March, she posted a photo with her sons on what appears to be a nature walk. "It's so crazy how time flies .... My boys are so big now," she wrote. "I know ... I know ... it's very hard for any mama especially a mama with boys seeing them grow up so fast !!!!"