The Star Who Warned Winona Ryder To Not Marry Johnny Depp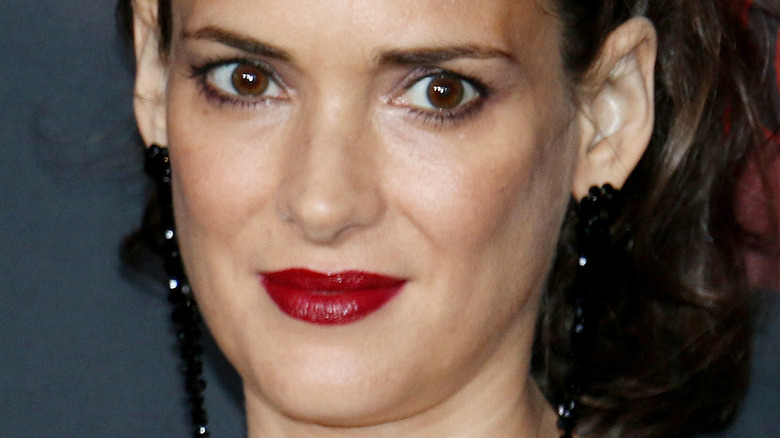 Tinseltown/Shutterstock
Winona Ryder and Johnny Depp were a whirlwind romance that captured the public's imagination in the '80s, with their Megan Fox-Machine Gun Kelly-esque couple antics. After meeting at a film premiere (via People), the two went on to co-star in the iconic love story "Edward Scissorhands." Ryder and Depp's romance lasted three years, with the couple getting engaged just five months after their first date. "There's been nothing in my 27 years that's comparable to the feeling I have with Winona," Depp told People in 1990. And what passionate love affair is complete without a declaration in bodily ink? Depp had "Winona Forever" tattooed on his right arm, in turn forcing him to change the words to "Wino Forever" after they parted ways.
Ryder, meanwhile, told Cinema.com that her feelings for Depp were equally intense at the time. "I had my first real relationship with Johnny," the actor shared. "A fiercely deep love that I don't know that I'll ever ... The first love is like that, isn't it? I don't know today. It was a real wild time back then." She would later share (via BuzzFeed) just how much of a "first" Johnny was for her. "He was my first everything," Ryder said. "My first real kiss. My first real boyfriend. My first fiance. The first guy I had sex with. So he'll always be in my heart. Forever." 
But there was one famous friend of Ryder's who long predicted the two wouldn't be "forever," as Depp's tattoo read.
Cher had some candid words about Winona Ryder and Johnny Depp's engagement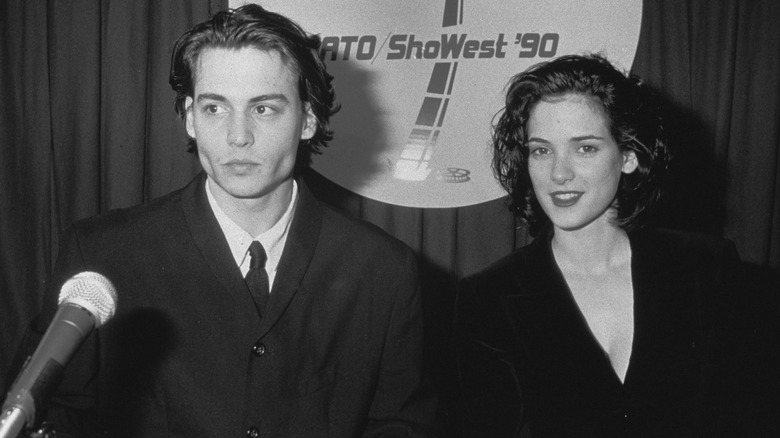 Michael Ochs Archives/Getty Images
It turns out that Cher, amongst others, had doubts about the then-18-year-old Winona Ryder getting engaged to the 27-year-old Johnny Depp. Per "The Secret World of Johnny Depp," an unauthorized biography of the "Pirates of the Caribbean" star (via Cheatsheet), Cher and Ryder grew close on the set of 1990's "Mermaids." "Neither one of them knows what they are doing," said Cher, per the biography, "but they might as well go through it together." The Baltimore Sun also reported in 1990 that Cher warned Ryder about the age gap between her and Depp.
According to the unauthorized biography, Ryder addressed Cher's cautionary words, sharing (via Cheatsheet), "She really likes Johnny, so I think she's pretty happy for me. And although she gives me advice, she doesn't expect me to take it. I'm going to do what I'm going to do anyway." 
However, even Ryder noticed the public opinion turning against her post-engagement. As she told the Los Angeles Times in December 1990, "When I was young, I was the sweetheart of the press ... I had no skeletons in my closet, no major past to talk about ... Then I became engaged to Johnny, and it's been bad ever since." As for Depp and Ryder's subsequent breakup, let's just say it didn't make things easier for either actor.
Winona Ryder was prescribed sleeping pills post-Johnny Depp breakup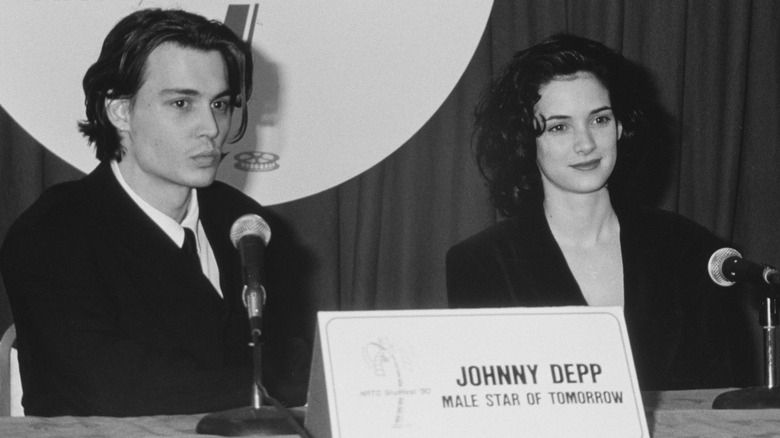 Michael Ochs Archives/Getty Images
Following their speedy engagement and a three-year relationship, Winona Ryder and Johnny Depp both took their breakup hard. Per the Mirror, Tim Burton, who directed the duo in "Edward Scissorhands" and was intimately acquainted with them in their coupling days, thought Depp was a different person after his split from Ryder. In fact, the "Dumbo" director claimed that during the filming of 1994's "Ed Wood," he witnessed the actor crying on set. 
"I felt weird to be around him like he wasn't acting like Johnny anymore. It's almost like Winona took Johnny's soul, Johnny's love," Burton said, via the Mirror. "I felt so bad. I asked him why it happened but all he said was, 'It wasn't her fault, it was mine.'" 
As for Ryder, to say she was equally heartbroken would seem an understatement. Per the Mirror, Ryder became depressed and was prescribed sleeping pills after a diagnosis of anticipatory nostalgia (a.k.a. "that sense of sadness we feel about having to leave a beautiful place while we're still there or stop doing something wonderful before it actually ends" according to Flow). Also reportedly drinking copious amounts, Ryder fell asleep with a cigarette in hand one night, setting fire to her hotel room. "I attempted being an alcoholic for two weeks; spending a lot of time in my hotel room; drinking screwdrivers from the mini-bar; smoking cigarettes and listening to Tom Waits," the actor said, per the Mirror.