What Leah Remini Revealed About Tom Cruise And Katie Holmes' Wedding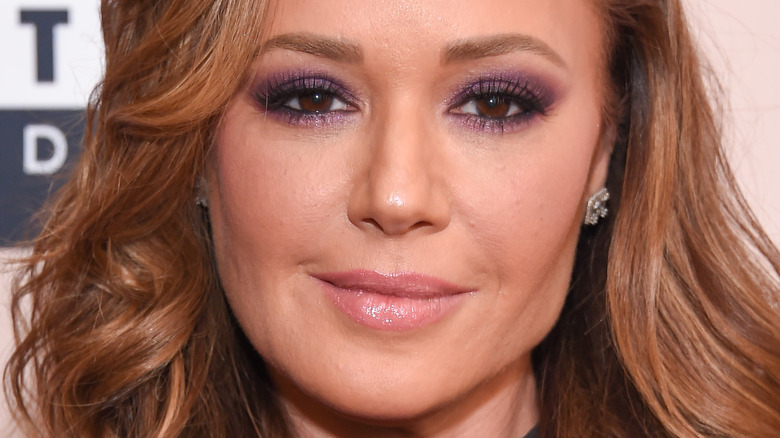 DFree/Shutterstock
Leah Remini is one of the most outspoken celebrities in the entertainment world. Simply put, she's not the kind of person who would offer a "no comment" in regards to a hot topic, especially when it comes to sharing her own opinion about the matter. In an interview on "The Howard Stern Show" back in 2015, Remini put it this way, "I have a big mouth and I have a temper, so that's not good for people. That's not good for executives. That's not good for people in power. I think it's because I wasn't my best self there, I don't know how to conduct myself."
And while some people see that as both an advantage and disadvantage, Remini has also been very vocal about the world of Scientology and some of the things that might go on behind closed doors at the religion headquarters in Clearwater, Florida. If that weren't enough, she's also been sharing a lot of information about Scientology's favorite son Tom Cruise and some of the rather bizarre things that happened during his wedding to Katie Holmes in 2006. Here's what Remini has to say.
Leah Remini had to bring a few guests to Tom Cruise's wedding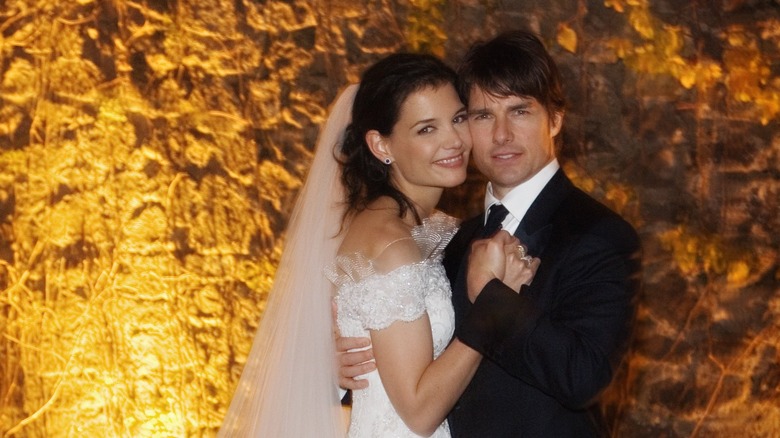 Handout/Getty Images
Back in 2006, Leah Remini was still a member of the Church of Scientology, even though back then she already felt like she had one foot out the door, according to her book, "Troublemaker: Surviving Hollywood and Scientology." And like many other high-profiled names in the religion, Remini was invited to Tom Cruise and Katie Holmes' star-studded wedding in Italy in 2006, but there was a catch. Remini could only attend if she could bring one of her best friends along: Jennifer Lopez and her then-husband, Marc Anthony. According to ET Online, Remini said that Holmes admitted she and Cruise "didn't know them well," but wanted to change that after the wedding. Lopez is not a Scientologist, although she does have a close family member that is.
If that weren't enough, Remini wrote in her book that Cruise and Holmes' daughter Suri Cruise, a toddler at the time, was found crying on the bathroom floor before the wedding. The "King of Queens" star wrote that many of the Scientologists at the dinner "were looking at her like they thought she was L. Ron Hubbard incarnate, and addressing her more like an adult than a baby." But that's not the only shocking thing that happened at Cruise and Holmes' wedding.
Leah Remini apologized to Katie Holmes post-wedding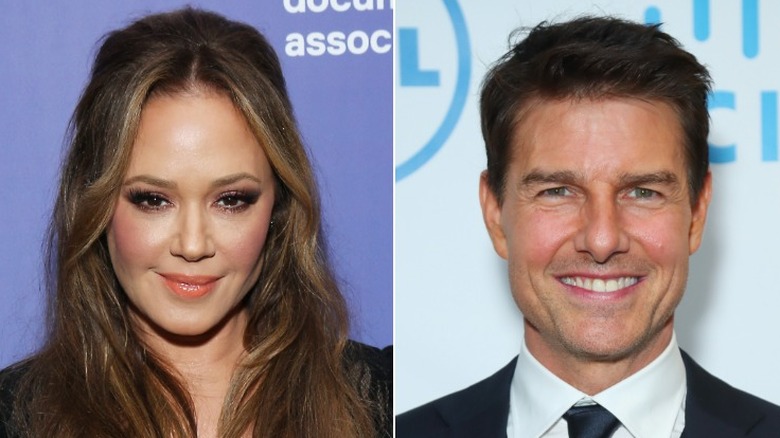 Michael Tran, Leon Bennett/Getty Images
In her book, Leah Remini says that Katie Holmes kept Tom Cruise waiting at the altar for quite a long time, with many speculating that she might have gotten cold feet. In perhaps a scene out of a bad rom-com, Remini said Cruise stood at the altar "for the next twenty minutes (but what seemed like an eternity)." Clearly, Holmes finally made her way down the aisle, but it was Remini who probably wished that she never attended the wedding in the first place. That's because she was later written up by Scientology church members for "disrupting the party" and apparently setting a "poor example to others" due to her behavior, as detailed by ET Online.
Remini says she sent a letter apologizing to Holmes, but she responded by saying, "Just handle it with your MAA," which stands for Master-at-Arms or the religion's supposed ethics police, according to Vulture. Needless to say, both women have since left Scientology and have not looked back. While Remini might have gotten reprimanded for the things she did and said during that wedding, to many of her fans, she sounds like the kind of wedding guest anyone would love to have at their party.