Here's What Kylie Jenner Looks Like Without Makeup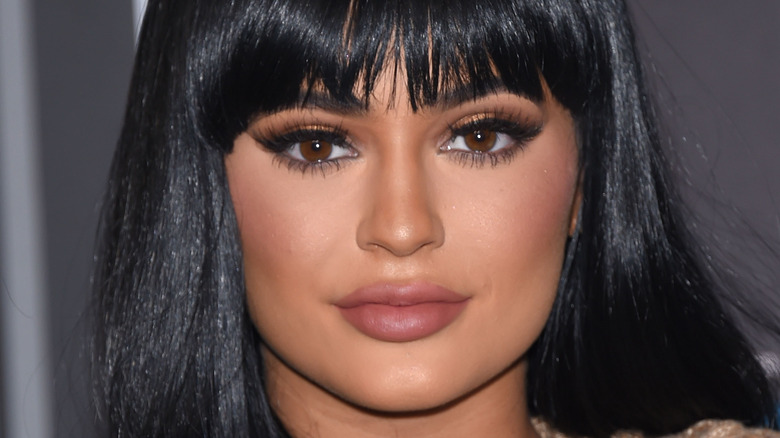 DFree/Shutterstock
Much like the rest of the Kardashian-Jenner brood, Kylie Jenner is renowned for her bold and meticulously contoured beauty looks. By the age of 21, Kylie had become not just a mother to daughter Stormi, but also the founder of cosmetics company Kylie Cosmetics. After she sold 51% of the business for $600 million, Forbes declared her the youngest "self-made" billionaire in 2019 — an erroneous claim, it turned out, but one she would legitimately earn back in 2020. 
With Kylie Cosmetics contributing to her net worth of $1 billion, per the outlet, Kylie even teased to Tmrw magazine (via Buzzfeed) that Stormi "maybe will take over" the beauty empire "one day." (In fact, Stormi might even have her own brand coming out!) For now, however, Kylie is sitting pretty — metaphorically and literally — in a pink everything office showcased in the first episode of Quibi's "About Face."
Although Kylie has, since the launch of Kylie Cosmetics, expanded her brand out into offshoot lines like Kylie Skin, Kylie Hair, and Kylie Body (per Forbes, she also owns trademarks to Kylie Swim, Kylie Con, Kylie Museum, and 130 others), makeup is still clearly the busy mogul's staple line. So what does the one-woman beauty institution look like ... completely stripped of hers? 
Kylie Jenner swears by this skincare product
Despite telling Marie Claire that she "can't walk out of my house without my lipstick," Kylie Jenner showcased a completely bare face in a 2019 Instagram selfie. With expertly groomed eyebrows, long eyelashes (extensions, perhaps?), and a smooth, rosy complexion boasting an even smattering of freckles, the makeup mogul still looked very much camera-ready. 
Kylie even admitted to The New York Times that save for red carpet outings, she isn't a fan of the contour-heavy aesthetic she and the whole "Keeping Up with the Kardashians" clan is known for. "If I'm going to see people, I won't wear heavy makeup," she shared with the outlet. Kylie's flawless makeup-free look is partly due to a responsible skincare routine. As she told InStyle (per Pop Sugar), "Sunscreen is so important to put on your face every day and your neck, on your chest and on your hands, too. You can always tell a woman's age by her hands." 
Unsurprisingly, the burgeoning business titan launched her skincare line, Kylie Skin, in May 2019 (via People) — adding to her ever-booming portfolio. In an Instagram post, Kylie revealed the inspiration behind the line. "Skincare and makeup go hand in hand and Kylie Skin was something I dreamt up soon after Kylie Cosmetics. I've been working on this for what feels like a lifetime," she told her followers. Given her sans-makeup selfies, we're sure plenty want some of whatever is working for her! 
Kylie Jenner turned an insecurity into millions of dollars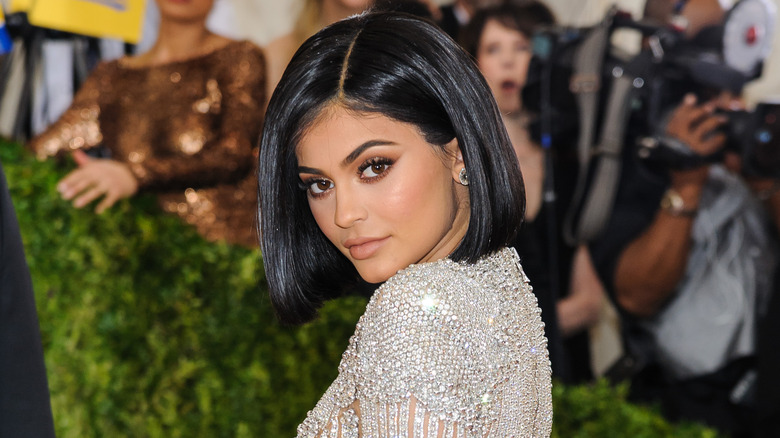 Sky Cinema/Shutterstock
It turns out Kylie can thank a scarring comment from her past for inspiring her beauty empire. Speaking to Marie Claire in December 2015 about her Lip Kit line (which sold out in 30 seconds upon release), Kylie shared, "I just always went to lip liner to overline my lips and I feel like I was really known for that." 
Following a June reunion episode of "Keeping Up with the Kardashians," we now know why. Kylie revealed on the show (via the Daily Mail), "My love for makeup started with my insecurity about my lips. And I didn't ever think about it until I had one of my first kisses. A guy said to me, 'Oh, my God, you're such a good kisser, but you have such small lips'... From then on, I felt unkissable." 
Additionally, the cutting remark drove Kylie to take more drastic measures than simply overlining her lips with makeup. "I just didn't feel desirable or pretty," the young star said. "I really wanted bigger lips ... Finally I was like, 'this lip liner isn't doing it', and I ended up getting my lips done." Of course, Kylie's lip fillers turned out to be much more than a simple cosmetic enhancement. As evidenced on her Instagram, Kylie flaunts her lips Version 2.0 loud and proud these days. Based on her sales, the makeup maven clearly made a choice she is great at flaunting!