Why Steve Harvey's New Photo Is Getting The Meme Treatment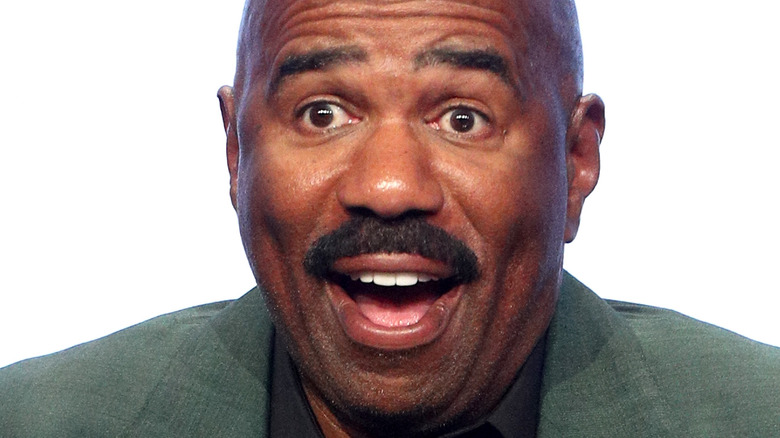 Frederick M. Brown/Getty Images
Whatever you may think of Stevie Harvey's sense of style, one thing is for certain — he goes viral for it on the regular. Just recently, on October 8, the "Family Feud" host shared a picture from his Paris trip with his wife Marjorie Harvey to Instagram, where he can be seen wearing an all-green suit, complete with a matching peacoat and shoes. Later that same day, he even took to Twitter to give fans a better look at his ensemble ... and fans had a field day.
At first glance, many thought Harvey looked a lot like one of Batman's many nemeses. "Steve Harvey: its too late Batman I've already poison[ed] the water supply. soon everyone will become thirsty and you know what comes next mahahaha," one fan hilariously tweeted, sharing a photoshopped image of Harvey capturing Batman and embodying The Riddler.
Others, meanwhile, thought he looked more like Noriaki Kakyoin from the anime "JoJo's Bizarre Adventure" ... or a "flyest looking" version of Loki from "The Avengers," as another Twitter user mocked up. Someone even compiled some of the funniest comparisons Harvey had received, including looking like a contestant from Netflix's hit series "Squid Game." All of the recent online roasting doesn't seem to be fazing the TV host, though, as he has now shared yet another meme-worthy outfit.
Steve Harvey is working with a stylist, and the memes just won't stop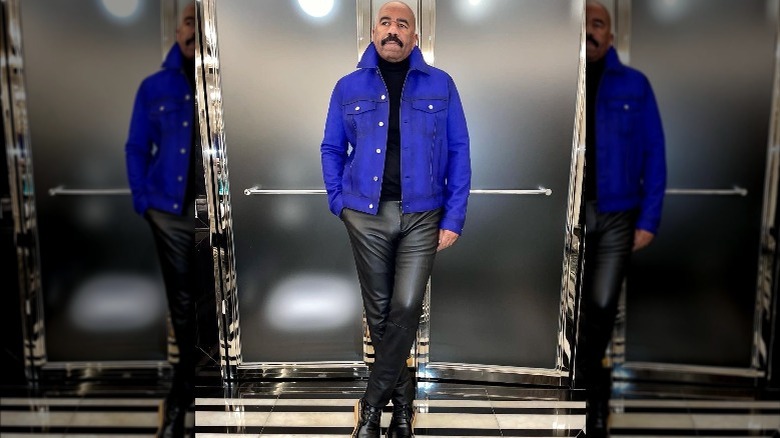 Twitter
On October 13, Steve Harvey took to Twitter to post another OOTD. This time, he could be seen rocking a black turtleneck sweater, a pair of matching leather pants, platform derby shoes, and an eye-catching blue denim jacket (seen above). And, you guessed it, the photo blue up, and can you blame fans for going wild over this eye-catching look? 
This time, Twitter users thought Harvey's outfit resembled another superhero — Captain America — and one created this meme to prove it. But of course, fans couldn't leave out Japanese anime. Others thought Harvey took inspiration from Bulma of "Dragon Ball Z." "[W]hat yo a** say [F]rieza," another fan joked, mocking up yet another photoshop wonder.
Some fans even think Harvey might be looking at rappers for style advice, especially those known for their flashy outfits. "[H]e think he Playboi Carti," someone else tweeted. Jokes aside, the TV host might be onto something here, as he happened to receive a shout-out from the likes of British GQ. "FYI, your new style icon is @IAmSteveHarvey. Pass it on," the style magazine tweeted. "Steve Harvey and his stylist are going crazy," one fan admitted. "Steve Harvey is having his Celine Dion fashion moment and I'm honestly living for it," writer Hugh McIntyre wrote. Per Fox News, Harvey works with stylist Elly Karamoh, who also suits up Tyler Perry. So there's clearly intention here, and it's working!