The Real Reason Matt Damon And Ben Affleck Wrote Good Will Hunting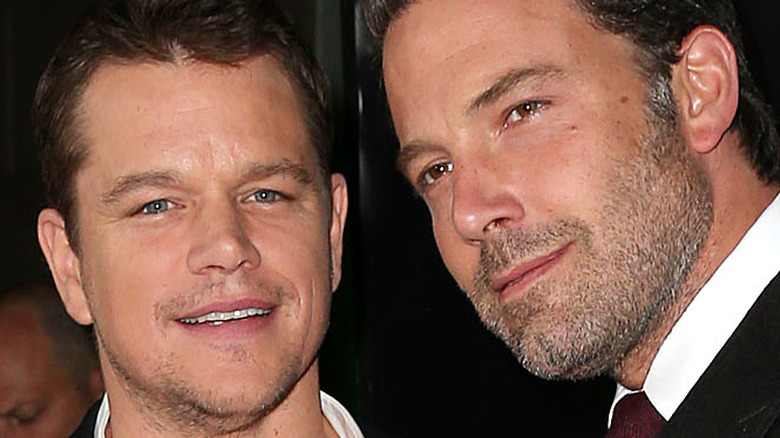 Frederick M. Brown/Getty Images
Ben Affleck and Matt Damon are not only two of Tinseltown's longest-lasting best friends, but they're also writing partners. The two wrote and starred in the film "Good Will Hunting," which earned nine nominations and two Oscars for Best Original Screenplay, for the duo, and Best Supporting Actor, for Robin Williams, at the Academy Awards in 1998.
Years later, Affleck revealed how important it was to have his friend by his side throughout his career. "I grew up with this guy, I've known him forever. We're from the same world and place, and stayed close and I often think about people who come into this business and there's some challenges that get thrown at you," he told E! News. "Having somebody to go through it with me and bounce stuff off of has been really helpful."
Now, in a new interview, Damon revealed why he and Affleck waited 25 years before writing together again. "'Good Will Hunting' took us so long. We were like unemployed, broke guys. It took us forever to write that screenplay," he told Jimmy Fallon. "I think we wrote thousands and thousands of pages. We didn't really know what we were doing and I think that kind of put us off writing again because we never thought we'd have the time." As for what inspired them to write "Good Will Hunting" in the first place, they actually got the idea from other filmmakers.
Matt Damon and Ben Affleck wrote a movie because everyone else in Hollywood was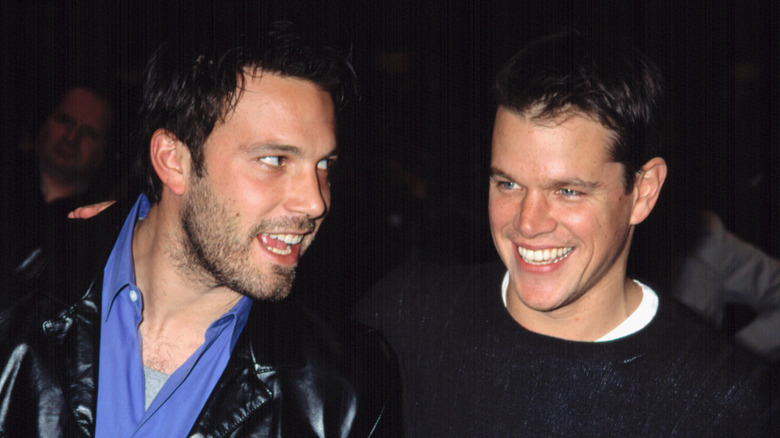 Everett Collection/Shutterstock
During an appearance on "The Tonight Show Starring Jimmy Fallon" on October 13, Ben Affleck revealed that the intention behind writing "Good Will Hunting" with Matt Damon was "just to make a video cassette that was like an acting reel" so they could make something of themselves. The actor explained, "We were like, 'we can't get the job to show that we can do interesting stuff,' so the whole thing was [to] have a reel and show casting directors and so we'll write these parts for ourselves.'"
He noted that it was at a time when other filmmakers, including Spike Lee, Richard Linklater, Kevin Smith, and Quentin Tarantino, were doing the same. "It was like, 'No you don't have to go to the studios. You can do it cheap, and get a movie star, and they'll make it for you for a million bucks,'" Affleck continued. "So we wrote a movie that's just all interiors and people talking in rooms because it was inexpensive and we were like, 'Write the cool monologues and get a famous guy' ... That was our ambition." He admitted, "I think we were shocked it even got released." The rest, as they say, is history, and both Affleck and Damon went on to become two of the biggest stars in Hollywood.