2017 MTV Movie & TV Awards: Moments Everyone Is Talking About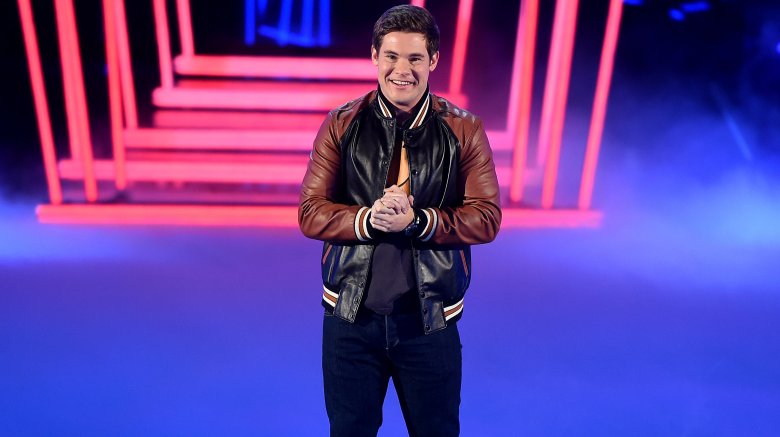 Getty Images
The 2017 MTV Movie & TV Awards were a big deal this year: It was the first year that TV was featured in the golden popcorn ceremonies, and the first time gender categories were eliminated. All that, combined with hilarious host Adam Devine, made for one heck of a night. Grab your own popcorn, because here are all the highlights!
The epic intro
Host Adam Devine spoofed just about every blockbuster in recent history in his musical opening number, and he used the classic songs from Beauty And The Beast (2017) to do it. Devine was in full Beast get-up, and cameos from Josh Gad, Rebel Wilson, Hailee Steinfeld, and Chrissy Metz — not to mention some Wolverine-style claws — made it one memorable song and dance number.
The historic Best Kiss trophy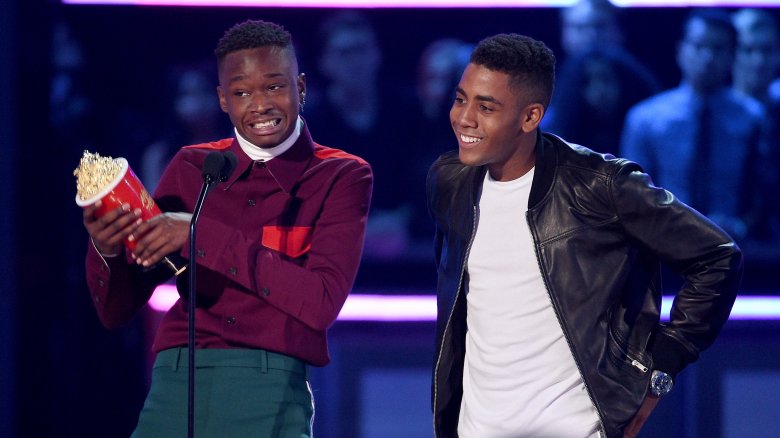 Getty Images
Ashton Sanders and Jharrel Jerome made history with their Best Kiss award for Moonlight (2016). Jerome, 19, told the crowd, "I really have to start with saying thank you to my parents. I love y'all so much ... But on a real note, I think it is safe to say that it is okay for us young performers, especially us minority performers, to step out of the box. It's okay for us to step out of the box and do whatever it take to tell the story and whatever it takes to make the change. This award is for that. It's for us artists who are out there, who need to do whatever it takes to get people to wake up."
Sanders, 21, added, "This award is bigger than Jharrel and I. This represents more than a kiss. This is for those who feel like the unders, the misfits — this represents us. We love y'all and thank y'all."
It wasn't the first same-sex Best Kiss award — previous winners Will Ferrell and Sacha Baron Cohen were victorious in 2007 for Talladega Nights (2006); Jake Gyllenhaal and Heath Ledger won in 2006 for Brokeback Mountain (2005); Seann William Scott and Jason Biggs took home the golden popcorn for a smooch in American Pie 2 (2001) in 2002; and Sarah Michelle Gellar and Selma Blair won in 2000 for Cruel Intentions (1999). It is, however, the first times the Best Kiss award went to a same-sex minority onscreen couple.
Hugh Jackman and Dafne Keen's reunion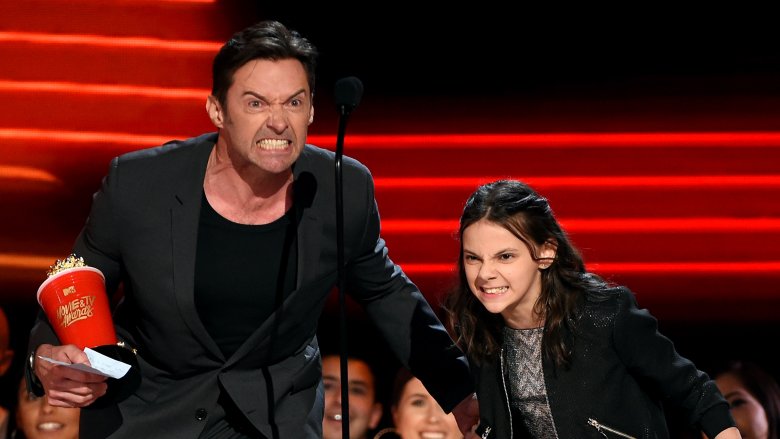 Getty Images
When Hugh Jackman and Dafne Keen took the stage to accept the Best Duo award for Logan (2017), 12-year-old Keen grabbed the mic from Jackman and said, "You do 17 years [as Wolverine], I don't speak for half of the movie, and you get to say the thank-yous? OK, no." She also thanked Jackman's parents for him ... but not before pointing out that he'd forgotten to write them on his list of thank yous for his own acceptance speech.
Millie Bobby Brown's speech
Stranger Things star Millie Bobby Brown was just as precious as you'd expect when she won for Best TV Actor. Sobbing, the 13-year-old Brit stammered, "First of all, I want to thank everyone who voted and especially MTV. I want to thank the cast and crew, who have become my family. You guys, I love you." She added of Stranger Things director Shawn Levy, "Everything you've taught me, I will carry on for the rest of my career." She also thanked show creators the Duffer Brothers for creating a "badass female iconic character that I've got the honor to play." Yes, she is everything.
Lonnie Chavis being adorable
This Is Us stars Milo Ventimiglia and Lonnie Chavis accepted the Best Tearjerking Moment award together, and the golden popcorn was literally almost too big a burden for Chavis to bear. The youngster told the audience, "I can't keep faking that this is not heavy!"
Emma Watson's acceptance speech
Emma Watson took home the first genderless MTV acting award for Best Movie Actor for her role as Belle in Beauty And The Beast (2017). The outspoken feminist marked the honor appropriately and gracefully when presented the trophy from non-gender binary star Asia Kate Dillon.
"Firstly, I feel like I have to say something about the award itself," she began. "The first acting award in history that doesn't separate nominees by their sex says something about the way we perceive the human experience. MTV's move to create a genderless award for acting will mean something different to everyone, but for me, it indicates that acting is about the ability to put yourself into someone else's shoes. And that doesn't need to be separated into two categories."
She added, "This is very meaningful to me, both to be winning this award and to be given it to me by you, Asia. Thank you for educating in me in such a patient, inclusive way ... Empathy and the ability to use your imagination should have no limits."
Amy Schumer and Goldie Hawn mock the Oscar disaster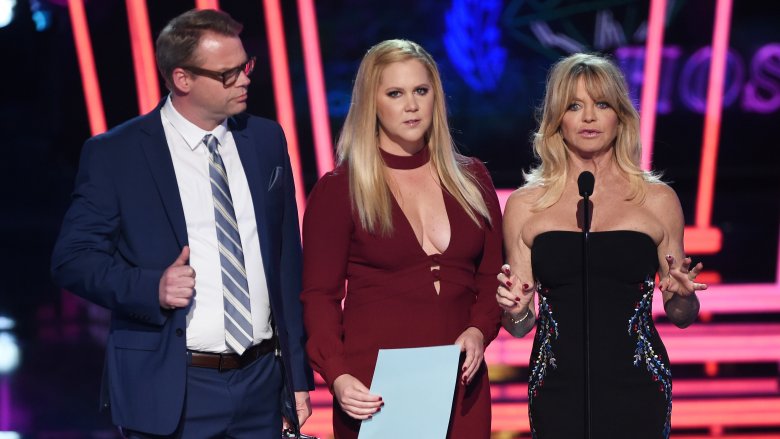 Getty Images
While announcing the nominees for Movie Of The Year, presenters Amy Schumer and Goldie Hawn had an awkward moment when Schumer, 35, attempted to get Hawn, 71, to legally adopt her. To distract Schumer from making her sign any forms, Hawn went right to work with the nominees — but first, the pair poked fun at the Best Picture flub from the 2017 Oscars. Schumer quipped, "La La Light!" Hawn responded, "No, that's MoonLand."
The actual nominees were Beauty And The Beast (2017), Get Out (2017), Logan (2017), Rogue One: A Star Wars Story (2017), and The Edge of Seventeen (2017) — and Beauty and the Beast took home the gold.