Who Are Greta Thunberg's Parents?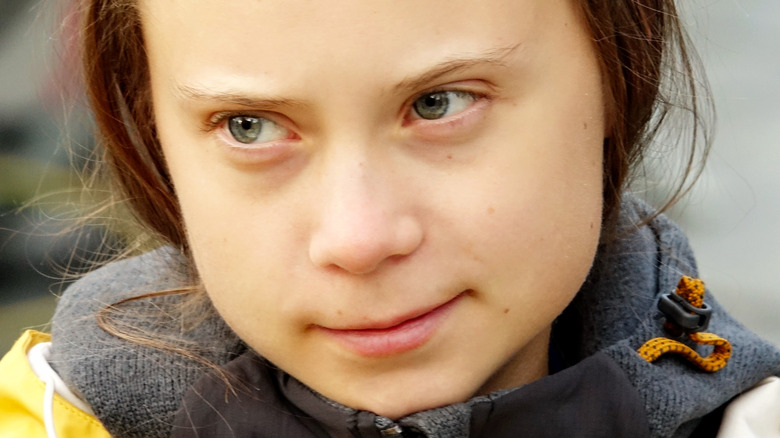 MikeDotta/Shutterstock
Greta Thunberg is a global symbol of the fight against climate change. In August 2018, then 15, the Swedish activist began skipping school to stand outside her country's parliament with a sign reading, "school strike for climate." "I am doing this because you adults are sh*tting on my future," Thunberg said, per The Guardian.
The Nobel Prize nominee was inspired to go down that route after learning that students in Parkland, Florida, were refusing to go to class to protest school shootings, she told Democracy Now in 2018. "I thought that that was a good idea, that maybe it would make a difference. And then I tried to bring people with me, but no one was really interested, so I had to do it alone," she said. While the survivors of the Stoneman Douglas High School shooting inspired Thunberg to go on a school strike, her passion for the environment and reverting the climate emergency had begun years earlier. 
Thunberg has spoken about struggling with depression in her early teens, which was aggravated by her acute perception of everything that was wrong in the world, she told Democracy Now. Around then, she started trying to convince her parents to change their habits. "After a while, they started listening to what I actually said. That's when I kind of realized I could make a difference," she told The Guardian in 2019. 
But just who are Thunberg's parents?  and how their lives have been reshaped by their activist daughter.
Greta Thunberg's parents are known artists in Sweden
Greta Thunberg is the daughter of Svante Thunberg and Malena Ernman. Greta's mother is one of Sweden's most famous opera singers, as The Guardian pointed out. The mezzo-soprano began her career at the Royal Academy of Music before continuing her journey at the Music Conservatory in Orléans, France, and later at the Royal Swedish Opera, according to Erman's own website. For many years, Ernman enjoyed a successful career that saw her perform in Rome, Madrid, Paris, London, Los Angeles, Berlin and Tokyo, per her website. Since Greta began to persuade her to change her lifestyle, Earman has given up flying, which means she has had to sacrifice her international career, Svante told Democracy Now. "She's working out of Sweden now instead. And that was a big change for us," he said.
Svante is also known in Sweden. Before Greta and her sister were born, he was an actor known for appearing in "Skärgårdsdoktorn," a popular 1990s TV show, according to his IMDb page. Because Ernman's singing career required her to travel frequently, they decided Svante would stay home with their kids, he told Democracy Now. "I gave up my career when she was born, actually, because my wife was working oversea," Svante said, adding that he still acts "sometimes." More recently, Svante has also been featured in two documentaries about Greta — the 2021 "I am Greta" and the 2020 "Greta Thunberg: A Year to Change the World." 
Greta Thunberg's parents are supportive of her activism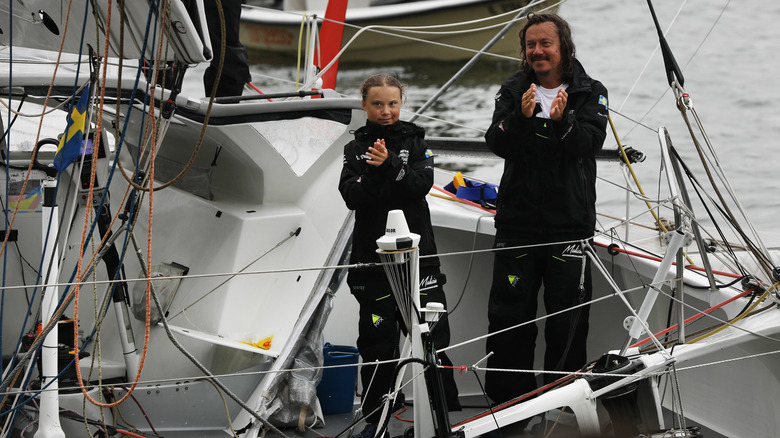 Spencer Platt/Getty Images
In addition to air travel, Malena Ernman and Svante Thunberg have also taken steps to give up all animal products. Greta Thunberg's parents first switched to a vegetarian diet and later transitioned to a vegan lifestyle , Greta and Svante told Democracy Now. " ... I do miss the cheese, I have to — I must confess," Svante joked, later adding it was a small price to pay in light of the "dire catastrophe" we are facing. At that time, Ernman was still struggling to fully convert, but "she tries," Greta said. Since Greta brought their attention to the climate emergency, Ernman and Svante have been fully behind their daughter. In August 2018, the family, including Greta's younger sister, Beata, co-authored the book "Our House Is on Fire: Scenes of a Family and a Planet in Crisis." 
In August 2019, Svante accompanied Greta on her famous two-week voyage from Europe to New York on a yacht so she could attend the UN Climate Action Summit, The Guardian reported at the time. While Svante in many ways is simply doing his parental duty to support his world-famous daughter, he believes in the cause. "Over the years, I ran out of arguments. She kept showing us documentaries, and we read books together. Before that, I really didn't have a clue. I thought we had the climate issue sorted. She changed us and now she is changing a great many other people," he told The Guardian.