Where Does Tom Cruise Live And How Big Is His House?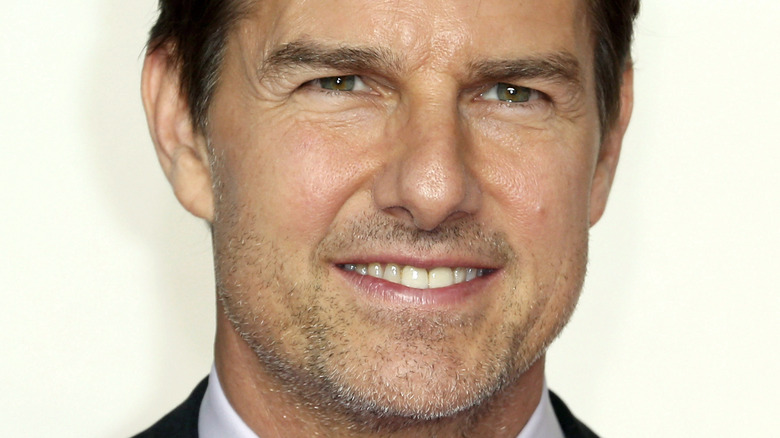 Cubankite/Shutterstock
With a net worth of $600 million, Tom Cruise and the word "movie star" are practically synonymous. Given his impressive resume, spanning from his breakout 1983 role in "Risky Business" to his ever-more-momentous "Mission Impossible" blockbuster franchise, the actor has not stopped making the big bucks for both himself and everyone around him — with his films earning hundreds of upon hundreds in the three decades he's been a star.
Like many of Hollywood's biggest stars, Cruise's life story was as close to rags-to-riches as they come. "For years, all I had were a bed, a desk and a chair," Tom Cruise told Roger Ebert in 1986. "When I was making a movie, they put me in hotel rooms. Between jobs, I moved back into my apartment, and my lifestyle dropped considerably." Coming from an underprivileged childhood, Cruise quickly learned the value of hard work no matter one's net worth.  "It's a strange thing, being handed so much power," Cruise also related to Ebert.  "My point of view and my values haven't changed. Everybody wants to push and pull me, but I refuse to change my lifestyle."
Nonetheless, Cruise's lifestyle has changed on the surface at least. Given that he has no doubt ditched that scarcely decorated apartment for cushier digs since, let's explore just where and what type of home Cruise inhabits these days!
Tom Cruise's penthouse is cool — even for Tom Cruise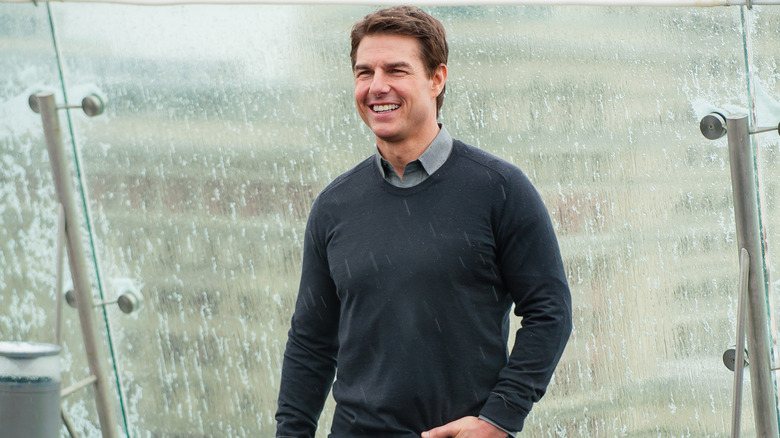 ILya Soldatkin/Shutterstock
Tom Cruise has called Florida his home base since 2018. Per Architectural Digest, Cruise fetched a pretty $55 million when he sold his Los Angeles and New York properties in 2016, moving into a multimillion-dollar penthouse in Clearwater, Florida. Planned by a wealthy Scientologist — Cruise is controversially tied to the religion — the 10-story SkyView condominium is one block from the Church of Scientology, per People. With Cruise reportedly close friends with church leader David Miscavige, a source told the outlet that the movie star was "very relaxed when he's here." 
In addition to occupying the entire top two floors, according to AD, Cruise's pad packs amenities like a roof deck, a nearly 40-foot pool, a bar, and more.What sets the pad apart from other celebrity dig, however, is the passageway that leads to a private, smaller condo on the second floor (which houses a flight simulator, for one). Additionally, there is a nine-car garage and private car elevator (what a cool phrase to say). Now that's on par with expectations for the "Mission Impossible" star.
Tom Cruise sold his vacation home in Colorado for millions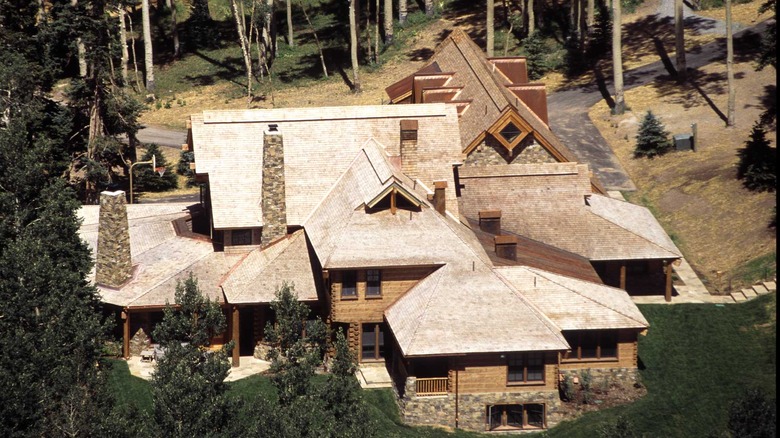 Paul Harris/Getty Images
Although Clearwater, Florida, might be Tom Cruise's personal headquarters, he also owns property in West Sussex, England — for one. Per The Sun, the estate was purchased by Cruise in 2006 for a reported $4.2 million. Bearing the regal title of "Rede Place," the property is located in Dormans Park, East Grinstead, which is reportedly close to the British headquarters of the Church of Scientology. Boasting 14 acres of land and an 11,331-square-foot interior, per insider, the manor was constructed in 2003, meaning Cruise would likely be one of its very first owners.
Cruise parted ways with his longtime 320-acre Telluride, Colo. ranch, which was reportedly a vacation refuge frequented by Cruise with ex-wife Katie Holmes and his children. Putting the ranch on sale for $39.5 million in March, per Forbes, the home sold without a hitch two months later for the asking price. Ardent followers of Cruise's career might remember this was the shooting location for a follow-up to his infamous 2005 interview with Oprah Winfrey, as noted by Town & Country. However, Cruise's Telluride ranch's main draw, aside from being a ski haven known for its celebrity denizens, is the cozy seclusion it provides for the uber-famous. No wonder it sold so fast!