Why Elton John's Husband Had A Problem With Madonna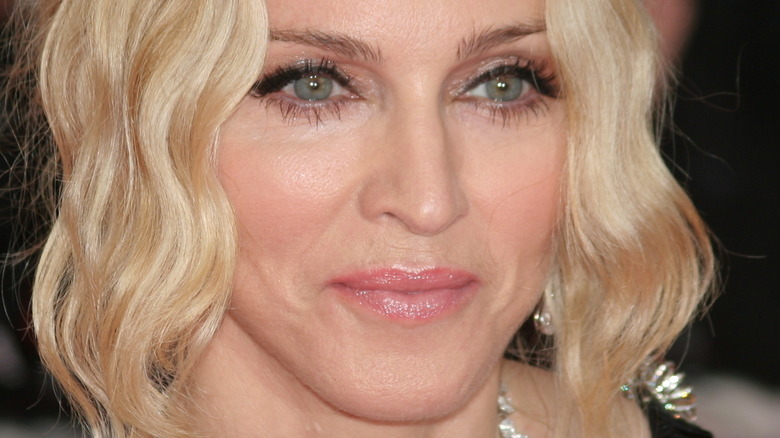 Denis Makarenko/Shutterstock
Once upon a time, Elton John and Madonna were embroiled in a feud that spanned over a decade. The two music industry powerhouses got into very public spats since the early aughts, and it all started when John insulted Madonna's track for the film "Die Another Day." The "Tiny Dancer" singer apparently called the song "the worst Bond tune ever" in a Sky News interview, via CBS News.
From then on, John continued to blast Madonna every chance he got. In 2004, when Madge got nominated for the best live act award at the Q Awards, he accused her of lip-synching and said that anyone who refuses to perform live should receive severe consequences. "Anyone who lip-synchs in public on stage when you pay 75 pounds to see them should be shot," he said during his award acceptance speech. And in 2012, John said that Madonna's appearance resembled a "fairground stripper" in an interview with Australia's "Sunday Night."
This highly publicized beef went on and on, and at one point, even Elton John's husband, David Furnish, got involved. Like John, he had some controversial opinions about the Queen of Pop.
David Furnish blasted Madonna on Facebook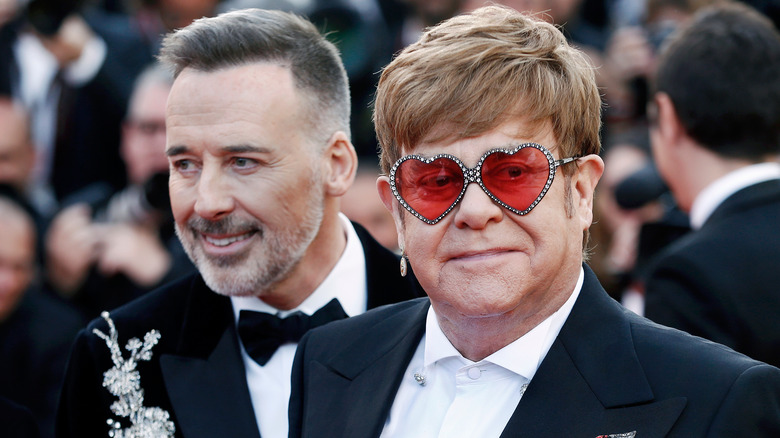 Andrea Raffin/Shutterstock
It's usually only Elton John spewing insults to Madonna for the better part of their feud. But in 2012, his husband got involved when the "Material Girl" singer won over John at the Golden Globes. Both artists had been nominated for the Best Original Song award, but it was Madonna who emerged victorious. David Furnish was dismayed with the result, so he took to Facebook to express his frustration.
"Madonna. Best song???? F–k off!!!" he wrote, via The Hollywood Reporter. "Thank you for all your comments and support. Madonna winning Best Original Song truly shows how these awards have nothing to do with merit. Her acceptance speech was embarrassing in its narcissism. And her criticism of Gaga shows how desperate she really is."
Days later, after his scathing comments had gone viral, Furnish retracted his statement and said that he was misunderstood. "Wow! What a tempest in a teapot. My comments regarding The Golden Globes have been blown way out of proportion," he wrote in another Facebook post. "My passion for our film 'Gnomeo & Juliet' and belief in Elton's song really got my emotional juices going," he added. "But I must say for the record that I do believe Madonna is a great artist, and that Elton and I wish her all the best for next week's premiere of the film 'W.E.'"
Elton John and Madonna's feud is finally over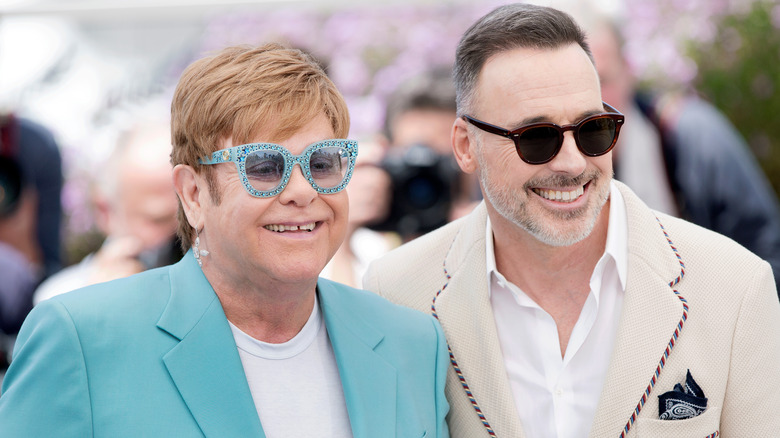 Andrea Raffin/Shutterstock
David Furnish's comments about Madonna marked the beginning of the end of the long feud between the "Like A Virgin" singer and Elton John. Not long after the public outrage on Facebook, all parties had apparently raised the white flag. And it was John who initiated the cease-fire.
In a 2013 interview with Extra, John and Furnish recalled the time they ran into Madonna at a restaurant in France. "She came in, and I sent over a note," shared John. "She was very gracious. I apologized profusely because what I said should never have appeared in public." Luckily, Madonna was on board with the truce and told them that she, too, wanted to put a stop to it once and for all. "She was fantastic. She was just, 'Okay, let's get a move on,'" he added. "I was very relieved, because she had every right to say 'I don't want to talk...' I said, listen — you have an option of not talking to me again ... and she said 'No, no. I accept your apology. Let's move on.'"
The two also said that their days of dropping biting statement is behind them. "We don't believe in putting negativity out in the world. Both of us were embarrassed when all that stuff came out," Furnish confessed to Extra. "But you've got to put all that behind you and just go forward with the positivity."