What Did Blake Shelton And Gwen Stefani Send A Famous Singer When Her Baby Was Born?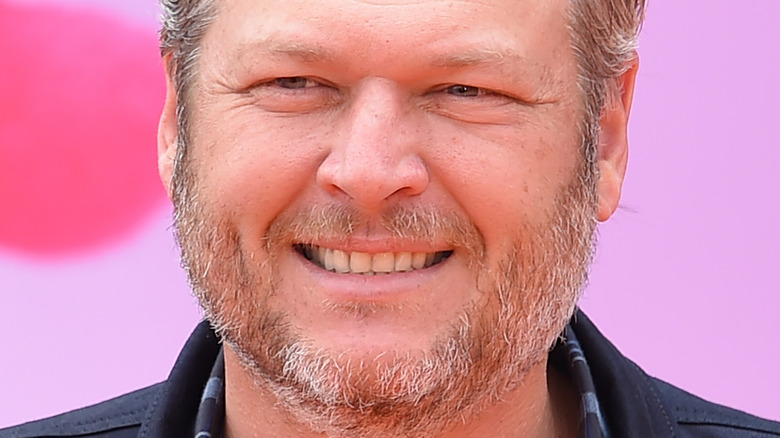 DFree/Shutterstock
It's a new season of life for both Blake Shelton and Gwen Stefani and country music star RaeLynn. Shelton and Stefani married in July. And on Sept. 8, RaeLynn and her husband, Josh Davis, welcomed their first child, a baby girl named Daisy Rae.
"7 Pounds 7 ounces at 4:07 pm September 8 2021 we became a family of three," the "She Chose Me," singer gushed on Instagram, as she posted photos of her happy family in the hospital. "These two are my world," she captioned.
As the country music world is small, there was no doubt fellow artists would their congratulations to the happy family. Speaking with Entertainment Tonight, RaeLynn gushed about some of the sweet gifts she has received, including baby Ugg slippers from Kane Brown and his wife, Katelyn, and baby Golden Goose sneakers from Florida Georgia Line's Tyler Hubbard and his wife, Hayley. But knowing how close RaeLynn is with Shelton, what did he and his new wife gift baby Daisy?
Blake Shelton and Gwen Stefani showered RaeLynn with love
Coming off "The Voice" in 2012, RaeLynn knew she and Blake Shelton had a special bond that would last a lifetime. 
"Every once in a while, you just meet somebody that you are like, 'This person is going to be in my life for the rest of my life,' and I just know that I am going to know that person," she explained to Entertainment Tonight. "I knew that right when I met Blake, he was somebody that I knew would be in my life forever and be a constant friend and a constant mentor."
So when it came to the birth of her baby girl, RaeLynn knew Shelton and Gwen Stefani would be there. The pair sent the new parents, and Daisy, a huge delivery of flowers. "They've been so sweet, and when Daisy was born they sent this huge thing of flowers," she gushed. "Gwen and Blake have been so sweet about her."
RaeLynn and Blake Shelton will always be in each other's lives
Following the birth of Daisy Rae, RaeLynn went on to release her newest album "Baytown" a few weeks later. "THE BAYTOWN ALBUM IS OUT, Y'ALL! I hope you enjoy this musical journey as much as I've enjoyed living it. As I'm holding Daisy in my arms listening to this record, I just can't be more proud of where my life, family and career are going and grateful you are a part of it," she wrote on Instagram.
Not only was Daisy able to listen to the new album, but the baby was also a part of it. "I did all the vocals when I was pregnant with Daisy. And then, you physically see something that you birthed. I see Daisy, now in the flesh, and then I see this record that she was a part of, which was so cool," she explained to Entertainment Tonight.
Blake Shelton is featured on the newest album, too. Their song "Why I Got a Truck" is her favorite on the album. RaeLynn told Entertainment Tonight that Shelton is like her dad-slash-uncle, saying, "I just consider myself lucky because the connection that we built was just so authentic, and then he has been such a big advocate for me in Nashville."