The Tragic Death Of Colin Powell
Paul Morigi/Getty Images
Colin Powell, the 65th and first Black Secretary of State of the United States has died at age 84, CNN reported on October 18. Powell leaves behind three children, son Michael as well as daughters Linda and Annemarie, whom he shared with his wife, Alma, per Biography. Powell's military career dates back to the Vietnam War and included time in the Gulf War, serving under President George H.W. Bush, and as secretary of state during the first years of the Iraq War.
Powell's family released a statement shared on Facebook and captured by CNN following the news. "General Colin L. Powell, former U.S. Secretary of State and Chairman of the Joint Chiefs of Staff, passed away this morning due to complications from Covid 19," the family wrote. "We have lost a remarkable and loving husband, father, grandfather and a great American." The statement revealed that Powell had been fully vaccinated against the virus.
In light of Powell's death, the public has been looking back at his accomplishments as well as his thoughts on American politics. Read on as we do the same!
Colin Powell was always determined to find a solution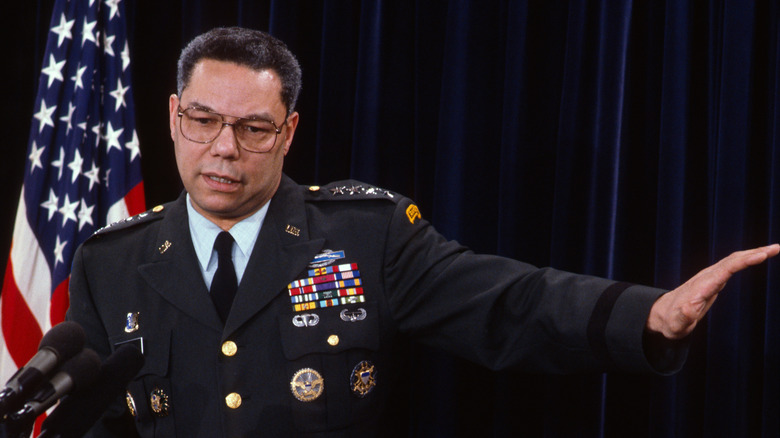 Mark Reinstein/Shutterstock
Colin Powell was born in Harlem, New York, on April 5, 1937, according to Biography. Starting military service while still in college, he rose in the ranks to become a four-star general, per the Office of the Historian. Eventually retiring from the military and going into politics, Powell was appointed Secretary of State in 2001 by George W. Bush, making him the first Black person to hold the position, which he did for four years.
Knowing what it takes to succeed, Powell told Forbes in 2012, "[T]he role of a leader is to always display a winning attitude. No matter whether we're doing well or poorly, we're going to have a winning attitude." He noted, "[I]t's an attitude I've always tried to display during my leadership experience, 'Guys, we may be down, but we're never out, and we're going to find a solution, and we're going to come back.'"
As for Powell's political leanings, he opened up to CNN in January about that month's insurrection at the U.S. Capitol, leading him to leave the Republican party. "I can no longer call myself a fellow Republican... I'm just a citizen who has voted Republican, voted Democrat throughout my entire career. And right now I'm just watching my country and not concerned with parties," he expressed. Our condolences go out to Powell's family, friends, and admirers.