Randy Travis Makes His Admiration For Garth Brooks Crystal Clear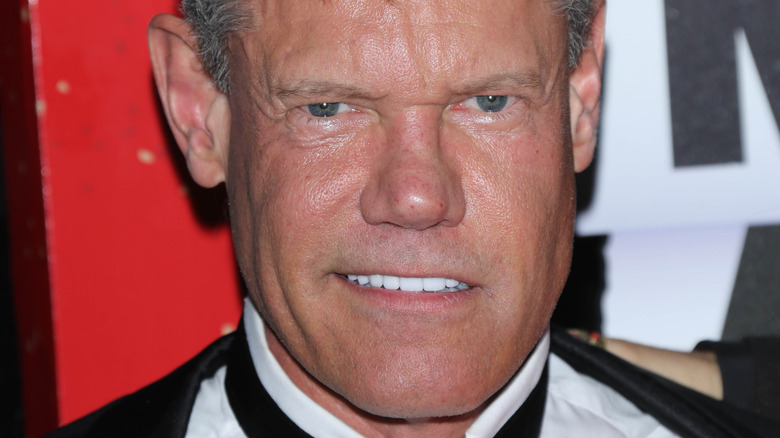 s_bukley/Shutterstock
Acclaimed country music artist Randy Travis, known for hits like "Look Heart, No Hands," and "Diggin' Up Bones," to name a few popular tunes, has many adoring fans — and we're not just talking about his longtime listeners. Even fellow esteemed musicians are in awe of his body of work, including none other than Garth Brooks. The "Friends in Low Places" crooner's feelings were evident when he honored Travis' legacy at the 2021 CMT Artists of the Year event on October 13, telling the crowd, per Taste of Country, "I've said it before and I'll say it again: Randy Travis single-handedly saved country music."
Travis, who was there to accept the Artist of a Lifetime award, appeared touched by Brooks' remarks. But that was far from the first time Brooks has made his appreciation for Travis apparent. "Just speaking for me, every day you wish Randy Travis would show up again — an artist like Randy Travis. But the truth is, that only happened once in my past lifetime. It ain't gonna happen again in the next one for me," Brooks told Rolling Stone Country in 2017, a year after he inducted Travis into the Country Music Hall of Fame. 
But before you assume the love is one-sided, first, take a gander at the heartfelt noted Travis penned to Brooks following the CMTs tribute.
Randy Travis counts Garth Brooks as a true friend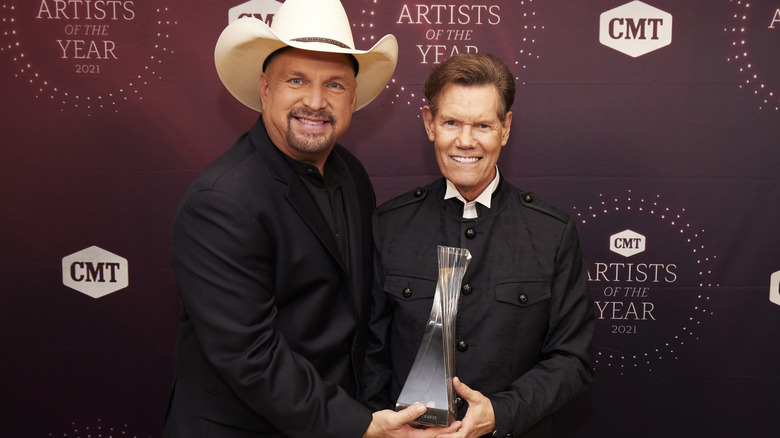 John Shearer/Getty Images
Five days after the 2021 CMT Artists of the Year event, Randy Travis took to his Facebook page on October 18 to express his gratitude for having Garth Brooks among his true friends. "When my last silent prayer is said, I'll thank God for Garth Brooks in my life," Travis opened the post. The country star also noted how Brooks' journey made his "easier," sharing, "Garth Brooks came along right behind me and kept cheering me." He then thanked Brooks for always taking the time to check on him, even though they "don't get to see each other as much." Travis ended the note with a high compliment, raving, "I may have helped bring our genre back to life, but you taught it how to live!" 
Of course, it's fair to assume the musicians' friendship goes deeper than music. After Travis suffered a stroke in 2013 due to complications from a viral infection, according to USA Today, Brooks was one of country's many stars who offered public support. In 2017, for instance, he performed at the Randy Travis Tribute Concert, which helped raise funds for Travis' foundation supporting people affected by strokes. "I am humbled by his [Brooks'] involvement," Travis said at the time, according to The Tennessean.
Although it's too bad Brooks and Travis don't get to hang out as much, at least they have decades of sweet memories working in country music together. And who knows, maybe a collaboration is in their future!