Here's What Katy Perry Looks Like Without Makeup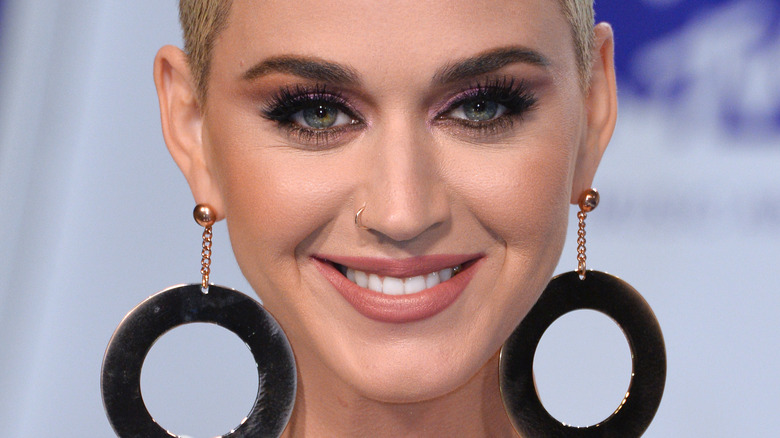 Featureflash Photo Agency/Shutterstock
Of all the things Katy Perry may be known for, rocking audaciously colorful makeup and outfit lewks is decisively at the top of the list. Whether it was donning the infamous whipped cream bra in the "California Gurls" music video or dressing like a literal chandelier at the 2019 Met Gala (per Us Weekly), a wallflower Perry never has been. Moreover, Perry is essentially never seen at red carpet events without a full face of signature doll-like makeup or a new hair color. "I'm naturally the most boring dishwater squirrel brown," Perry told Glamour in 2015 of her hair. "So I've been playing with colors since I was 15."
Also a Cover Girl spokesperson, Perry told PopSugar that even when time is tight, she likes to still apply a little something to make her eyes — one of her most unique features — attract attention. "When I am off tour ... I mostly do mascara. If I only have 10 minutes, I use CoverGirl LashBlast Mascara to extend my lashes and do a little bit the brow," she revealed.
However, as the mother of Daisy Dove Bloom told the outlet, she often does eschew makeup completely when she's off-tour, especially for "hikes, seeing friends, and being outside," adding facetiously that she tends to apply more during wintertime because "I just start to look like a potato and need some shading." So what does this busy pop star look like then? Here's the makeup-less selfie Perry shared with the world.
Katy Perry's famous peepers still pop without makeup
Offering fans insight into the contrast of her life right before and after the start of COVID-19, Katy Perry posted a photo carousel to Instagram in March 2020, the second picture showing her bare-faced at home in quarantine. "Pre-quarantine mid-quarantine," her caption read. "Hope your stay-at-home plans tonight include joining me for a beautiful and breezy episode of #AmericanIdol, taped in heavenly Hawaii back in January and February." 
Indeed, the first photo showed a fully glammed-out Perry whilst filming "American Idol" in Hawaii in January 2020, decked out in a stunning floral dress and bow-tie stiletto heels. Yet, the second (seen above) was of a bathrobe-draped Perry watching her episode at home — without a lick of makeup adorning her face. Still sporting a flushed-but-even tan from Hawaii, Perry lost the ringlets, false lashes, and bright red lipstick from the first photo for this stay-home selfie that we love. 
Her eyebrows — not filled in — still looked tamed, her big blue eyes still popped (perhaps with a little help from eyelash extensions as well) and her complexion looked blemish-free — although she protested this point to a fan who complimented her quarantine aesthetic on her post, self-deprecatingly joking, "blackheads and all baby" (per Good Morning America). Perry, pregnant at the time as we later discovered, must have also benefited from a case of the pregnancy glow! 
Katy Perry says she knows 'who I am' now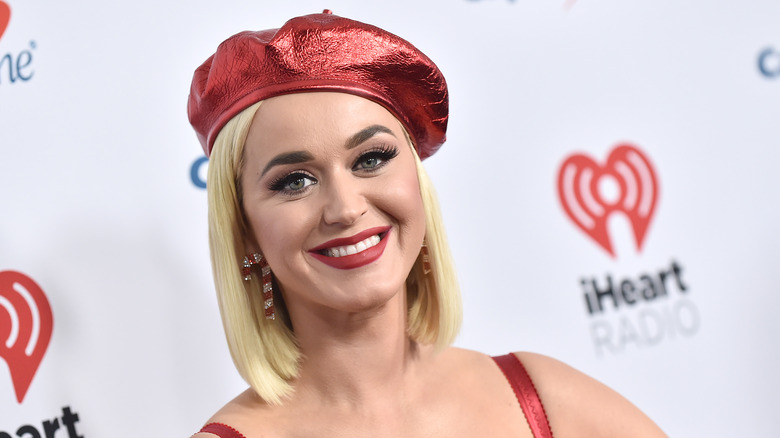 DFree/Shutterstock
In a June interview with L'Officiel, Katy Perry attributed her newfound confidence going sans-makeup to the self-actualization she's achieved through family life and a better understanding of her career path. "I have gone through a real journey in the past few years of having fun with costumes and lights and props and theatrics, but I have another life at home and it's very small and normal," Perry opened up. "I don't feel like I have to be 'on' anymore, and I think that's because I've figured out both my professional and personal lives." Too relatable are her words, as anyone who's ever tried to compensate for inner insecurities with outward changes (so, everyone) knows. 
The "unconditional love" of motherhood certainly helped elevate that self-confidence, but Perry said the key was simply a stronger sense of self. As she told L'Officiel, "I used to be really upset about going out into the world with no makeup on," adding that even for that very sit-down with the outlet, in the past, she would have requested, 'Let's do some hair and makeup.'" 
Now, however, Perry explained her attitude toward day-to-day dolling up as, "You know, I'm good. I know who I am. And what you think of me is none of my business." Well said.