The Real Reason Jamie Lee Curtis Doesn't Use Her Royal Title
Jon Kopaloff/Getty Images
Jamie Lee Curtis is the dictionary definition of Hollywood royalty. The "Halloween" star is the daughter of not one, but two Hollywood legends. As her last name suggests, Jamie's father was the late Tony Curtis, the heartthrob who dominated the industry in the 1950s and 1960s with landmark films like "Some Like It Hot," starring Marilyn Monroe. But Jamie is also the daughter of Janet Leigh, who became eternal after starring in Alfred Hitchcock's 1960 psychological drama "Psycho," a movie that is consistently featured in lists of the best films of all time, including one by the British Film Institute. With those genes, it is hardly a surprise that Jamie followed in her parents' footsteps. 
Like her mother, Jamie also found initial fame thanks to horror films, earning her the title of the "ultimate scream queen" of the last four decades, per Entertainment Tonight. Jamie is acutely aware of how much how parentage helped her succeed in Hollywood. "If you're going to choose between this one and this one, choose the one whose mother was in 'Psycho' ... I'm never going to pretend that I just got that on my own, like I'm just a little girl from nowhere getting it. Clearly, I had a leg up," she told The New Yorker in 2019 of snagging the part of Laurie Strode in "Halloween." 
But being Hollywood royalty isn't the only "royal" title Jamie carries. You might be surprised to learn that Jamie is an actual noblewoman, though she doesn't often talk about it.
Jamie Lee Curtis is a baroness by marriage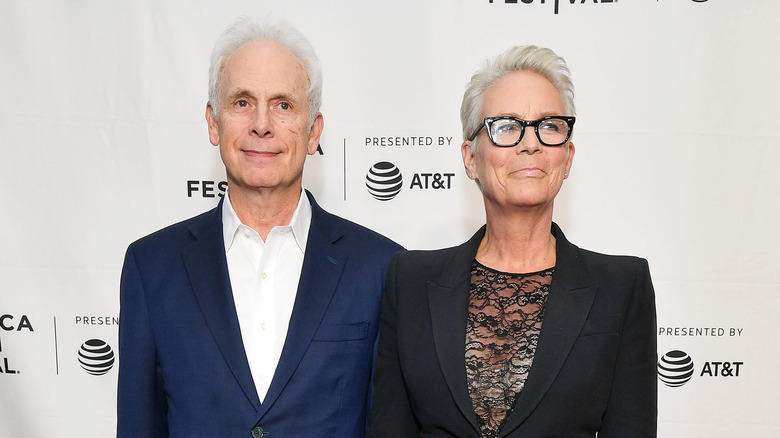 Dia Dipasupil/Getty Images
Through her parents, Jamie Lee Curtis inherited her Hollywood royalty title. But through her husband, Curtis became a baroness. When Curtis married British-American screenwriter Christopher Guest in 1984, he wasn't yet a baron, according to Architectural Digest. But when his father died in 1996, he inherited his title. "I'm a baron. I'm Lord Haden-Guest. And yes, that's a novelty. Born into it by accident, obviously. And then your dad dies and you're the next one," Guest told The Guardian in 2016. At the same time, Curtis became Lady Hades-Guest. As indicated by his tongue-in-cheek tone, Guest doesn't make much of his title — and Curtis is no different. In fact, she rarely addresses this aspect of her life. "It has nothing to do with me," Curtis told Architectural Digest.
Being a lord means Guest belongs to the British peerage, members of which hold titles of dukes, earls, viscounts, and barons, the Electoral Reform Society website noted. For over 700 years, peers held a seat in the House of Lords, the second chamber of U.K. parliament. However, a 1999 act removed the voting rights of most of the 750 hereditary peers, allowing only 92 to continue to vote on legislation, per the website. Still, Guest was an official member of parliament for some time, a role he actually enjoyed. "It wasn't the cartoon of old men with ear trumpets. Although yes, there was an old man with an ear trumpet," he told The Guardian.
Jamie Lee Curtis' children won't inherit barony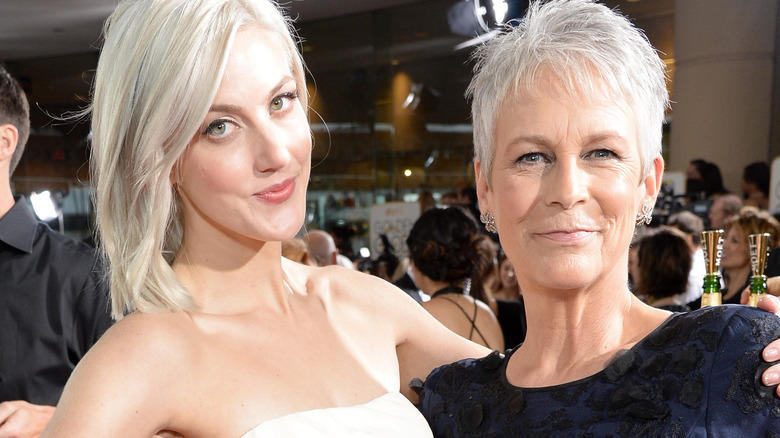 Michael Kovac/Getty Images
Jamie Lee Curtis and Christopher Guest have two daughters together, Annie (pictured above) and Ruby. But neither is entitled to inherit Guest's barony. And many outdated — and discriminatory — rules are to blame, Sir Crispin Agnew of Lochnaw, a nobleman, argued to The Times in 2018. Firstly, both of Curtis' kids are women, and the fact that Ruby is transgender makes the laws even more confusing and difficult to follow. But even if both were men (and therefore would inherit the name), they would still not be up for the title because they are adopted. 
"Parliament should reconsider all these exemptions with a view to bringing the succession to peerages, baronetcies and other dignities in line with the general law governing family relationships and succession. Such debate and reform would ensure that heirs are not excluded on discriminatory grounds," Agnew pressed (via the Daily Mail). 
Curtis previously revealed in the Pact's Point of View newsletter (via Closer Weekly) that she and Guest struggled with infertility. "Adoption was the only way for us to have a family," she said. As the rules stand, the heir presumptive to Guest's barony is his younger brother, actor Nicholas Guest. As unjust and outdated as the rules may be, Annie and Ruby are probably not too bothered by the situation. Both are Americans who have lived their whole lives across the ocean with no clear ties to the U.K., as even their British father was born in the U.S.