The Truth About Reba McEntire's Son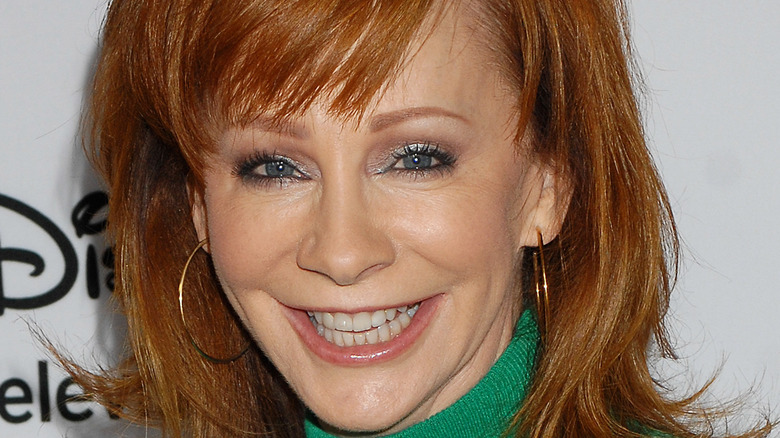 Ga Fullner/Shutterstock
Many TV show plot elements are borrowed from the real lives of their writers and actors. And why not? It's free inspiration! But, much less frequently, the opposite can happen. Actors can find themselves reliving situations many years after they portrayed the fictitious version, like Reba McEntire found out when her actual life started mimicking elements of her beloved sitcom "Reba". In case you need a refresher, the Emmy-nominated show depicted the struggles of, as the timeless theme song reminds us, "a single mom who works too hard" as she navigated divorcing her long-time husband while attempting to maintain a good relationship with her kids. In a sad case of life imitating art, McEntire also found herself separated from her husband of 26 years, Narvel Blackstock, in 2015, per People.
Luckily, much like her sitcom self, she remains on good terms with her ex, sharing on a Facebook comment that "Narvel and I are friends. We have always been." Of course, "Reba" didn't exactly foreshadow McEntire's whole future. Instead of three kids, she only shares one biological child with her ex-husband: a son named Shelby Blackstock. So, just who is this son? And did he inherit his mom's "gentle hands and the heart of a fighter"? Read on to find out!
Did Reba McEntire's son also join the entertainment industry?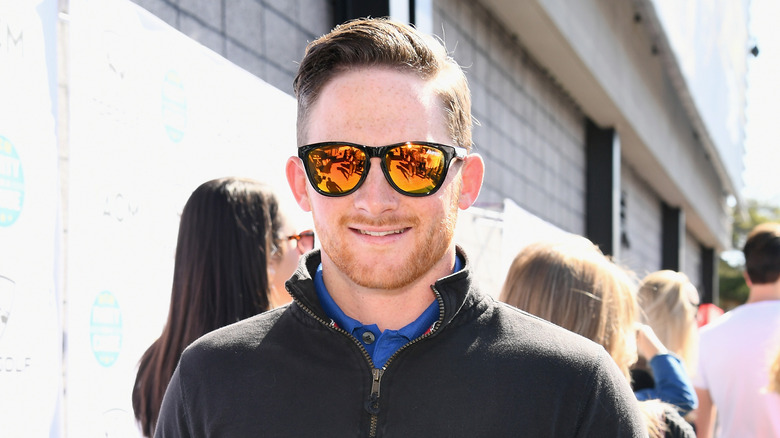 Emma Mcintyre/Getty Images
If Reba McEntire is the Queen of Country, does that make Shelby Blackstock the prince? While his credentials certainly hold up, it doesn't appear that Blackstock is in any rush to inherit his mom's musical throne. In fact, his only rush seems to be on the speed circuit, where he's enjoyed a career as a professional race car driver for the last decade, as per Country Fan Cast. In an interview with Cody Allen (via CMT Cody), his mother revealed her son's need for speed started at a young age, on a golf cart of all things: "He could barely touch the gas pedal. He would drive me around the place, and he would say, 'Hang on! It's going to be a bumpy ride!' and we would chase the geese all around."
Although it might not exactly be twanging a banjo, McEntire doesn't feel Blackstock steered off too far from the family tree. On watching him compete at Daytona International Speedway, she told the Daytona Beach News-Journal: "I can understand the excitement of the race business. I'm from a rodeo family. The scare tactics and everything are very similar in rodeo. The adrenaline does flow very fast, but I'm used to that."
Fast cars aren't the only thing that makes Blackstock's heart race — his priorities might be switching gears.
Reba McEntire's son has another country(ish) connection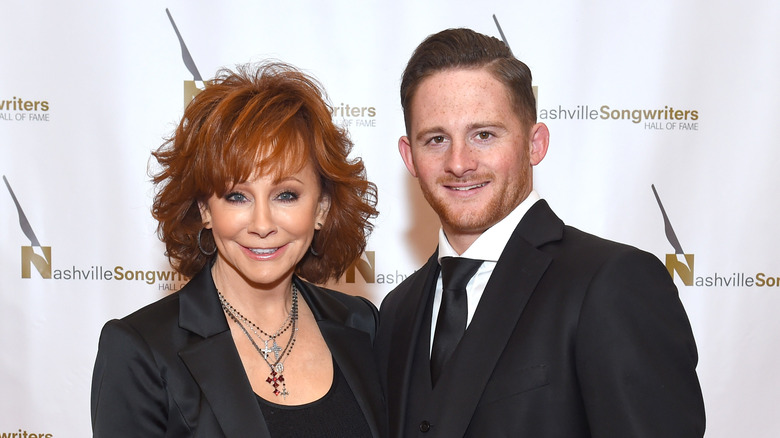 Jason Kempin/Getty Images
Interestingly, Shelby Blackstock's country cred doesn't end with being Reba McEntire's son. His half-brother, Brandon Blackstock, was once married to none other than American Idol Kelly Clarkson. And if you're about to comment that she's more of a pop star than a country gal, we'd like to take this moment to point to Clarkson actually has two Academy of Country Music Awards.
Sadly, his brother and Clarkson's union didn't work out, but at least Shelby had some positive family news to share at the end of 2020. In a heart-warming Instagram post, he announced his engagement to long-time girlfriend and self-proclaimed Disney princess, Marissa Branch: "I'm engaged to my best friend!" The two already share a "fur-kid", namely a Corgi called Watson, whom McEntire has referred to as her "grandson" in a sweet Instagram post in 2018.
While not exactly a classic sitcom setup, we think McEntire/Blackstock clan are just adorable. And it's clear that whether it's pups or children, both Reba and Shelby "love (their) kids and never stops."