The Untold Truth About The Valastro Family From Cake Boss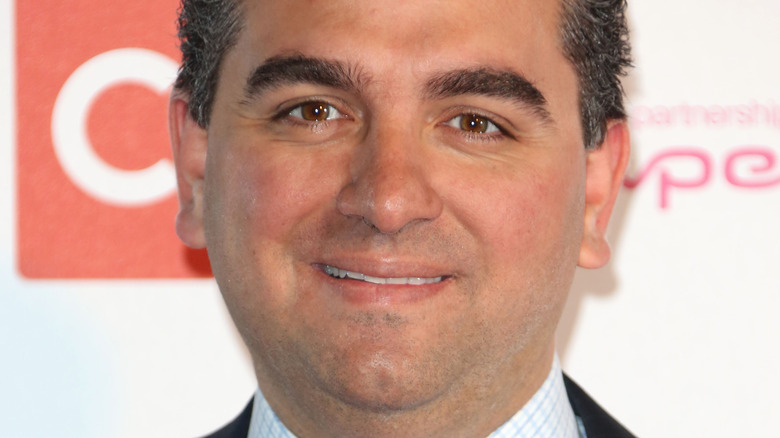 Featureflash Photo Agency/Shutterstock
The Valastro family shared an insight into their lives as one of New Jersey's most famous families for years on the TLC reality show "Cake Boss." The reality series centered around the many ups and downs of the seriously close-knit big Italian-American family as they tackled being part of each other's lives both in and out of the workplace, pulling together to make Hoboken's Carlo's Bakery a success.
Head baker Buddy Valastro was the main star of the show, introducing the world to his wife, Lisa Valastro, and his four outspoken sisters, Grace Faugno, Maddalena Castano, Mary Sciarrone, and Lisa Valastro. Fans also got to meet Buddy's extended family, including Grace and Maddelena's husbands, Mauro Castano and Joseph "Joey" Faugno, who were Buddy's go-to men in the bakery. Also in the fold was the Valastro matriarch, Buddy and his sisters' mom, Mary Valastro, as well as plenty of members of the extended family who popped up from time to time.
"Cake Boss" was a big hit for TLC, running from 2009 until 2017 and airing more than 230 episodes as well as a whole host of spinoffs. But while the cameras captured plenty, there are some things not everyone knows about the Valastro clan.
Buddy Valastro's controversial moments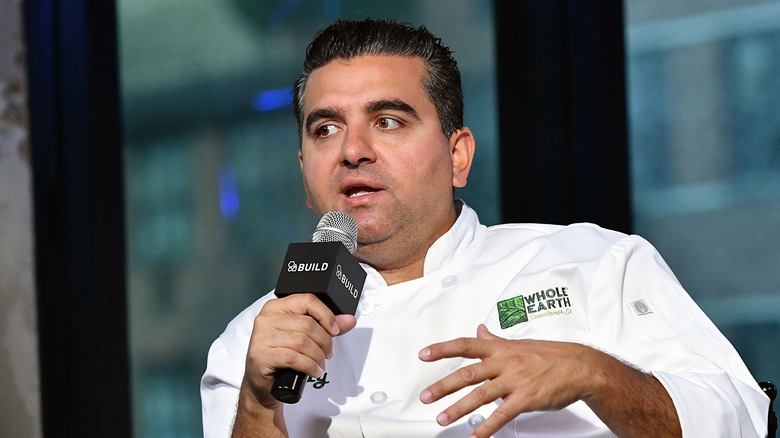 Slaven Vlasic/Getty Images
Though Buddy Valastro has a reputation of being one of life's nice-guy family men, he's had his fair share of controversies over the years.
Buddy's most notable faux pas came in 2014 when he was arrested for driving under the influence and spent the night in prison after reportedly failing "multiple field sobriety tests" (via TMZ). In a move very much unlike the down-to-earth guy fans see on TV, the judge claimed Buddy told cops, "I had a couple drinks. You can't arrest me! I'm the Cake Boss" (via ABC News). Clearly not too impressed by his moniker, he was arrested anyway and Buddy found himself in court. Buddy pleaded guilty and had his license suspended for three months, was slapped with a $300 fine, and ordered to take a drunk-driving course (via The New York Times).
But that wasn't the only time the Cake Boss has found himself in hot water. The star and the show both came under fire in 2012 after being accused of transphobia. The "Bar Mitzvah, Beads & Oh Baby!" episode of the TLC series saw former "RuPaul's Drag Race" contestant Carmen Carrera ridiculed by Buddy and Anthony "Cousin Anthony" Bellifemine. Buddy suggested Carmen surprise Anthony with a kiss on the cheek as he exclaimed, "That's a man, baby!"
Carmen shared her frustration on Facebook and TLC confirmed the episode had been pulled. Buddy then took to Facebook to apologize to her and "the entire LGBT community" (via Today).
The Valastros' extended family came under fire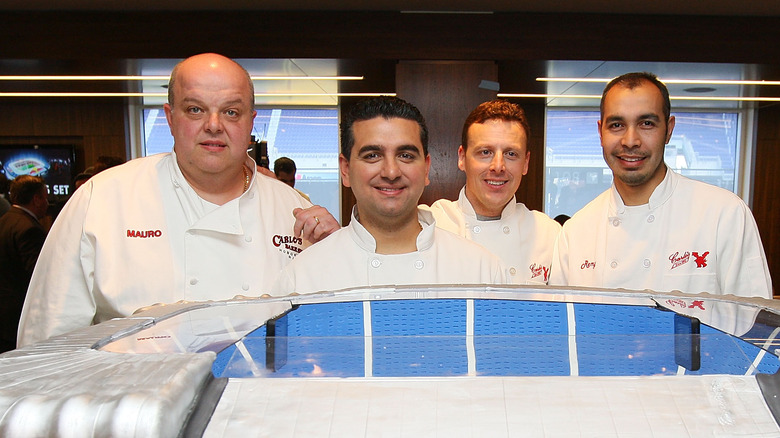 Mike Stobe/Getty Images
It's certainly not just Buddy Valastro who's surrounded the Valastro family with controversy. One of the family's most shocking moments came in 2010 when "Cake Boss" regular and Buddy's now former brother-in-law, Remy Gonzalez, was arrested for the sexual assault of a 13-year-old girl and removed from the show. 
Remy — who was previously married to Buddy's sister, Lisa Valastro — was sentenced to nine years in prison in 2012 as a result of the case (via NJ.com). Speaking in court, Remy said, "I want to apologize to the victim. I truly am sorry for all the pain and all the embarrassment I caused." But that wasn't the only time one of Buddy's extended family members hit the headlines for all the wrong reasons.
Anthony Bellifemine, aka Cousin Anthony who was also a regular on the show, caused some controversy in 2013 over divisive tweets regarding the 2013 Boston Marathon bombing, which were deemed xenophobic. Before the bombers were identified by officials, Anthony wrote in a series of since-deleted tweets (via Jezebel), "Let's just keep letting all these Animals into our country so they can keep attacking us.... We even pay for them to go to school how's that!" When questioned about his take on the tragic event by his followers, he reportedly called them "typical liberals."
If you or someone you know may be the victim of child abuse, please contact the Childhelp National Child Abuse Hotline at 1-800-4-A-Child (1-800-422-4453) or contact their live chat services.
Buddy Valastro's serious hand accident
Ouch! The squeamish may want to look away now, as this one gets graphic. In September 2020, Buddy Valastro suffered a serious hand accident while bowling in his home alley with his kids. His representative explained to People that he was "trying to release the bowling pin from the cage mechanism" when it got stuck. Buddy's lodged hand was then impaled by a more than inch long "metal rod slowly and repeatedly" that pierced "his hand three times between his ring finger and middle finger."
"I looked at my hand and blood was gushing everywhere. It looked like a Halloween movie. [It] was the worst pain that I've ever encountered in my life," Buddy told People the following month, while with his wife, Lisa Valastro, described the whole ordeal as "hell." The injury was so serious the famous baker admitted there was a time his doctor was worried he might lose his right hand completely.
Speaking just over a year on in October 2021, Buddy revealed during an appearance on "Today" that he'd had five surgeries and may still need to go under the knife again, but has been able to get back to work. "Considering what happened, I had a huge metal spike through my hand, the fact that I'm here talking to you guys today, doing what I'm doing ... Hats off to all the doctors and nurses and everybody in that industry who really put us first every time," he said.
Lisa Valastro's cystic thyroid disease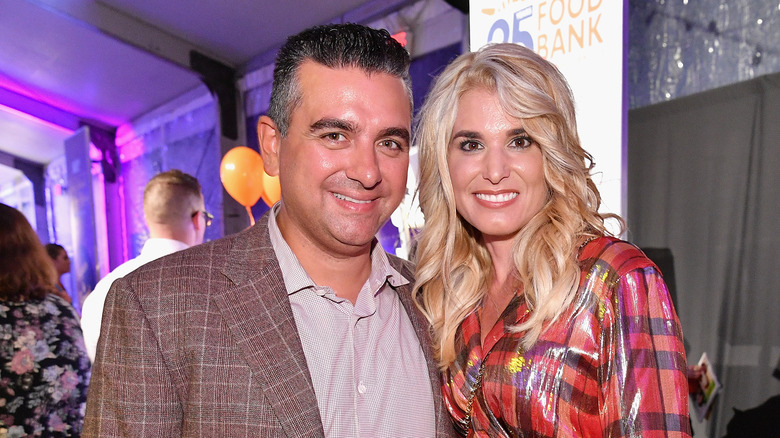 Dia Dipasupil/Getty Images
Buddy Valastro has been vocal about his nasty injury, but he's not the only one who's been blunt about health issues. Buddy's wife, Lisa Valastro, has also gotten candid with fans, sharing in 2020 that she had cystic thyroid disease that put her at greater risk of developing breast cancer. Lisa shared the news on TLC's 2020 special, "Buddy Valastro: Road to Recovery," which showed Buddy as he worked hard to get his hand back in shape.
The cameras rolled as Lisa and Buddy openly discussed the possibility of her developing cancer. The two talked through her options, as Lisa shared she should take medication for a few years or get a mastectomy to reduce the risk.
Lisa also discussed her health journey on her "What's Up, Cuz?" podcast in December 2020 where she told listeners she had experienced "breast issues" for much of her life and had found lumps before that had, thankfully, all been benign. Lisa also spoke candidly about the first time she realized she had something out of the ordinary when she found a lump while in the shower several years ago. She then went for an ultrasound and found she actually had two "rather large bumps," so has been undergoing regular mammograms ever since.
How did Buddy Valastro's dad die?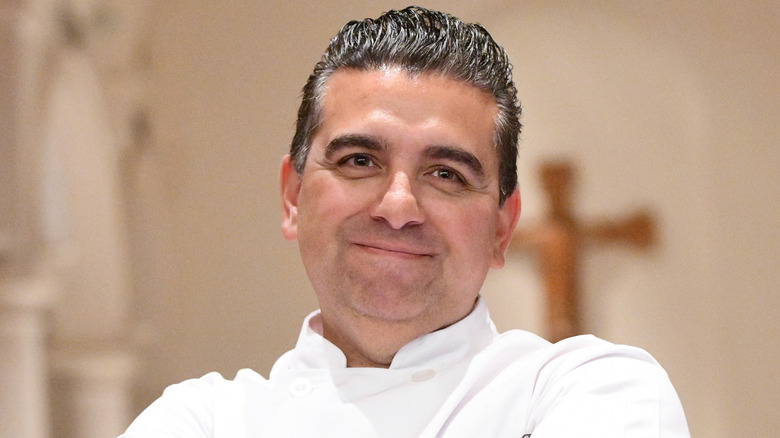 Jared Siskin/Getty Images
Lisa Valastro's health experiences sadly don't mark the first time Buddy Valastro's family has had cancer come into their lives. While it's common knowledge Buddy's dad died when he was a teenager, one thing that hasn't been discussed so much on the show is why he passed away.
Bartolo Valastro Sr. died when Buddy was 17 years old of lung cancer, which it's believed was caused by smoking. Bartolo was 54 and died just weeks after being diagnosed. Buddy has shared his grief on multiple occasions and his late father was regularly mentioned on "Cake Boss," though the star shared just how much his dad's death affected him in a touching piece for Guideposts in 2011.
Buddy recalled how he tried so hard to carry on in his father's footsteps at Carlo's Bakery, writing, "No matter how hard I worked — and I had to with Dad gone — I couldn't escape my grief. Almost every night I'd demand of God, How could you take away my father? How can you expect me to go on without him? How?" Buddy shared a vivid dream he had shortly after his dad's death in which he met Bartolo at the bakery and he showed his son how to make one of Carlo's Bakery's signature pastries, the Lobster Tail. Buddy recalled telling his mom, Mary Valastro-Piccinch, about it, and she welled up and told her son, "God must've sent you that dream."
Buddy Valastro fired his sister
Working together in such close quarters can be a recipe for disaster for many family members, and the Valastro's are no exception. All that built up tension came to a head back in 2012 when Buddy Valastro sensationally fired his sister, Mary Sciarrone, in explosive scenes filmed for "Cake Boss." Drama!
It all went down in the episode "Stained Glass & A Surprised Danny," when the two fell out in a pretty explosive way and Buddy pulled the plug on Mary's time in the bakery. He accused her sister of being too outspoken in the bakery and undermining his authority as the Cake Boss. Mary hasn't exactly made a secret of her frank nature, as fans of the show will already know.
But Mary didn't stay out of Carlo's Bakery for long and continued to feature on the show even though she wasn't an employee, even calling out her brother in the episode "Liberty, Layups & a Loaded Dinner." Despite the furor between Mary and Buddy, the two made up seven episodes later in "Silly Seuss & Surprise" when Mary returned to the bakery as a full-time employee. The two have clearly more than made up since, as, in March 2021, Mary shared a touching birthday tribute for her famous brother on Instagram. She shared three selfies alongside the caption, "Happy birthday to the best brother a girl could ask for ... we love you and I'm so proud to call you my brother."
The Valastros mix work and pleasure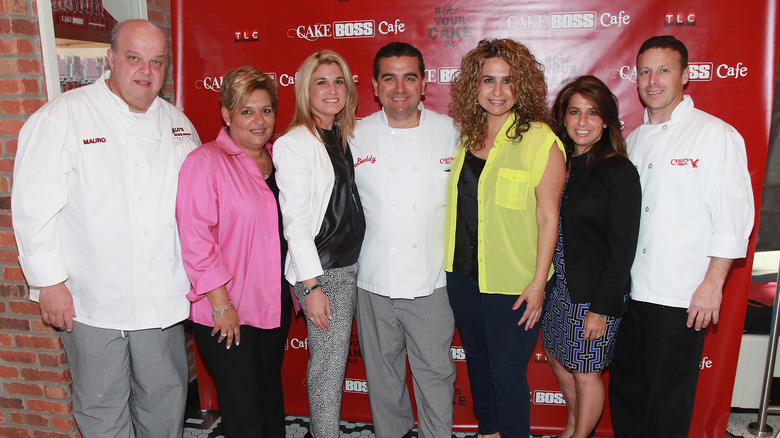 Taylor Hill/Getty Images
While a firing may have happened before, the Valastro's are pretty much the definition of fighting big but loving big on reality TV. The clan opened up about the reality of working together as well as spending so much time together outside of the bakery, with Buddy's brother-in-law Joey Faugno admitting to Business News Daily in 2015 that "working in a family business is unlike anything else," adding, "You fight and yell, and then you sit down for a meal. We always joke about that, but it's true. You might see us fighting on the show but you don't always see what happens after the work day is over." 
And this group really does spend pretty much all today together. "We spend eight to 10 hours every day at work and then hang out with each other at night. I feel lucky that we can work so hard at our jobs but still have that family time while we're doing it," he noted.
Joey also opened up about how the Valastros' relationships have changed since finding fame, admitting that, well, it hasn't. "At the end of the day, the dynamics of the bakery are similar to how it's always been. We work together all day, and then go home and have dinner together," he shared. "We're always together, but that's what makes it fun."
The Valastros' Real Housewives connections
A "Real Housewives of Cake Boss" spinoff, anyone? Well, that's kind of what we had once, as it turns out that Buddy Valastro and Lisa Valastro have some Real Housewives connections. Yep, in a conjoining of two of New Jersey's most famous power couples, the two are actually close friends with "RHONJ" mainstays Melissa Gorga and Joe Gorga. The two regularly appear on one another's Instagram accounts where they show off their fun-filled adventures, including a "#Summatime" snap from the pool which Melissa shared back in 2018.
But they're more than just casual friends, they're actually neighbours and vacation buddies! "We love Melissa and Joe. They're great people," Buddy told Us Weekly in 2019, adding, "They're our neighbors, we live on the same block. So, our kids are close together in age, and they play together." The families are so close they even once took a trip to Walt Disney World together, with Buddy joking the two invited themselves and their three kids along after Buddy mentioned it over dinner.
And (just like we totally would if we were close with Buddy) the Gorga's have taken advantage of their Carlo's Bakery connections with some stunning bespoke cakes over the years (like this replica of Joe's book). This love goes both ways too, as Lisa actually popped up in a 2019 episode of the Bravo hit, as she can be seen celebrating Melissa's birthday in the Season 10 episode, "40 And Fancy Free."
Buddy Valastro's dad came to America with 'nothing'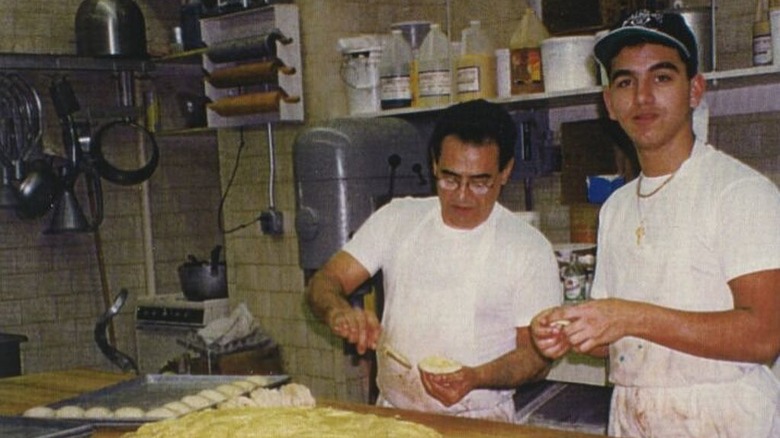 https://www.instagram.com/p/B6wQoXOlLwm/
In a true rags-to-riches story, Buddy Valastro has been open about his dad's life and how he was able to build on his legacy. 
Buddy shared that his dad, Bartolo "Buddy" Valastro Sr., literally came to the U.S. from Italy with no money at all but worked hard enough at Carlo's Bakery that he was eventually able to buy it. "He came here from Sicily, at 15, with nothing, absolutely nothing. He was from a family of bakers, and by the time he was 26, he had bought Carlo's Bakery," a proud Buddy shared during a 2010 interview with The Seattle Times. "He lived the American dream. He was a great cake decorator and that inspired me."
Writing for Guideposts, Buddy shared how his dad married his mom, Mary Valastro-Piccinch, a year after the big purchase. The two worked alongside each other at the now iconic Hoboken store featured on the TLC show, which is how Buddy's passion for baking started. "It wasn't until I was six I got my first taste of what my father did for a living. One day I stared up at him putting on his crisp white baker's uniform and announced, 'Daddy, I want to come to work with you.' That day he brought me to Carlo's."
And the rest is history!
Buddy Valastro's dramatic weight loss
Working in a bakery around all those delicious treats, it's not too surprising to hear that sometimes the pounds can creep up on a baker. But Buddy Valastro was determined to do something about it and underwent a dramatic transformation in 2018 when he dropped 35 pounds.
The reality star debuted his new look on social media when he shared a photo of himself looking notably slimmer on Instagram while standing alongside his wife, Lisa Valastro. He shared that he'd lost the weight by trying the Optavia program and eating six small meals a day. "[I'm] not being paid to say this and it should be noted that I think every body is different and you should do whatever suits you but this is what I'm doing and I'm very happy with the results so far!" he wrote.
Buddy went on to open up about his new look to People, sharing, "I just woke up one morning and looked at myself and was like, 'Come on, you've gotta stop eating.' It wasn't like a health scare or anything like that it really was really just, I wasn't moving the same and was feeling kind of sluggish." As for how he holds back on the temptation to have a sneaky taste of all the treats at Carlo's Bakery? He added, "It's hard being a baker because I still have to taste stuff, but now I'll just have one lick."
The Valastros' police rescue
While we've already covered the Valastro family's serious run-ins with the law, this one has a more light-hearted (albeit still scary at the time) story behind it. Buddy Valastro and his wife, Lisa Valastro, were out with another couple and nine children in 2014 when they found themselves at the mercy of the New York City police after getting stranded in a boat on New York Harbor.
The gang headed out for a boat trip on a sunny summer day in July, only to stay on the water a little too long as the fog rolled in, making it nearly impossible to see their way back to shore. They then had no option but to put in an emergency call. "People were scared. I didn't know which way to look — left, right. I couldn't even see in front of me," Buddy admitted of the incident to CNN.
The authorities ventured out to tow the group back to safety, and Buddy admitted it was no laughing matter — well, at least not at first. "I couldn't pick a worse bunch of people to be on the boat stuck in the fog with. All the kids were under 10 years old... then my wife and my friend's wife and my friend... After we got rescued, we started joking and having some fun. But it was no joke," he said. It sounds like Buddy is better suited to being around the oven than in the water.
Lisa and Buddy Valastro's meet cute
Buddy Valastro and his wife, Lisa Valastro, have quite the meet cute. In a seriously adorable love story, it turns out the two actually knew each other for years before tying the knot (and we mean years) as their paths first crossed as kids.
Lisa was actually close friends with a cousin of Buddy's who also just so happened to be his neighbor, meaning the two would always run into one another on the street when they were younger. But things really got serious when Lisa was in her late teens and Buddy was 22, when that cousin invited them both on a night out. It was then that the two started dating. "When Lisa came out that night, I teased her and said 'you were really after me,' and she says I was really after her," Buddy joked during a TLC interview, admitting that because of their three-year age gap and them meeting so young, there was a time he thought of her as "a little girl."
The two have pretty much been in love "ever since" and have gone on to welcome four children into the world, Sofia Valastro, Bartolo Buddy Valastro III, Carlo Valastro, and Marco Valastro. Fans have also seen their romance grow even more over time, including in 2011 during the Season 4 episode "Soap, Sonograms and Surprises" as they renewed their vows in the Bahamas.
Buddy Valastro is a high school dropout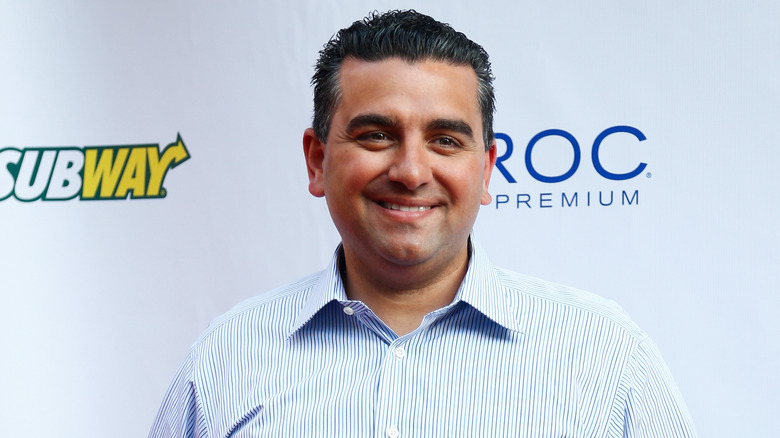 Debby Wong/Shutterstock
There's no doubt that Buddy Valastro is one of the most knowledgeable men in the world when it comes to baking and cake decorating, but when it comes to formal education, he's actually a high school dropout.
He explained his decision to The Seattle Times in 2010, sharing he started working at the bakery alongside his dad when he was around 11 years old by cleaning bowls. When a 17-year-old Buddy's dad died, he left high school in his junior year "and went to work full time." Buddy admitted he "had to prove [himself] over and over" and revealed he considers himself to be "self-taught in a lot of ways." "I wasn't a bad student ... I was a B student who never tried. I got mostly B's and an occasional C," he shared.
But dropping out of high school wasn't the plan Buddy's dad, Bartolo Buddy Valastro, had for his son, as he wanted him to go to college (via Guideposts). Three weeks before Bartolo died, Buddy told him while standing beside his hospital bed, "I'm gonna work full-time at the bakery. I'm going to make Carlo's a household name, like you always dreamed, I promise. I'm going to make you proud, Dad. Just get better." His dad wasn't convinced, telling him through tears, "Buddy, I want you to graduate." Buddy replied, "No, I want to run the bakery. We have to keep it going," and dropped out of school that very day.
Mary Valastro-Piccinch's tragic diagnosis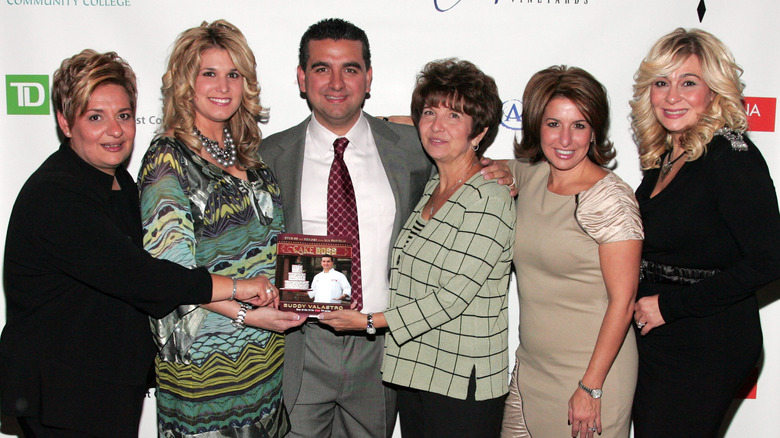 John W. Ferguson/Getty Images
The Valastro family have certainly had their fair share of health scares, one of the worst coming in the form of a particularly tragic diagnosis for the Valastro matriarch, Mary Valastro-Piccinch, who was heavily featured on "Cake Boss."
Mary — the mom of Buddy and his four sisters — was diagnosed with ALS in 2009 and died as a result of pneumonia, a common cause of death for those with the disease, in 2017. A representative for the family told People her "condition had been steadily worsening these past months, so it was not sudden but still extremely heartbreaking for the family. After eight years of fighting her battle with ALS, the family is relieved she is no longer suffering. Buddy and his sisters are absolutely crushed right now."
Mary's experience with the illness was discussed a lot on "Cake Boss" and the family were very outspoken about trying to find her the best treatment. Cameras rolled during candid conversations about her health, and the family even started the Mama Mary Foundation in her honor. Buddy candidly opened up about his final moments with his mom to People. "I looked her in the eye, and I told her, 'Ma, I owe everything to you and I couldn't be who I am without you. You're my No. 1 girl, and I'll always love you," he said. "I know that she's in a better place and she's in heaven and she's with my father singing 'I Will Survive.'"
Buddy Valastro isn't his real name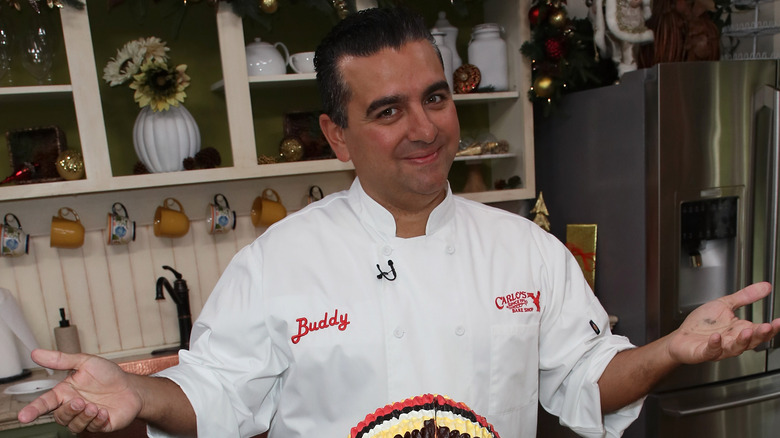 David Livingston/Getty Images
Did you know that Buddy Valastro's real name isn't actually Buddy Valastro? Yep, though we were fooled into thinking Buddy's real name was Buddy, it turns out his official name is actually Bartolo Valastro Jr, named after his father, Bartolo Valastro Sr. As for how he got the infamous nickname? Well, Buddy opened up about his moniker and how his dad's name also played a part in that during a 2019 sit down with Newsday.
He explained that his beloved father was the first to have the nickname, getting it when he came over from Italy as a different take on his original first name, Bobbytolo. "That's how it's pronounced in Italian. But everybody would say Bartolo or they couldn't pronounce it. So his friend said we're going to give you an American nickname. We're going to call you Buddy. And then everybody called him Buddy," Buddy shared.
The name lives on too, as Buddy shared his son also has the name on his birth certificate. "I'm Bartolo on my birth certificate and my son is Bartolo. Everybody calls us Buddy. I feel like I couldn't have gotten a better name because I feel like I'm friends with everybody, and I get along with everybody so it was pretty cool to have the name Buddy growing up."