How Did Donald Trump And First Wife Ivana Meet?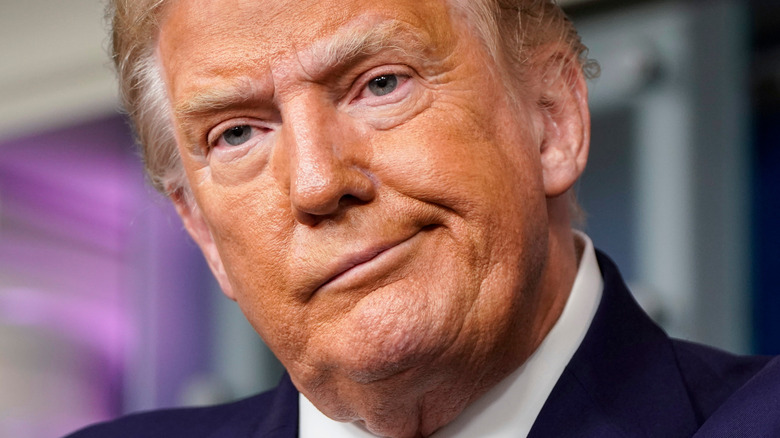 Naresh777/Shutterstock
We may receive a commission on purchases made from links.
Former President Donald Trump arguably has a complicated relationship with women. He's had numerous cheating scandals, at least 26 sexual misconduct allegations (per Business Insider), and two very messy divorces.
Donald Trump's first wife, Ivana Trump, went into detail about his public affair with Marla Maples — which ended their marriage in 1992, per The New York Post — in her memoir, "Raising Trump," published in 2017. "This young blonde woman approached me out of the blue and said 'I'm Marla and I love your husband. Do you?' I said 'Get lost. I love my husband.' It was unladylike but I was in shock," Ivana wrote (via The Guardian).
However, Ivana also speaks fondly of her marriage to the business tycoon. Describing herself as the "first lady" in a 2017 interview with ABC News, she said that although she takes "full credit" for raising their three kids, Donald "was a loving father ... and he was a good provider." She also talked about how "Donald gave me all the opportunity to go and prove myself. I built the Commander Hotel. I built the Trump Tower. Then Donald [sent] me to Atlantic City, and I was flying at [eight] in the morning after breakfast with the kids to Atlantic City on the helicopter." As Ivana told ABC News in 2017, she did patch things up with her ex-husband and they speak regularly, with her having a "direct number" to the White House. But how did Ivana and Donald first meet?
Donald Trump and his first wife Ivana met at an Upper East Side institution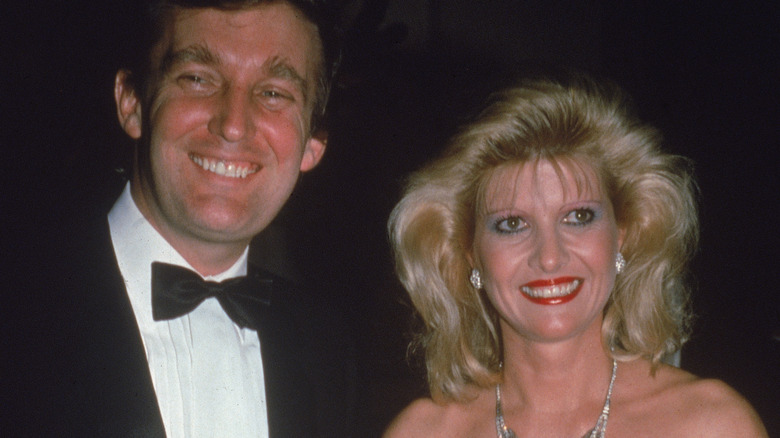 Mark Freed/Getty Images
Ivana Trump [maiden name Zelnickova] and Donald Trump met when she traveled to New York in 1976 (via Vanity Fair) as a model from Montreal. She told LiveSigning that she was at Maxwell's Plum restaurant, and it "was packed ... and we didn't have a reservation, so the manager said, 'Oh girls, why don't you stand by the bar?" Ivana didn't believe a table would ever become available because "how many managers of a restaurant would not like to have eight fabulous girls standing by the bar because it brings the attention of the men?"
Next thing, a hand graced her shoulder. "I turn around, and there is this very good-looking guy – tall, blonde, all-American — and he said, 'hello, my name is Donald Trump.'" He offered to help her get a table, and Ivana told the others, "Girls, I have good news and bad news. The good news is that we are going to get a table very soon, but the bad news is that this guy is going to go and sit with us."
Sure enough, Trump did sit with them but disappeared towards the end of the dinner and the meal "was taken care of." Ivana was impressed by the gesture, saying "I have never met a man [who would] pay for something and he didn't want anything in return. ... Little did I know," she joked.
Ivana Trump 'did not know anybody' at her and Donald's big wedding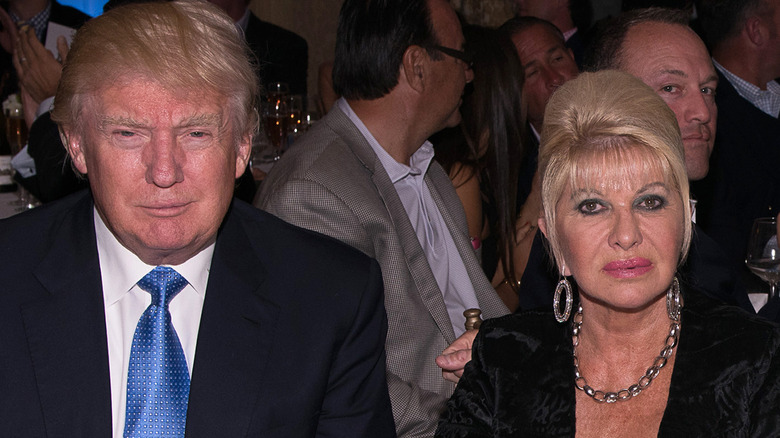 Dave Kotinsky/Getty Images
Ivana Trump was 26 when she met the real estate mogul, according to the NY Daily News. She said that what drew her to Donald Trump was his energy, adding that "He had a great head on his shoulders and that he was handsome didn't hurt either. Values. Hard work. His sense of reality. Not smoking, taking drugs, drinking." In her interview with LiveSigning, she added that "At the time, nobody knew him, and he was working for $75,000 a year for his father."
According to ABC News, "For months before [he proposed], you know, he said, 'If you're not going to go marry me, you're going to ruin your life.'" They married in April of 1977, less than a year after they first met. The guest list comprised of 600 New Yorkers that Donald Trump had invited and only six friends that the Czechoslovakian model knew from Montreal, where she'd been living, per ABC News. " "I did not know anybody," she said, per the outlet. Nine months later, the couple welcomed their first child, Donald Trump Jr. 
The meeting between Donald Trump and his first wife Ivana seems like something out of a romance novel or romantic comedy, so it's too bad that their marriage ended as publicly and messily as it did. But we do find it sweet that the pair has been able to forge a new, amicable relationship.