The Real Reason Janet Jackson's New Look Has Fans Feeling Ecstatic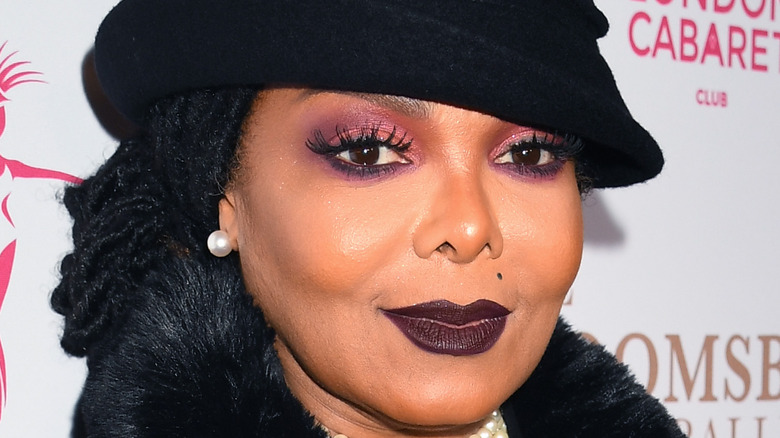 Dave J Hogan/Getty Images
Like a lot of her peers, music icon Janet Jackson has reinvented herself over the decades. The "Nasty" hitmaker has never limited herself and continues to make noise around the world with her ongoing career.
In addition to being a fixture in pop culture due to her music, Jackson is a fashion icon who defined the '90s with her many looks — inspiring countless others along the way. During the Grammy Award-winner's show-stopping "Rhythm Nation" era, for example, Jackson was commonly seen with a key earring and military attire. In Bebe Rexha's music video for "Chain My Heart," she opted for a similar earring and outfit — and noted she was inspired by the megastar after Jackson posted a photo on her Instagram Story. In 1993, Jackson starred in the hit movie "Poetic Justice" alongside the late Tupac Shakur. Her role of Justice is famously known for her long dark braids and flat cap and has been recreated by the likes of Jhene Aiko and Saleisha Stowers. During her "janet." era that same year, Jackson dropped her legendary single "That's The Way Love Goes" and switched it up again by rocking her locks in wet curls. Supermodel Tyra Banks, on a 2006 episode of her eponymous "Tyra Banks Show," couldn't help but admit to Jackson herself that she tried to replicate the look after seeing the star wearing it. 
In 2021, it seems that Jackson still loves a reinvention. And now, she has fans in a frenzy with her latest social media post. This is why.
Janet Jackson's new hair is taking some fans back — and others to the future
On October 23, Janet Jackson took to Instagram to update her 5.9 million followers with a new snapshot of herself. The "Miss You Much" hitmaker shared a selfie that saw her flashing her signature smile while debuting a new look. Jackson sported her long locks in black and blue braids with a black-and-white patterned flat cap on top. Even though the singer kept it simple by putting the kissing face emoji as her caption, that didn't stop fans from freaking out.
Many noted that her look was reminiscent of Justice, the character she played in "Poetic Justice." "Yes, Justice!" one person exclaimed, adding the heart-eyes emoji. "This is giving me '93 Poetic Justice vibes. The hair AND hat!" remarked a second fan. Others couldn't help but think this image might be a part of a new album campaign. "New music soon???!!! Need my new Janet era," wrote a third user. "WHERE'S THE MUSIC??" questioned a fourth fan, passionately in capital letters with lots of heart eyes emoji. 
Of course, Jackson has been teasing fans with new music over the past year. In February 2020 — right before the pandemic hit — she shared that she will be releasing a new album, titled "Black Diamond." While that project has yet to come to fruition, the legendary singer is clearly still working on some tunes. Just a few months ago, in August, Jackson posted a couple of photos of herself in the studio, much to the excitement of fans.
Author Tanisha Ford insists Janet Jackson 'elevated' braids in the 1990s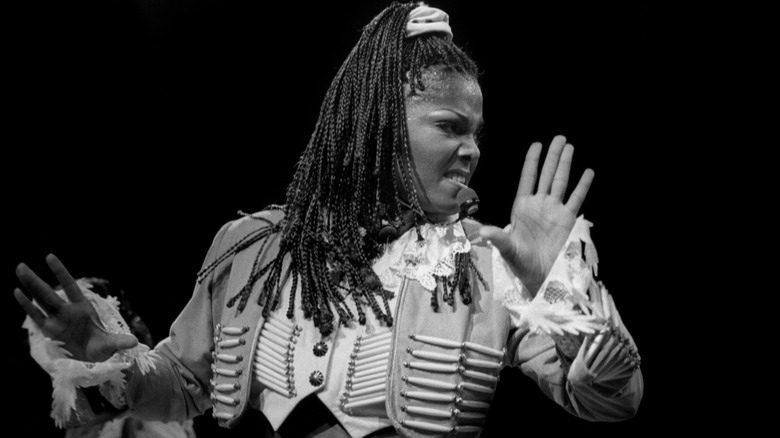 Raymond Boyd/Getty Images
While Janet Jackson's colorful braids might be a new look for her, the hairstyle is something the singer has embraced many times throughout her long career. As seen in the snapshot above, the "Feedback" chart-topper sported box braids during her huge "Janet" world tour in the 1990s. In 2013, Jackson appeared at Milan Fashion Week and made headlines for sporting braids in a high ponytail, which was compared by HuffPost to the hair she rocked in "Poetic Justice." Then, in 2020, Jackson made a surprise visit to "The View" and wore her locks in braids once again.
During a discussion with Hello Beautiful, author and Associate Professor of Africana Studies and History at the University of Delaware Tanisha Ford explained how impactful Jackson's braids were in the 1990s. "Box Braids have always been a part of the culture from as long as I can remember, some version of them," she said. "But when Janet Jackson wore them, it elevated those braids to a certain level of like Black girl glam that is still felt every day and around the way in ways that we all wanted them." Ford also noted the way Jackson styled her braids was also special. "[Jackson] had that little band wrapped around them and a cute criss-cross in the front," she explained. "It elevated them to this level of Nubian goddess. They felt freshly 90s. It felt like taking the plaits of our Black girl youth and elevating that work."