What Idina Menzel Did For A Living Before She Was Famous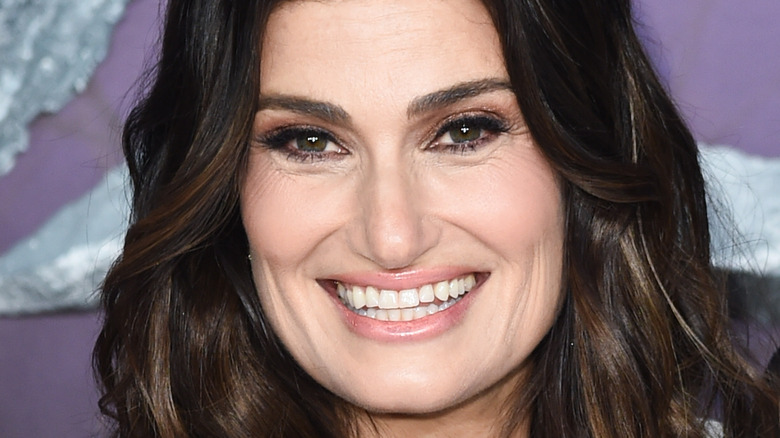 Featureflash Photo Agency/Shutterstock
Lots of people are familiar with Idina Menzel now, especially since her 2013 voiceover role as Elsa the ice queen in Disney's "Frozen" gained her many new fans. She recently appeared in the Amazon Prime modernization of "Cinderella" with Camila Cabello and Billy Porter, and had starred in Disney's 2007 movie "Enchanted" — shockingly, in a non-singing role, though, as she told People, "I was happy to be hired as just an actress." She'll also appear in its long-awaited sequel in 2022, but this time she will be singing. "They gave me songs," she said. "They gave me music to sing, which I didn't have in the first one, which was fine actually, everyone else made a big deal about it." 
And of course, those die-hard musical theatre fans among us know her as the original Maureen Johnson in "Rent" in 1996, which she played opposite her future-husband-turned-ex-husband Taye Diggs, and then reprised the role in the Christopher Columbus-directed film adaptation in 2005. She also starred as Kate in the Andrew Lippa Off-Broadway version of "The Wild Party" in 2000 and earned headlines — and a Tony — as Elphaba in 2003's "Wicked," opposite Kristin Chenoweth. She also received her third Tony nomination for "If/Then," appeared in "Aida", and in the 2009 concert version of "Chess." Her bona fides are well known, especially to her many fans.
But not everyone knows what she did before making her stage debut at age 25. It might be surprising to some, even as much as it makes perfect sense.
Idina Menzel began her performing career as a teen
While many actors get discovered while doing totally unrelated jobs, Idina Menzel started performing in her teens. According to Boomsbeat, she began working as a singer for weddings when she was only 15, ironically after her parents divorced. She continued working while studying drama at New York University's Tisch School of the Arts.
Though she began her classical voice training at age 8, her mother wouldn't allow her to perform until she was old enough to decide for herself, denying her a chance to audition for "Annie." "It was because we saw some girl who got yanked off the day-camp bus to go to a commercial audition in Manhattan," she told Playbill. "She was hysterical crying. She just wanted to go to day camp and play volleyball and swim, and it made this impression on us."
Menzel loved her job, because it allowed her to learn a variety of songs and genres, and to experiment with musical styles. From R&B and Motown to jazz and rock and pop, she played with styles and expanded her repertoire — even if the songs she sang weren't the best choices for a wedding. In her "Idina Menzel Live: Barefoot at the Symphony" concert, she explained how many newlyweds-to-be would request Whitney Houston's "Saving All My Love for You" as their first-dance song, clearly without listening to the lyrics. "It's a song about infidelity," Menzel laughed.
Idina Menzel's past job allows her to feel comfortable making mistakes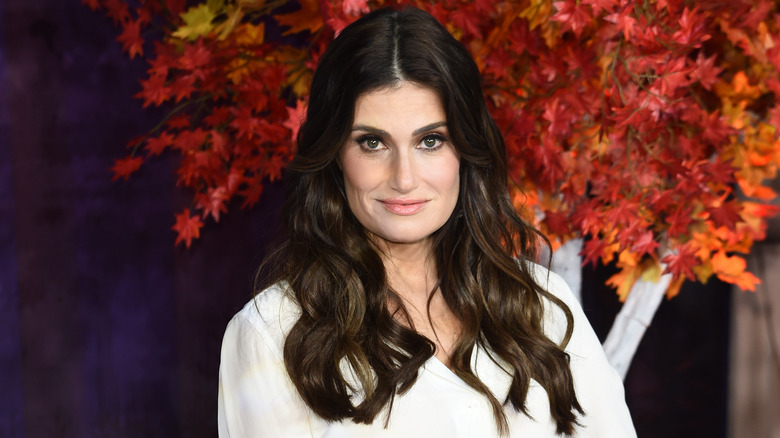 Featureflash Photo Agency/Shutterstock
Idina Menzel's early work as a wedding singer also taught her to improvise musically, and made her unafraid of making mistakes. "[Mistakes] put the audience at ease, and they give me an opportunity to say something funny and try something new," she told Playbill. "I think that it all harkens back to the wedding [singing] thing because I used to drive to the gig, and they'd say, 'The bride wants to hear some tune' that I [would] have to learn in three seconds when I'm driving, and I go up there, and I just fake half of it. I phonetically sang some lyrics that didn't even make sense, but they're not listening anyway, so to be 'not perfect' became something that was okay."
Improvising also allowed Menzel to save her voice. "On a day that I have a cold and I'm not feeling well, I can improvise," she explained. "I can take the melody somewhere so that I don't have to hit the highest note, and I'm comfortable with it." Changing the performance in this way is not a sign of failure. "My teacher would always say, 'Don't feel like you failed. Do your best version of that and feel good about that,'" she says. Though if it is a mistake, that's ok too. "If you can just be authentic — mistakes are authentic — that's the people's way into you, and that's what gives people chills, not the most perfect note that you hold or the most perfect vibrato."