Alyssa Milano Has An Interesting Take On Britney Spears' Social Media Presence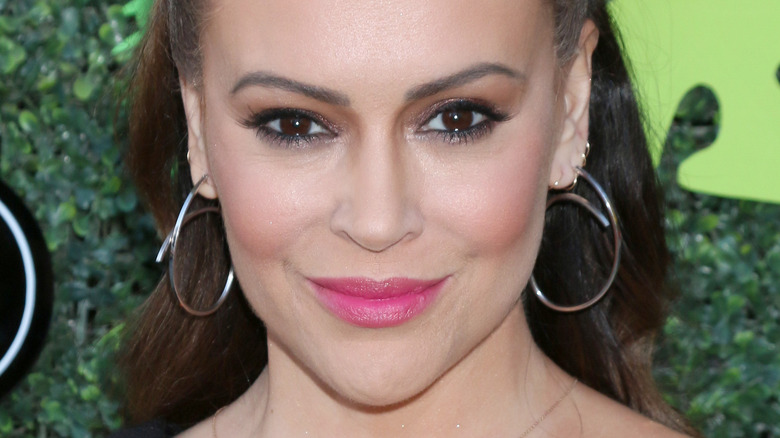 Kathy Hutchins/Shutterstock
Alyssa Milano has become nearly as famous for her online activism as she has for her acting career. The "Charmed" alum has used social media to make her voice heard on hot-button topics, which has made her the target for trolling. In April, Milano fired back at a commenter who referred to her as a "washed up actress" with a strongly-worded TikTok. "I have consistently worked since I was seven years old. And you can just f*** off now and move along," she said.
Milano's relationship with social media can be described as love-hate, as she enjoys the platform, but does acknowledge the potential pitfalls. "And I think that, for better or for worse, social media has given everyone their own megaphone," she told Girl Boss in 2020. "It can get overwhelming and I don't want to not use my voice out of fear," Milano added.
Amidst her conservatorship battle, Britney Spears has been more candid than ever on social media. The singer claimed she was "totally fine" and "extremely happy" in an Instagram video posted in April. Unfortunately, that turned out to be a front, as Spears revealed in court in June. "I've lied and told the whole world I'm ok and I'm happy. It's a lie," she said (via People). In July, Spears scintillated followers with a topless Instagram snap, and has continued to give fans risqué photos. Months later, Milano weighed in on Spears' attention-grabbing social media posts and shared her interesting theory on the pop star. 
Alyssa Milano says Britney Spears is making up for lost time with her care-free posts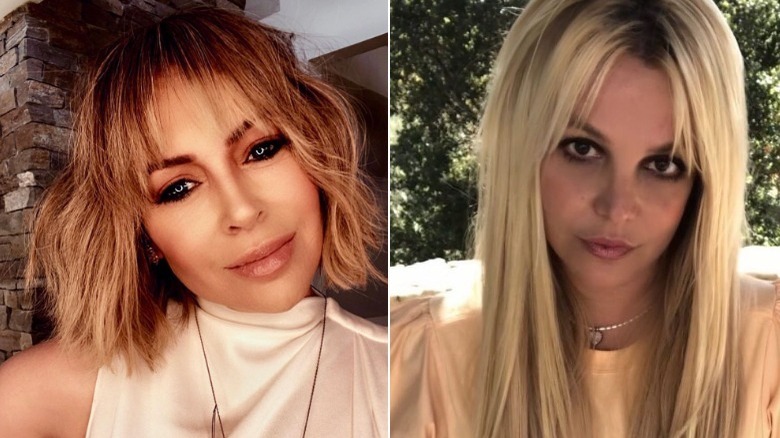 Instagram/Instagram
Alyssa Milano sat down with Drew Barrymore on "The Drew Barrymore Show" on October 27, and the two discussed their transitions from child stars to lasting careers in Hollywood. Milano mentioned how she was offered "hyper-sexualized" roles in the '90s, seeing similarities between herself and Britney Spears. "When I'm looking at Britney Spears going through her reawakening right now on Instagram," Milano told the daytime talk show host, "I think about that what she is doing is what she would've done, had she had control of her life at 18, 19, or 20 years old ... It seems like she's going through this, 'Here I am!'" Milano added, pointing to herself and Barrymore, "Which is what we were [doing]."
Spears is not only posting scantily-clad photos, of course. On October 26, she vented about being mistreated by her family. "if you're rude to me then I'm done ... peace out," she wrote in the lengthy Instagram caption. "This message is to my family ... for hurting me deeper than you'll ever know."
Milano and Spears have a bit of history, as evidenced in a throwback the actor posted to Instagram in 2015. She did not include a date on the photo, but it was taken when Spears was still dating Justin Timberlake as the two were cozying up alongside Milano. After Spears and Timberlake split, Milano briefly dated the "SexyBack" singer, per Us Weekly.