Did Alec Baldwin Really Snap At Hilaria While Breaking His Silence Over The Accidental Killing Of Halyna Hutchins?
Monica Schipper/Getty Images
Alec Baldwin is notorious for having a short fuse. In 2007, he made headlines for calling his daughter, Ireland Baldwin, a "rude, thoughtless little pig" in a leaked voicemail message shared by TMZ. During a 2017 "Good Morning America" interview, he revealed that his words and the public's inability to forget them "hurt [Ireland] in a permanent way."
Alec's behavior has even led to the actor being required to take a court-ordered anger management course. According to a 2019 report by The New York Times, he faced a misdemeanor assault charge after being accused of assaulting a man during an argument over a Manhattan parking spot. However, prosecutors allowed him to plead guilty to a lesser harassment charge.
Alec also has a habit of getting confrontational with reporters and the paparazzi. Oftentimes, his angry outbursts are in response to perceived slights against his wife of nine years, former yoga instructor Hilaria Baldwin. In 2013, he allegedly called a Black female photographer a racial slur after she asked him about a lawsuit involving Hilaria, per TMZ. He denied this, but did admit to telling her, "I hope you choke to death." That same year, he was caught on camera yelling at a reporter after she allegedly hit Hilaria in the face with her microphone, per "Good Morning America." More recently, he gave a tense interview to the press about the tragic accidental shooting death of cinematographer Halyna Hutchins, and this time, his wife was present to experience his mercurial mood.
Alec Baldwin got annoyed with Hilaria Baldwin when she tried to answer reporters' questions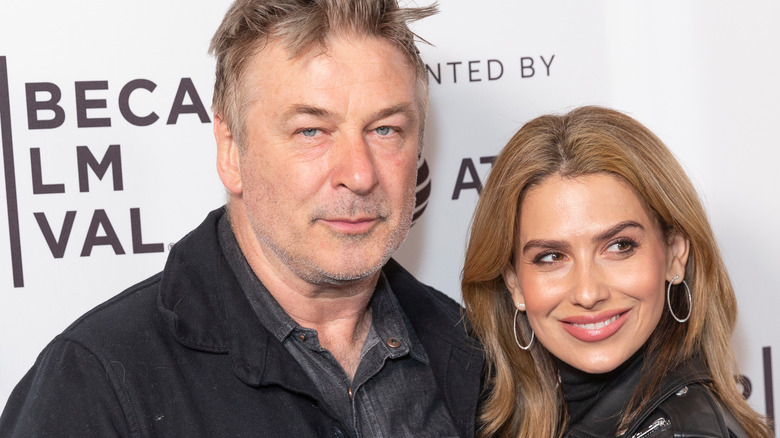 lev radin/Shutterstock
According to the Daily Mail, Alec Baldwin and Hilaria Baldwin stopped and gave a surprise interview to the photographers that were tailing their vehicle in Manchester, Vermont on October 30. The outlet shared a video of the couple standing on the shoulder of the road as they spoke about Halyna Hutchins, the cinematographer who was killed on the set of the movie "Rust" when a prop gun that Alec was holding discharged.
There were no angry outbursts during the brief press conference, although Alec and Hilaria were both clearly aggravated with one reporter who couldn't remember Hutchins' name. "You don't know her name? Come on," Alec said. At times, he seemed to be more irritated with his wife than the reporters. She was filming the proceedings, and when she approached him with her camera in hand, he shot her an exasperated look and said, "Excuse me." Alec also seemed peeved when she tried to shut down one query. "Do me a favor? I'm going to answer the question," he snapped.
Speaking to the New York Post, Hilaria expressed concern over the future ramifications of Alec's involvement in Hutchins' death. "Alec had a really traumatic thing happen, and I am trying to limit the PTSD," she said, explaining that this is why she took him and their kids to Vermont. She added, "He needs space for me to take care of him and his mental health."