Why Is Pete Buttigieg's 2-Month-Old Son In The Hospital?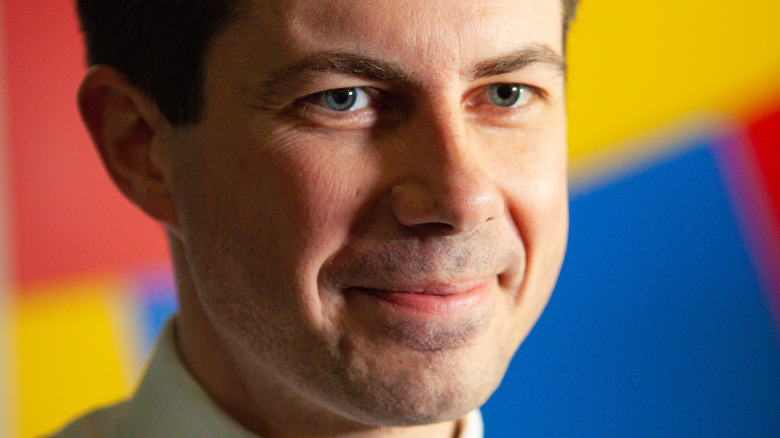 Maverick Pictures/Shutterstock
It's been fun to see everyone's babies dressed in their first Halloween costumes all over our social media feeds, but unfortunately, not everyone's munchkins have been having a great first spooky season. One of Pete Buttigieg's infant twins, who he shares with his husband Chasten, is in the hospital, via People.
The Buttigiegs welcomed babies Joseph August and Penelope Rose to the world in early September, and Pete shared their first photos of the little ones on Twitter, writing, "Chasten and I are beyond thankful for all the kind wishes since first sharing the news that we're becoming parents. We are delighted to welcome Penelope Rose and Joseph August Buttigieg to our family."
On Halloween, Chasten shared photos of the babies in their costumes on his Instagram, but with the sad news that the new family spent the holiday in the hospital. Here's what we know about baby Joseph's hospital stay.
Pete Buttigieg's baby spent Halloween in the hospital
On his Instagram page, Transportation Secretary Pete Buttigieg's husband Chasten shared photos of their two-month-old twins dressed as traffic cones, with the news that they were in the hospital for baby Joseph August, nicknamed Gus. "Happy Halloween from these #twinfrastructure safety advocates," he wrote, next to a photo of Pete holding one of the twins in an orange-and-white Halloween get-up. "As you can see, we're spending this Halloween in the hospital."
Chasten's caption didn't go into detail about what the medical issue was, writing only, "Gus has been having a rough go of it but we're headed in the right direction. We're so thankful for all of the love and support shown to our family these last few months. And also, for the dedicated and kind medical professionals who have helped take care of our two little pumpkins as they've grown stronger, healthier, and cuter."
Friends and well-wishers took to the comments section to send their love and good-vibes — and to remark on the cuteness of the pics. Whatever the reason for the hospital stay, so far it looks like it's not life-threatening and the whole family is doing well. We're sending all the positive energy we have the Buttigiegs' way!