Pete Buttigieg Reveals Big Information About His Personal Life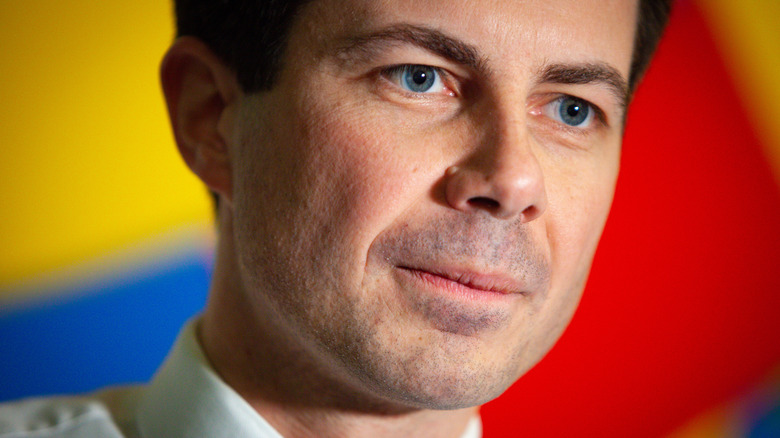 Maverick Pictures/Shutterstock
Pete Buttigieg, the current Secretary of Transportation in President Joe Biden's administration, just shared some exciting news. While there are still significant details he has to hold back for now, the personal news he shared is generating a huge response.
Buttigieg, the former mayor of South Bend, Indiana, married his husband Chasten Glezman in 2018 after the two first met in 2015 (per The New York Times). "Mayor Pete," as he was known then, joined the dating app Hinge and it was there he connected with Glezman. At the time, Glezman was living in Chicago, Ill., where he worked as a substitute teacher and attended DePaul University.
The two men had a series of FaceTime "dates" as they got to know one another. Their first in-person date was a minor league baseball game in South Bend. "Literally, there were fireworks on our first date," Glezman admitted (via The New York Times). "It was kind of ridiculous, I know, but I was hooked," he revealed. In late 2016, Glezman moved to South Bend and he commuted to DePaul to finish his master's degree. Not too long after that, the two decided to get married, and they held their ceremony at the Episcopal Cathedral of St. James. The event was attended by 200 guests and it was also streamed live on YouTube. Glezman was by his husband's side throughout his brief presidential campaign and now, the couple has embraced a major personal life development of an entirely different kind.
Pete Buttigieg announced an exciting family development
On August 17, Pete Buttigieg surprised everybody with an announcement on Twitter. "For some time, Chasten and I have wanted to grow our family," he began. "We're overjoyed to share that we've become parents!" Buttigieg was not able to share specifics regarding the new family addition though. "The process isn't done yet and we're thankful for the love, support, and respect for our privacy that has been offered to us," he added. He promised to share more soon.
Chasten Buttigieg recently opened up to The Washington Post about the couple's efforts to adopt a child. They had been working toward this for about a year, putting together their home study and pursuing different avenues for a newborn adoption. Not long ago, they had a close call where they had been chosen by an expectant mother, and they scrambled to travel to where she was giving birth. Their trip ended, however, when the baby's mother changed her mind about adoption placement. "It's a really weird cycle of anger and frustration and hope," Chasten said in July. "You think it's finally happening and you get so excited, and then it's gone."
Now, the Buttigiegs seem to have a child placed with them. For the moment, the pair has chosen to share the bare minimum. In the meantime, the Twitter announcement had people going wild, with nearly 115,000 likes and thousands of comments and retweets pouring in so far. How very exciting!