Who Was Kim Kardashian Married To?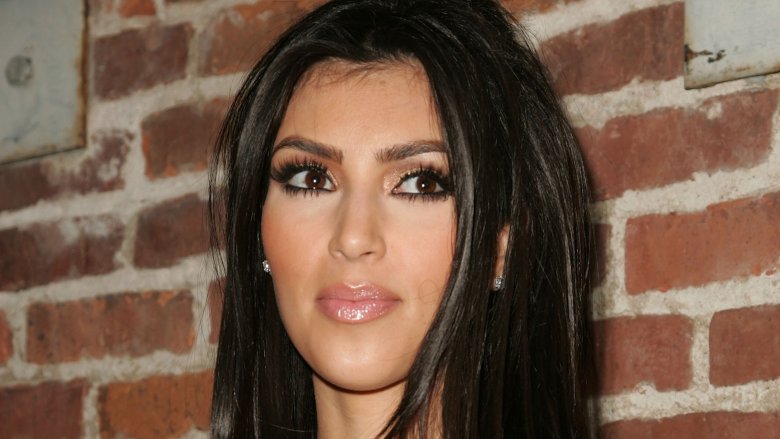 Getty Images
Kim Kardashian wasn't always Mrs. Kanye West. In fact, the Keeping Up With the Kardashians star was married twice before. Unfortunately for the social media queen, neither marriages ending up working out. Due to rumors of infidelity and fraud, Kardashian wound up experiencing divorce firsthand. But just who were these men who stole Kardashian's heart before West swooped in and claimed it?
Damon Thomas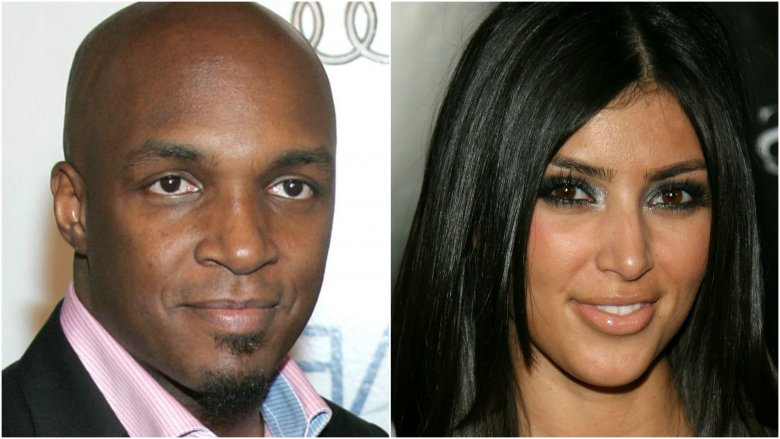 Getty Images
Before Kardashian and her sisters took over Hollywood, she was just a simple closet organizer for the likes of Paris Hilton. But, as the daughter of a major celebrity lawyer, she was still able to rub elbows with all sorts of important people—like her first husband, Damon Thomas. Thomas is a Grammy Award-winning music producer, who, along with Harvey Mason Jr., formed the production team The Underdogs. Together, the two music moguls have worked with the likes of Lionel Richie, Mary J. Blige, and Chris Brown.
In 2000, Kardashian—who was just 19 years old at the time—secretly married Thomas in Las Vegas, but the two divorced just three years later. In court documents obtained by the Daily Mail, Kardashian accused Thomas of punching her in the face and throwing her across the room. He also allegedly gave Kardashian thousands of dollars to get plastic surgery like liposuction in order for her to look "perfect." The divorce papers also allege that Thomas prevented her from seeing her family and friends and demanded that she be at his "beck and call." Yikes.
Years later, Thomas spoke with In Touch magazine about his relationship with Kardashian, describing her as a jealous person who's "obsessed with fame." He also alleged that Kardashian had cheated on him multiple times. Since Kardashian's infamous sex tape with Ray J was reportedly filmed in 2003, a year before her divorce to Thomas was finalized, Thomas' claims of Kardashian's infidelity may hold some truth.
Kris Humphries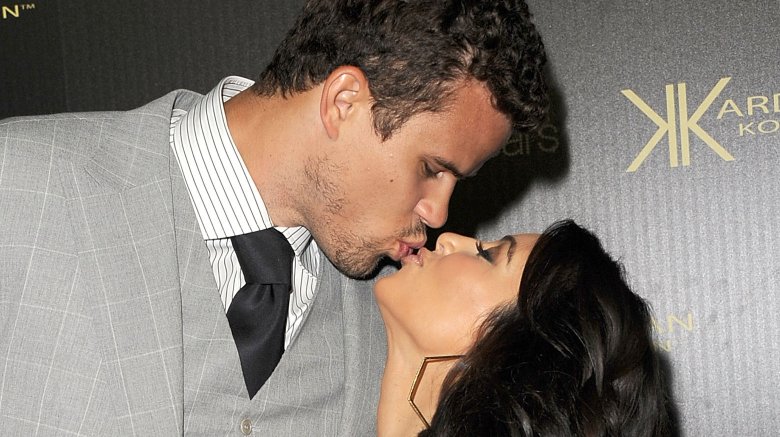 After a string of famous boyfriends, including Nick Cannon and Nick Lachey, Kardashian found love yet again with basketball player Kris Humphries. New Jersey Nets star Jordan Farmar set the two celebs up, though Kardashian and Humphries apparently knew each other—or at least, knew of each other—before their first date. "It was kind of mutual thing with them asking about each other," Farmar told Us Weekly.
"They both fit each other. He is a good kid. He is from the country," he explained to the magazine back in June 2011. "So he kind of slows it down, and she is fast paced and has a lot of stuff going on—so they kind of balance each other out."
Kardashian and Humphries began dating in late 2010 and soon became engaged in May 2011. They later married in August 2011 with an extravagant $10 million wedding, which was, of course, filmed in a two-part special for her E! reality show.
But their marriage didn't last long at all—Kardashian filed for divorce a mere 72 days later, citing "irreconcilable differences" as cause for their split. Interestingly enough, Humphries responded to the divorce with surprise, releasing a statement to People that read, "I love my wife and am devastated to learn she filed for divorce. I'm willing to do whatever it takes to make it work." About a month later, Humphries, apparently over the shock of their separation, filed for an annulment, rather than a divorce. The athlete claimed "fraud" and alleged that Kardashian had used him to boost ratings for Keeping Up With the Kardashians.
Though they separated soon after their marriage, their divorce wouldn't be finalized until April 2013.
Luckily, everything seems to have worked out for the best. Kardashian is now happily married to rapper Kanye West, with whom she shares two children, daughter North and son Saint.