Pete And Chasten Buttigieg Have An Update On Son Gus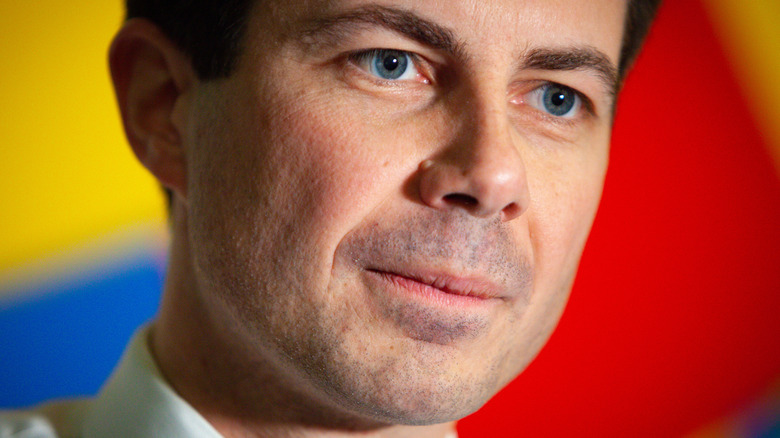 Maverick Pictures/Shutterstock
On November 5, Chasten Buttigieg updated the world about Gus, his 2-month-old son he shares with his husband, Transportation Secretary Pete Buttigieg. The Buttigiegs welcomed twins Joseph August (Gus) and Penelope Rose in August, per People. But hearts sank when Chasten posted about the first Halloween for baby Gus, spent in the hospital.
On Halloween, the husband of the Secretary of Transportation posted on Instagram a photo of Pete holding baby Gus (dressed as a traffic cone), writing, "Happy Halloween from these #twinfrastructure safety advocates!" But the funny post grew serious, as Chasten wrote, "As you can see, we're spending this Halloween in the hospital. Gus has been having a rough go of it but we're headed in the right direction. We're so thankful for all of the love and support shown to our family these last few months."
The Buttigiegs gave no details on why their son was in the hospital, but many were glad to get an update on baby Gus!
Chasten Buttigieg reveals baby Gus is home
Chasten Buttigieg reported that baby Gus Buttigieg is finally home from the hospital! The relieved dad tweeted, "After 3 weeks in and out of hospitals, 125 miles in an ambulance, and a terrifying week on a ventilator, Gus is home, smiling, and doing great! We're so relieved, thankful, and excited for him and Penelope to take DC by storm!" He added, "Thank you so much for all of the love and prayers." The ever-thoughtful Chasten also thanked the medical staff who helped their son and family, tweeting how they were "grateful" for the "tenderness and care." Last but not least, he paid tribute to those who shared "stories from their NICU/ PICU stays," as they helped the couple "feel less-alone amidst all of the anxiety and uncertainty."
Shortly after, husband Pete Buttigieg tweeted, "Thankful, relieved, and reflecting a great deal on the mixture of joy, terror, and love that is parenting." What a relief for Chasten and Pete; we are so happy to hear the news. Now the two can enjoy parenthood, a dream they've held for so long. In February 2020, Pete told People he was "really excited" about becoming a dad, adding, "Chasten is just especially wired to be a great parent."