The Truth About Kieran Culkin's Wife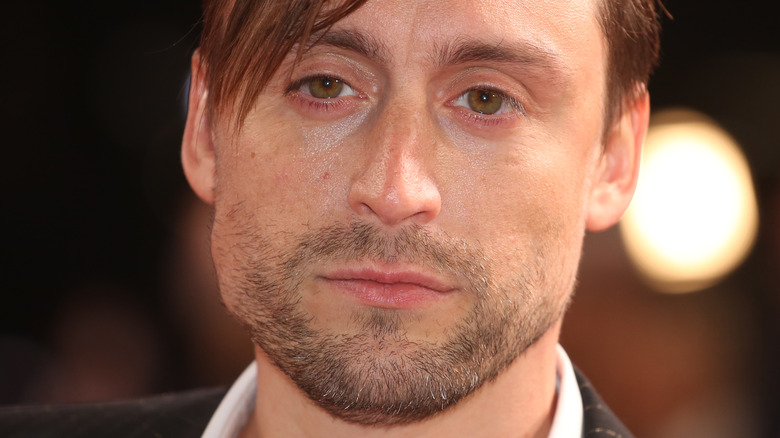 Lia Toby/Getty Images
Kieran Culkin has been a mainstay in Hollywood for a long time, thanks in part to his various family ties. First getting his start in roles alongside his brother Macaulay Culkin in films like "Home Alone," Culkin eventually branched off into a larger spotlight throughout the 2010s. Now best known for his portrayal of the sassy younger brother Roman Roy on HBO's drama "Succession," Culkin also appeared as a similar character — a sassy roommate to Michael Cera — in "Scott Pilgrim vs. The World."
On "Succession," Culkin's character Roman maintains an on-screen flirtation with his elder coworker Gerri, played by his real-life friend J. Smith Cameron. "I remember saying to my wife in season one, 'I really hope something happens sort of sexually or romantically between those two, but I don't know that it ever will,'" he recalled to The Hollywood Reporter. Despite his on-screen chemistry with Cameron, the actor has been married for almost a decade. Culkin and his wife Jazz Charton married in 2013 but had an unconventional way of meeting — one that would fit right into Roman Roy's fictional dialogue. Here's what "Succession" viewers need to know about Kieran Culkin's wife.
Kieran Culkin met Jazz Charton at a bar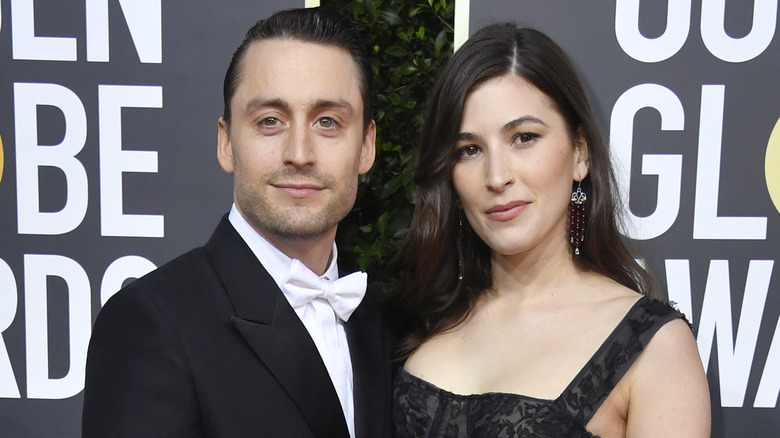 Frazer Harrison/Getty Images
Although "Succession" fans now recognize actor Kieran Culkin for his part as Roman Roy, when he met his now-wife Jazz Charton in 2012, he still introduced himself. During an interview with The Hollywood Reporter in October, Culkin reflected back on the moment they met at a bar in New York. "I said, 'I'm Kieran. You have an English accent. What's your name?'" he recounts. "She said, 'Jazz.' I said, 'J-A-Z-Z, like the music?' And she said, 'Yeah.' And I said, 'Well, that's f***ing stupid,'" Culkin shared.
The joke went over well, as Charton, who was there with another guy, laughed at his sarcastic sense of humor. "I asked if he was her boyfriend and when she said no, I asked if I could be her boyfriend," Culkin further shared to iNews. "We've been together ever since."  After the couple married in 2013, Charton reflected on the moment they tied the knot in an Instagram post from 2017. "#tbt to taking time out of our road trip to get married by the side of the road in Iowa during a storm 4 years ago today," she wrote. "Still the best pit stop I've ever made."
Kieran Culkin and Jazz Charton welcomed two children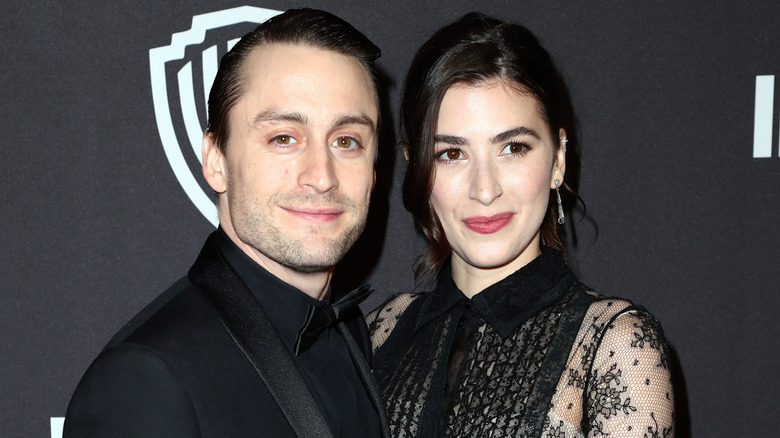 Rich Fury/Getty Images
Years after Kieran Culkin and Jazz Charton had their wedding, the couple went on to have two children: a daughter Kinsey in 2019 and their son Wilder Wolf born August 2021. "The best advice that someone gave me when I became a new parent was don't take anyone's advice, you'll figure it out," Culkin said during an interview with Access, at the Season 3 premiere of "Succession" in October.
Charton also reflected back on how the birth of her daughter Kinsey affected her life, complete with a sweet snapshot of them together, as written in the caption of an Instagram post from March. "18 months with the greatest love I've ever known," Charton wrote. "And the greatest appreciation for how much I took sleep, napping, reading, watching a movie in one sitting, eating hot food, being bored, day drinking and not breastfeeding a blood thirsty toddler for granted."