Why Nancy Pelosi Didn't Run For Office Until She Was 47 Years Old
Kathy Hutchins/Shutterstock
Nancy Pelosi has seen more sitting presidents during her tenure than a lot of politicians in Washington, D.C. She has served as Speaker of the House twice and was first elected to Congress in 1987, according to Congress.gov. Yet, Pelosi's introduction to politics was earlier than what many people would expect. According to her book "Know Your Power: A Message to America's Daughters," Pelosi wrote (via NPR), "I'll never forget the first time I saw the Capitol. It was on a cold January day in 1947, when I was 6 years old. ... I saw a stunning building with a magnificent white dome. I still think it's the most beautiful building in the world because of what it represents: the voice of the people."
And while Pelosi was certainly mesmerized by the sight of one of the country's most prominent buildings when she was just a young girl, she didn't enter the political sphere right after college like most of her peers did. In fact, it took Pelosi several long years before she decided to run for office for the first time, and it's not because she didn't want to do it. It's because the timing had to be right. 
Nancy Pelosi ran a different kind of house before she got to the House of Representatives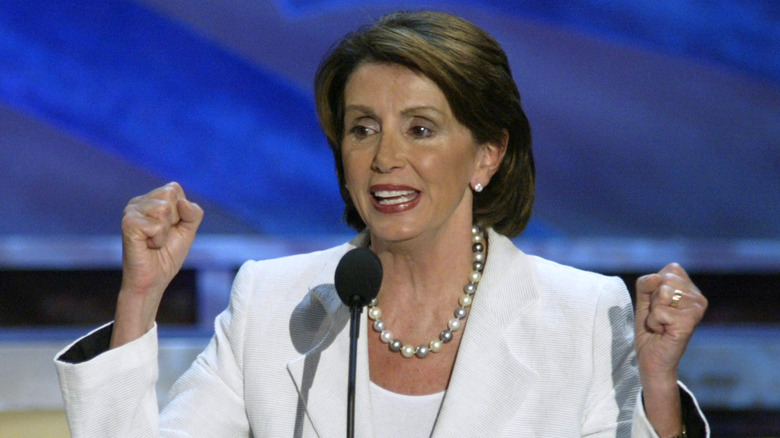 Bloomberg/Getty Images
Nancy Pelosi is the daughter of Baltimore's former Democratic mayor Thomas D'Alesandro Jr. Both her fans and her critics alike would agree that politics runs through her veins, but it wasn't a career that she pursued right after college. While she did start her own Democratic Party club from inside her home, per INSIDER, she was more focused on showing leadership at home as a mother rather than as Speaker of the House. In fact, Pelosi — who married husband Paul Pelosi Sr. in 1963, soon after welcoming five children in San Francisco, California, per The Lily — has said that motherhood is the reason why she decided to become a public figure at the age of 47.
"I had no interest or idea that I would run for public office ... My motivation sprang from being a mom," Pelosi told NBC News. "I always say to people: 'Know your why. Know why you're following the career you are, or the pursuit that you have in the community, whether it's education, saving the planet, social and economic justice, whatever it happens to be — know your why, know your what, and know about it so that people ask your opinion and respect your judgment.'"
With that said, Pelosi also credits another very important person in her life that has helped shape her view of the world — both inside and outside of Washington, D.C.
Nancy Pelosi is well-aware that a mother always knows best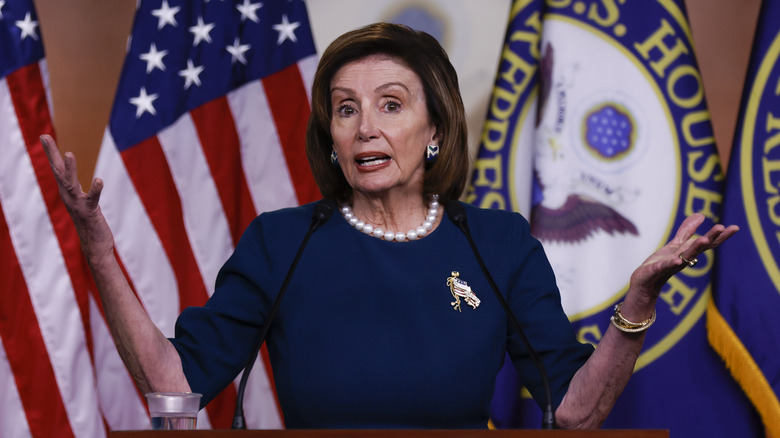 Bloomberg/Getty Images
During the TIME 100 Gala in 2019, Nancy Pelosi sang the praises of the most important person in her life: her mother, Anunciata D'Alesandro, who died in 1995, according to the Baltimore Sun. 
Pelosi grew up in a household with six other siblings and was the only girl, per The Lily, which meant that she looked up to her mother to help guide her through life, both at home and away. As a mother and now a grandmother herself, Pelosi knows that while her position as the Speaker of the House is important to the country, her role at home has even greater significance. She told TIME, "It's always about mom. About the love, confidence-instilling, the importance of studying, of learning the arts, the subject matters in schools."
It only makes sense that Pelosi would look to her mother to draw inspiration, seeing how being the Speaker of the House is almost like running a household: she's both the political and parliamentary leader, manages the house, and makes sure that both parties learn how to agree and disagree. With that said, all mothers are honestly just talented political figures, right?