Sharon Osbourne's Throwback Photo Of Ozzy And Jack Has Fans Melting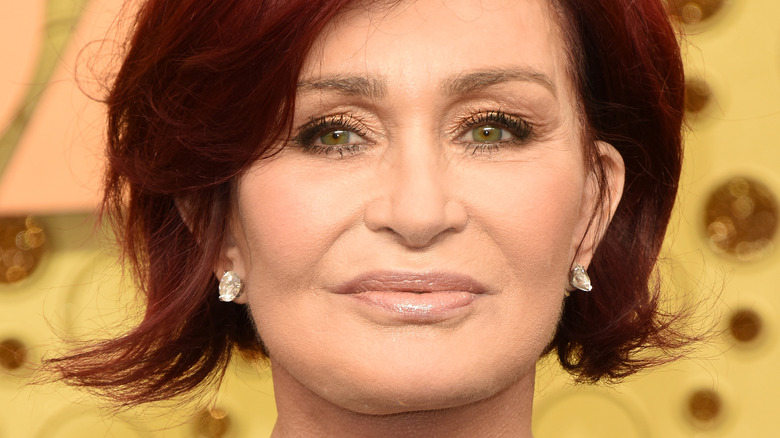 Kathy Hutchins/Shutterstock
The Osbourne family was catapulted into the spotlight with their 2002 MTV reality show and they've remained there since. While they do still have some hidden secrets, nearly every aspect of their lives now makes headlines. From Ozzy Osbourne's secret four-year affair to Sharon Osbourne's tumultuous exit from "The Talk," the family can't escape the tabloids and, despite keeping a low profile, Jack Osbourne hasn't been immune. Whether it was his battle with addiction, his MS diagnosis, or his divorce, Jack hasn't always had it easy, but he's always had his parents to lean on. And that's especially true of his dad.
Although Jack admitted to SPIN that, as a kid, he "wanted that kind of typical father-son let's-go-do-stuff kind of thing," but his dad was "always on the road" or recording, in the end, "the good always outweighed the bad." And as he got older, Ozzy was there when he needed him. Like when he celebrated 17 years of sobriety and Ozzy gushed that he's "really proud," or when his personal life was dealt a blow. "It's really his dad that he talks to about [the divorce]," Sharon told People, adding how Ozzy initially "cried. He said, 'I'm crying for you because I know how painful it's going to be, because I've been through it and I don't want you to experience that pain,'" she revealed. Now, Sharon's shared just how far back the duo's strong bond truly goes.
Sharon Osbourne's sweet throwback photo
In honor of Jack Osbourne's 36th birthday, proud mom Sharon Osbourne took to Instagram to share a sweet throwback photo of her son with a very young Ozzy Osbourne. The snap, which left fans' hearts melting — "The cuteness overload in this pic is amazing," responded one follower — shows a blonde Jack as a toddler, sitting next to his dad and holding a teddy bear that's nearly as big as he is. "HAPPY BIRTHDAY to the cutest @jackosbourne!" Share on wrote in the caption, gushing, "I am so proud to be your Mum, you are my rock."
The trio is currently starring in Travel Channel's "The Osbournes Want To Believe" and, as Jack told People around the time the show premiered in 2020, they share a special bond. Opening up about his childhood, Jack honed in on his dad and praised his parenting style, saying, "Conversations with [my dad] growing up never felt like a dad telling you [what to do]. It was always very relaxed. Which is, I think, crucial," he explained before laughing, "He also, through example, taught me a lot of what not to do, which was great." Now, Ozzy is translating that wisdom to Jack's three daughters as a loving, doting grandpa. "I have to tell them: 'Every time you guys see [the kids], it's not Christmas again!'" he shared, laughing, "I'm like: 'It's okay to not give them something when you come over once a week, twice a week.'"