Jerry Seinfeld's Daughter Looks Just Like Her Famous Dad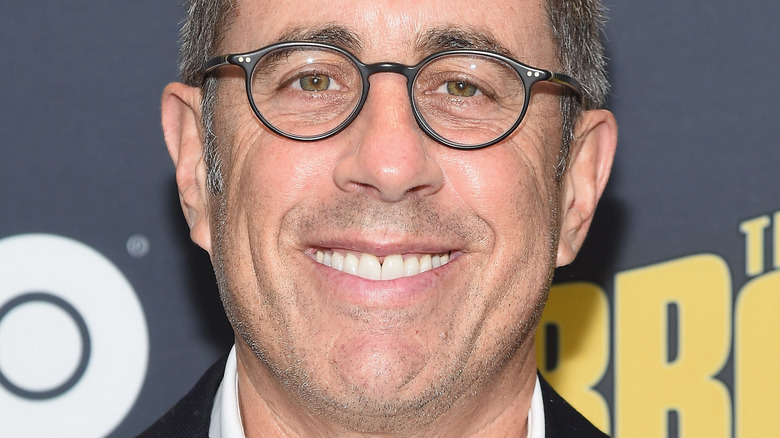 Gary Gershoff/Getty Images
Jerry Seinfeld is most well-known for his self-titled sitcom, and we see plenty of reruns of the hit on a nightly basis thanks to syndication. Jerry also happens to be one of the most famous actors on the planet. He and his wife, Jessica Seinfeld, share three kiddos — Sascha, Shepherd, and Julian, who all seem to be really cool kids. The actor tends to keep his personal life out of the spotlight when he can, though his wife Jessica seems to be a little more open about life at home and all that fatherhood entails. 
In 2020, Jessica opened up about what kind of father the actor is. "He's an incredible father. But the nicest way to say this is that he wasn't a natural when our kids were born. He wasn't immediately pushing strollers and carrying babies," Jessica confessed to Parents. "He jokes that it took him a good ten years to warm up. He travels often and usually over weekends, so a lot of the early caretaking, sports, and activities were left to me." That's when she opened up about Jerry blossoming as a dad — and we absolutely love to hear it. "But Jerry's strength is now, with our three teenagers. He's patient with them. Where I am weaker, he is stronger, and we complement each other. I wouldn't change anything," she added. How sweet is that?
While Jerry may have hit his stride as his kids entered their teen years, his daughter Sascha has already exited that part of her life. Now, she's all grown up.
Inside Sascha Seinfeld's birthday bash
It's not every day that Sascha Seinfeld's parents share photos of her on Instagram, but celebrations were in order during a milestone birthday. Jessica Seinfeld took to her Instagram account to share a series of pictures from Sascha's 21st birthday bash. The first image in the series captured Sascha sitting at a bar with a drink in hand. She looked over her shoulder with a slight smile on her face. Her long, dark locks cascaded past her shoulders and into her mid-back. The newly-turned 21-year-old looked like a spitting image of her father thanks to her jet black mane and Jerry-like eyes.
"Our [angel] Sascha Seinfeld turns 21 today. We had the best weekend celebrating this phenomenal human being, along with her friends, who love her almost as much as we do," Jessica gushed on the post. "She works hard, she plays hard, and in between, makes life better for everyone in her orbit." Jessica ended the post by expressing her love for her baby girl. "I love you, Little Magic Girl. I am so proud to be your mom," she raved. Sascha also made sure to thank her folks for the fun bash. "Love you so much best night ever," she wrote in the comments section.
The tribute also included a family shot of Sascha with her brothers and mom and dad. The crew all smiled at the shindig and saw Sascha sporting a glittery dress reminiscent of Paris Hilton's 21st birthday dress and fancy headpiece. How fun! 
The Seinfelds are a close-knit family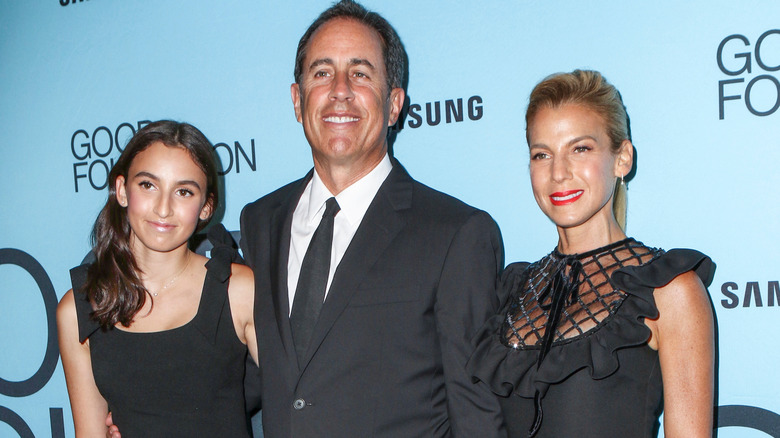 Lev Radin/Shutterstock
Even though Jerry Seinfeld is one of the most famous names in the industry, to some people, he just assumes the role of dear old dad. The family seems to be incredibly close-knit, and they always take time to celebrate one another on special occasions. In April 2020, Sascha Seinfeld took to her Instagram account to share a sweet tribute to her father on his birthday. While it may not have been his 21st celebration, that didn't make it any less special or important in the teen's eyes. "Happy birthday to the best dad in the world!! Thank you for the constant wisdom (key word: constant.) and fun!! Love you so much dad," she wrote on the adorable post.
She also added a series of images that shows just how much the Seinfelds have. In the first image in the set, Sascha stood in the front as her mother and father raised their arms in the air and worked it for the camera. Another upload captured Sascha and Jerry dancing in front of the camera; each taking turns to showcase their smooth moves. A few years prior, Sascha shared another post to honor her father on his birthday, this time sharing an image of the two playing basketball. "Happy bday dad!!! I love you sososo much!!" she wrote on the update. 
We don't know about you, but this sweet father-daughter duo is exactly what we needed today, and we hope to see plenty more of them together in the future.