The Special Meaning Behind Audrey Roloff's Son's Name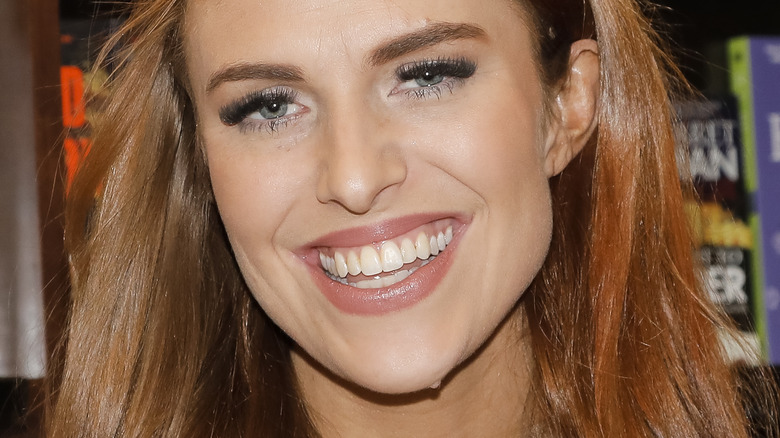 Tibrina Hobson/Getty Images
We may receive a commission on purchases made from links.
Former "Little People, Big World" stars Jeremy Roloff and his wife, Audrey Roloff, may have opted to leave the hit TLC series in 2018 (via Good Housekeeping), but that doesn't mean that fans aren't still totally invested in their lives ... we're only human! 
Luckily, Audrey frequently posts on her Instagram to keep fans in the know regarding everything from her business ventures to the couple's books and, of course, their growing family. In July, Audrey shared a sweet video on Instagram to announce baby number three. "We're about to be a family of 5! Our little tie breaker is coming this November!" she wrote in the post. 
During the year, Audrey has been posting updates of her growing belly as she (and quite frankly, us) anxiously awaited the arrival of the new little bundle of joy. As with her other kiddos, this one appeared to be a little bit on the stubborn side and decided not to make an appearance until he was totally ready. "Welp, I have officially made it to my due date with all three babies. I really thought this little one might come early, but here we are, still patiently awaiting his/her arrival!" Audrey wrote on November 6. "I know you're nice and cozy in there baby, but we are all ready to cozy up with you on the outside whenever you're ready." Sure enough, the baby made his entrance just a few days later. And the name? We think it's absolutely perfect!
Radley Knight Roloff's name pays tribute to Amy Roloff
Baby makes five for Audrey Roloff and her husband, Jeremy Roloff. We've been dying to find out more about this tot seeing as Audrey and Jeremy opted to keep its assigned gender a surprise, leaving everyone to speculate. But on November 9, Audrey took to her Instagram account, sharing a series of photos of the new little boy in her life while also announcing his name. 
"It's a BOY!!! Welcome to the world Radley Knight Roloff. Born 11.8.21 at 6:32 am 9.1 lbs 21.5 in and born en caul which was wild! I can't wait to share his birth story with you soon," she wrote. Of course, Knight seems to be a nod to Jeremy's mother, Amy Roloff, as that is her maiden name. Ugh, be still our hearts, that's such a kind and thoughtful gesture.
In the post, Audrey also made sure to add how thrilled she was that everything went smoothly. "We are so grateful to God for answering so many specific prayers in regards to this labor and delivery. A word that I had been praying over this birth was 'harmony.' And it truly was one of the most harmonious experiences" Fans flooded the post with love and plenty of congratulations, and it will be fun to see this new little babe romping around with his siblings, Bode and Ember, soon enough. Congrats again to the happy family of FIVE!