Dennis Rodman's Daughter Reveals The Truth About Their Tense Relationship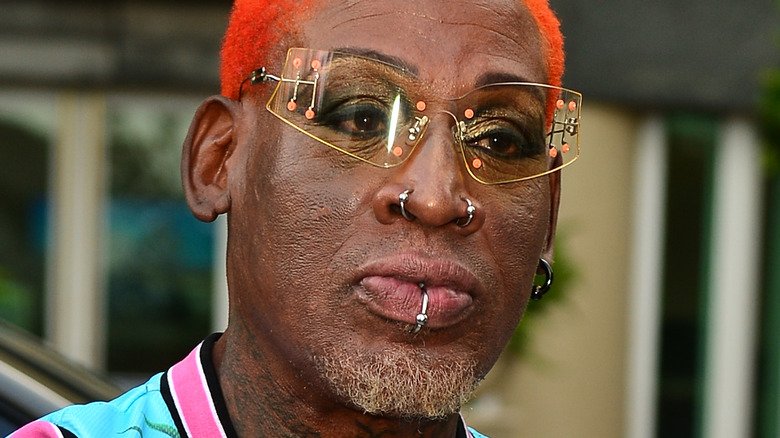 Johnny Louis/Getty Images
When Dennis Rodman first joined the Chicago Bulls in 1995, he frequently made headlines for what some people viewed as eccentric behavior — from changing hairstyles to marrying himself in promotion for his memoir. Rodman even crossed over into ad campaigns, posing with ex-wife Carmen Electra in a memorable photo shoot for the fragrance brand Candie's. Over recent years, Rodman still pops up in the news every now and again, including for a meeting with North Korean leader Kim Jong-un.
Regardless of the media coverage, Rodman's athletic nature carried over to his children, with his son DJ following the basketball footsteps at Washington State (per ESPN) and his youngest daughter, Trinity, going the soccer route. Rodman recently appeared at Trinity's game in support of her recent National Women's Soccer League drafting, with images of the father and son going viral online. However, Trinity later opened up about how his sudden appearance made her feel and shared a bit about their tense relationship.
Dennis Rodman's daughter Trinity reveals they aren't close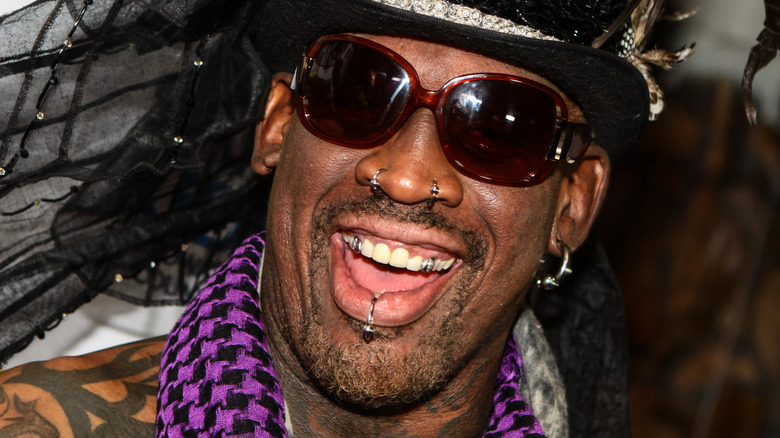 Ulora/Shutterstock
After images of Dennis Rodman appearing at his youngest daughter Trinity's soccer game recently made the rounds online, she took to Instagram to share the truth about her relationship with the former basketball player.
"This last game was an extremely emotional one. Yes Dennis rodman showed up to an Nwsl game, but also my dad, after YEARS surprised me at a big game in my career," Trinity wrote in the caption. "I was shocked, overwhelmed, happy, sad, everything. My dad doesn't play a big role in my life at all and most people don't know that, we don't see eye to eye on many things." She continued, "Being in spotlights has been hard for us, him and me. We don't have the best relationship, but at the end of the day he's human I'm human... he's my dad, and I'm his little girl that will never change. I will improve and look forward everyday as I hope he does."
Dennis has previously spoken about hoping to repair their relationship, too, trying to focus less on giving them "material things" and focus more on spending quality time together. "All these years I've been giving and supplying and on-demand... I really haven't had any time to be a father," he told ESPN in 2019, explaining that he "is trying to convince myself that I am a good dad."