Kim Kardashian's Rare Snap Of All Her Kids Has So Many Cute Details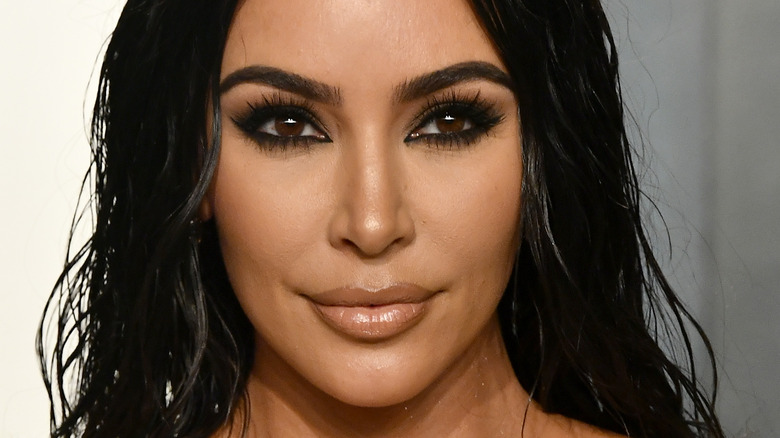 Frazer Harrison/Getty Images
Kim Kardashian's four children are her pride and joy. She has proved time and time again that her kids are her number one priority, and as seen in her social media posts, she loves hanging out with her four mini-me's, North, Chicago, Saint, and Psalm.
"Being a mom is everything," the reality star and lawyer hopeful said on E! True Hollywood Story, per People. She described it as "the best feeling in the world." And although she admitted that there are bad days, Kim said that she wouldn't trade being a mom for anything. "I just love being a mom. It's exhausting, it's grueling, but it's the best."
It's evident on Kim's Instagram account just how much she adores her children. She would post photos of them making sandcastles on the beach, playing around the yard, and just being goofy like the adorable kids they are. There's no shortage of Kardashian baby photos on Kim's feed, but she almost never shares pictures of all four together — until now.
Kim Kardashian's kids show their unique personalities through their outfits
Kim Kardashian's children proved that they are indeed kids of fashion moguls in the star's November 11 Instagram post. In the photo, Chicago was wearing a pink plaid shirt, cowboy boots, and a Britney Spears tee, perhaps to show that she's also #TeamBritney. Saint was sporting a pair of tye-dye pants paired with a baseball shirt, with an arm cast from when he broke his arm in September. Meanwhile, Psalm was donning an animal print jumpsuit, and North, the eldest of the bunch, was crouching right behind him. "Heart and soul," Kim captioned the photo.
"[Chicago] is my girliest girl that loves pink and purple and makeup. All my kids are so different," Kim shared in a recent appearance on "The Ellen Degeneres Show." "North is like, goth — she's into Hot Topic. She puts fake tattoos on her face, and she listens to Black Sabbath, and she's just like a full goth girl."
"Saint is like video game, tech wiz — like, amazing. And Psalm is really into Paw Patrol and Cars," she added, explaining how her little ones have distinct styles and personalities. "Like, every kid is so different. But Chi-Chi is my little princess. Anything princess, anything girly girl — that's her." Like mother, like kids, indeed! We can't wait to see more photos of these four together!